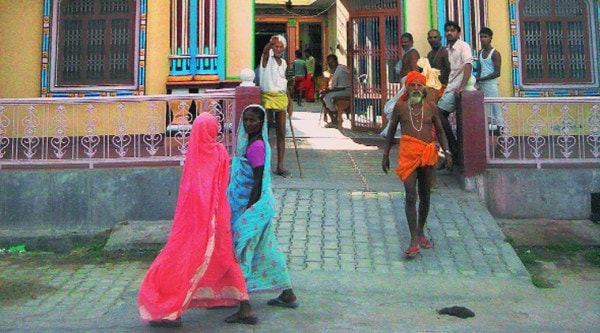 Ganga Bhawan temple, where Mahant Vijay Ram Das was found murdered in his room on August 28 .
Written by
Ramendra Singh
| Posted: October 19, 2014 12:07 am | Updated: October 19, 2014 12:08 am
Four killings in one year as disciples, sadhus fight over control of some of the richest temples in the holy town.
There have been four murders in one year, three since February. The murder weapons have included blunt objects, licensed rifles and guns. They have all involved sadhus and disciples, and they have all happened for control of some of the richest temples in Ayodhya.
Sadhus are often seen riding motorcycles or driving SUVs across Ayodhya. Officials admit that many have arms licences.
The latest murder was on August 28, of Mahant Vijay Ram Das. The 45-year-old was found killed in his room in Ganga Bhawan, a temple under the Maniram Das Chhawni Seva Trust — the largest and richest trust in Ayodhya, running temples, dharmshalas, hospitals, Sanskrit schools and colleges across the country.
Vijay Ram had been appointed priest and 'vyavasthapak sadhu (manager)' of Ganga Bhawan by Mahant Nritya Gopal Das, the head of the Maniram Das Chhawni Seva Trust, better known as Chhoti Chhawni. Nritya Gopal is the president of the Ramjanmabhoomi Nyas, a trust formed to promote the construction of Ram temple in Ayodhya —which is also seen as the reason behind the increasing prominence of Maniram Das Chhawni.
After Vijay Ram was found killed on the morning of August 29, 11 persons, including a sanyasin, staying at Ganga Bhawan were questioned. Two days later, the police arrested one of them, Durgesh Tiwari, 24.
According to the police, Tiwari, who had started living on the temple premises four years ago, was a favourite of Vijay Ram. Faizabad SSP K B Singh said Tiwari had admitted to killing Vijay Ram, saying the latter harassed him.
However, says Singh, "The main reason was that Durgesh was growing in prominence and would have himself become a priest soon." The SSP says Tiwari had also borrowed Rs 2.5 lakh from Vijay Ram at the time of his marriage last year, and did not want to return the money.
The Ganga Ram temple, which is over 100 years old, and the area surrounding it are spread over 2,000 sq ft. Sadhus stay in the over two-dozen rooms on the premises. While most of the donations offered at the temple are deposited with the trust, its priest, who is much sought after for reciting katha at nearby homes, makes a tidy income.
"This is the first such incident in our Chhawni's 300-year history," said a dismayed Mahant Kamal Nayan Das, the successor to Nritya Gopal Das. "What can one do if somebody betrays you?"
But Vijay Ram's murder was part of a string of killings that began in July last year. On July 21, 2013, a clash had broken out between two groups of sadhus over a property, resulting in the death of one of them. It had been sparked off by Mahant Bhavnath Das of Haridwar Patti blocking entry to the 2,000-sq-ft property of Mahant Balram Das of Sagariya Patti. Balram Das had gone to the house of Bhavnath Das, and the latter's disciple Ramesh Das had shot a follower of Balram Das, Ram Bharat.
While Ramesh Das is behind bars, Balram Das, 38, says Bhavnath Das "escaped" because of his political clout.
A bulky man, Bhavnath Das, 70, sits in a room on the first floor of his ashram, his forehead covered in sandalwood paste, dressed only in a loincloth and a janeu (sacred thread), against a framed photo of himself with Samajwadi Party chief Mulayam Singh Yadav at a function in Ayodhya. The founder-president of the 'Samajwadi Sant Sabha', who also runs a school, Bhavnath Das is open about his SP leanings. "I have a liking for Samajwad. You have to keep in touch with someone," he says.
The sprawling cow shelter outside Bhavnath Das's residence was inaugurated by SP leader Ram Karan Arya, who is now a minister.
He and disciple Ramesh Das are Yadavs. In 2012, Ramesh had contested the election for chairperson of the Ayodhya Municipal Board, and lost. About Ramesh, Bhavnath Das says: "As we need someone for support, we have to choose one… It is another thing that most gurus are being murdered by their disciples!"
The next killing was of Ramdev Das, 70. The manager of Ayaramji Akhara Udaseen temple in Swargdwar locality, he oversaw the affairs of a temple called Jhalidham and its 100-bigha land, much of it agricultural, in neighbouring Gonda district. Both Jhalidam and Udaseen temple get visitors from many surrounding areas.
On the morning of February 7, 2014, Ramdev Das was holding a yagya at Jhalidham when he took a break to relieve himself. He was later found shot in the head.
Five days later, police arrested his disciple Sagar Das, 25, and four of his associates. "Sagar Das was eyeing Ramdev Das's position. A few days before his murder, Ramdev had come to me with a child and said he wanted to nurture him as his successor. This could have angered Sagar Das," says Gopal Muni, Udaseen ashram's manager.
On June 12, Ayodhya Das Lal, 45, the priest of a temple in Vasudevghat area, was reported missing. His temple was part of a 1,000-sq-ft plot, and he lived on the premises.
In one of the three rooms on the plot, one of Ayodhya's disciples, Ramkuber Nishad, 40, stayed. On June 18, Ayodhya's brother Basant Das lodged an FIR alleging that Ramkuber and his three associates had kidnapped and murdered him.
The temple that Ayodhya's family has long controlled is of Lord Hanuman, with a following among the Nishad community.
The residents of Ayodhya are not surprised at the spate of killings. Sadhus are ubiquitous in Ayodhya, often seen riding motorcycles or driving speeding SUVs across town, dressed in just the janeu and langot. Officials admit that many have arms licences and control a large amount of residential land in and around Ayodhya city.
Officials and locals claim nearly half-a-dozen murders and such crimes involving sadhus take place in Ayodhya every year. A police officer said the land on which old temples stand is not registered in anybody's name and can easily be grabbed.
Says municipal corporator and Congress leader Dharamvir Dubey: "Ram Janaki (Lord Ram and his wife) are said to be the sarvarakaar (head) of all these temples, so very few of them are registered properly."
Priestly Abode: 
Number of temples: 5,500
Daily average of number of devotees: 10,000
Average donations per day: About Rs 5 lakh (amount rises exponentially during annual fairs)
Number of sadhus: Around 30,000 (nearly half of Ayodhya's population of 60,000)
– See more at: http://indianexpress.com/article/india/india-others/murders-at-ayodhya-again-temples-at-heart/99/#sthash.nOboSSz4.dpuf