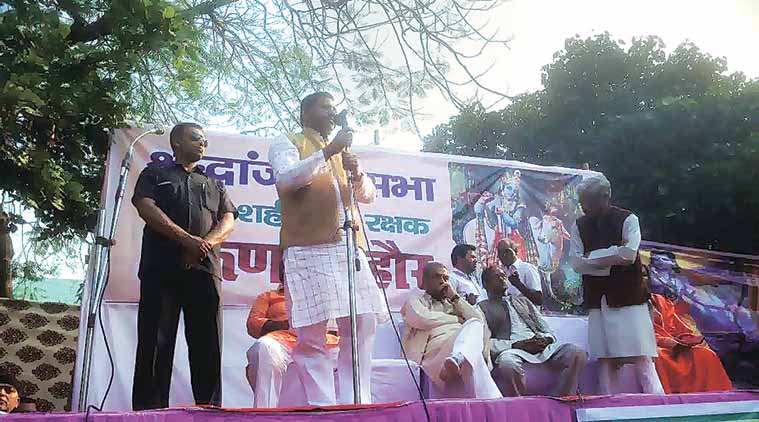 MoS, HRD, Katheria at the Agra meet. (Express Photo by Ashutosh Bhardwaj)Muslims were equated to "demons" and "descendants of Ravana", and warned of a "final battle", as the Sangh Parivar Sunday held a condolence meeting here for VHP worker Arun Mahaur, who was killed last week by some Muslim youths. Among those present on the dais were Union Minister of State, HRD, and BJP Agra MP Ram Shankar Katheria as well as the BJP's Fatehpur Sikri MP Babu Lal, apart from other party local leaders, who joined in the threats to Muslims.
Speaker after speaker urged Hindus to "corner Muslims and destroy the demons (rakshas)", while declaring that "all preparations" had been made to effect "badla (revenge)" before the 13th-day death rituals for Mahaur. "Human skulls would be offered to his martyrdom," VHP district secretary Ashok Lavania, who has been jailed earlier for assaults on Muslims, said.
Talking about the coming Assembly elections in Uttar Pradesh, local BJP MLA Jagan Prasad Garg told the crowd, "You will have to fire bullets, you will have to take up rifles, you will have to wield knives. Elections are approaching in 2017, begin showing your strength from now onwards." The 5,000-odd crowd chanted slogans such as "Jis Hindu ka khoon na khaule, khoon nahin wo pani hai (the
Hindu who doesn't get angry isn't Hindu enough)".
VHP general secretary Surendra Jain and Bajrang Dal leaders were also present at the meeting, that was held under heavy security. In his speech, Jain warned the administration, "You have seen the result in Muzaffarnagar. Don't convert Agra into Muzaffarnagar."
Beginning his speech by lamenting that "a man returning after offering his prayers" had been killed, Katheria said, "We have to make ourselves powerful. We have to launch a struggle. If we don't begin a struggle, then today we have lost an Arun, tomorrow we will lose another. Doosra jane se pehle, yeh hatyare hi chale jayen is prakar ki taqat humen dikhani hogi (Before another is lost, we must show such strength that these killers themselves disappear)."
Demanding that Mahaur's killers be hanged, Katheria added that his ministership wouldn't deter him. "The administration might think that main to mantri ho gaya, haath bandh gaye (that because I'm a minister, my hands are tied)."
The minister added that the meeting was just the start. "We are not withdrawing this movement. On Wednesday and Friday, we will all hold condolence meetings in our colonies. After that, whatever our leadership decides, if we are required to take to the streets, we will come on the streets in thousands. Let anybody dare stop us."
MP Babulal urged an open fight with Muslims, and said: "Don't try to test us… We will not tolerate insults to the community. We do not want unrest at any cost, but if you want to test Hindus, then let's decide a date and take on Muslims."
Local BJP leader Kundanika Sharma called other parties "jackals" for seeking votes of "traitors". "But we want the heads of these traitors, the killers of Arun Mahaur," she said. "This is not the time to sit quiet. Chhapa maaro, burqa pehno, lekin inhen gher-gher kar le aao. Ek sar ke badle dus sar kaat lo (Raid them, wear burqas, but corner them. Behead ten heads for one head)."
VHP district secretary Ashok Lavania said, "The sacrifice of my brother will not go in vain. Our youths will take revenge… Agar hum Hindu naujwan sapni maa se paida hue hain, eent ka jawab patthar se, khoon ka jawab khoon se denge (If we Hindus are born of our mother's womb, we will reply in kind, with blood). The revenge of the killing of one brother demands killing of ten rakshas."
Lavania went on to talk about the "preparation" they had made. "Many have approached me asking why we are not doing anything. They are saying do something — arson, murder, shootout. These are common Hindus. We are avoiding this because the organisation (VHP/RSS) is careful about not being held responsible… ultimately it becomes an act of the society. Once people are galvanised, no question would be raised at all. In cases like Ram Janmbhoomi, Muzaffarnagar, the party had disappeared. But it is certain that revenge will be taken before the terahvin is over. Khoon ka badla khoon. Action will obviously be in Mantola area (where Mahaur was killed), but also across Agra. Wherever Hindus are in majority, it will happen. We are fully preparared. If they retaliate, then it will be a mahasangram, Mahabharata. The final battle."
"During Kali worship, narmund (human skulls) are offered after beheading demons. Before his terhavin, the Hindu community will perform a similar act and offer these narmunds. I am confident," Lavania said.
Surendra Jain said Mahaur "lived for dharma, and died for dharma… Hindu society is no longer willing to sacrifice itself."
Warning the administration against making "a weak case" against the accused, the VHP leader threatened that his men would kill the accused otherwise. "If you make a weak case under any pressure and release (them), then you may release (them), but this society is not willing to see them walk. (We) Won't spare (them). You have a different list, Bajrangis have a different list. Their names are in our black list. I urge the workers of Bajrang Dal, nigrani rakhna, soye mat rehna (be alert, you can't be found napping)," he said.
Jain claimed they would now dispense their own justice, and asked his members to form Gau Raksha Samitis (cow protection units) in every village and asked the administration to "not thwart their efforts as they are doing the administration's work". "If anyone, even the IG here, has any doubt about the law, they can approach me. I will show them the clauses of the IPC that say if you (police) do not perform your duty then common citizens can take law in their own hands."
He added, "We will not take the cases of cow-slaughter to you (police), we will not let you bury those files… Then and there, full and final."
About Mahaur, he said, "We will have to make such an atmosphere that no Arun is ever killed again, no love jehadi dare casts an eye on my mother or sister."
Claiming that people might turn violent soon, the VHP leader said, "We have not decided our course of action after this sabha. But it's certain that the Hindu community won't keep quiet. This movement has become a movement of the Hindu community. You can sense the pulse of the people. People of different groups are reacting in a different manner. The reaction of these groups cannot be predicted today. The government must assure that UP does not have an inch of land for cow-slaughters. Those who want to kill cows can go to Bangladesh or Pakistan. If the government gives such kind of assurance, then the anger of society might subside. At present, the Hindu society is angry and only the community will decide its reaction."
Jagmohan Chahar, the Bajrang Dal district coordinator, dared Muslims "to come out in the open" and said, "Jo chhedega hamari basti ko, hum ukhaad denge uski harek basti ko (If someone dare disturb our neighbourhood, we will uproot their entire neighbourhoods). If you want to live in India, live like Rahim and Rehman. If you try to be Akbar and Babar, we will raze your homes. We are the descendants of Rama. We will destroy the descendants of Ravana."
Another BJP leader said, "Tell them we have now woken up. Show them you cannot stop a Hindu by deploying some policemen."
BJP leader Pramod Gupta said, "The real tribute to Mahaur will be when no cow-slaughterer feels safe in Agra."
BJP MLA Yogendra Upadhyaya demanded a statue of Mahaur in Agra so that people know that "protection of cows is our dharma, and removing all obstructions in the way is also our dharma".
Police have denied that any of the five accused held for the murder had been involved in cow slaughter or smuggling. They have also said the murder happened a day after a scuffle between Mahaur and the five.
See more at: http://indianexpress.com/article/india/india-news-india/muslims-warned-of-final-battle-at-sangh-meet-mos-katheria-says-weve-to-show-our-strength/#sthash.kUdonJoX.WOyNHP3m.dpuf