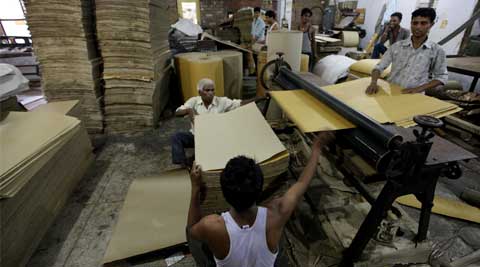 Industrial growth will be negative after many years, says an owner of paper mills. (Source: Express Photo by Ravi Kanojia)
SUMMARY
Around this time last year, the riots happened in Muzaffarnagar and everything has changed.
Until a year ago, Muzaffarnagar was a bustling industrial hub, its growth built on the foundation of an unspoken social trust. But around this time last year, the riots happened and everything has changed, by Dipankar Ghose, Photographs by Ravi Kanojia.
It was once a home. The ceiling no longer exists. There is no door to the room. Like many other structures in Lisadh village, only the four walls stand. One cream coloured wall has four white circular stains in perfect symmetry on a cement shelf. A family lived here, and this was where they kept their utensils. On two others, in small corners, are scribbled drawings of a flower, the sun, a river. The lines are uneven, the drawing untidy. Children once lived here. The fourth wall in the room, blackened with soot, has one sentence on it, its grammar suspect, but its writing underlining the desolation around. In white chalk is a date, September 8, 2013. And next to it are the words, "The date of this destroy home."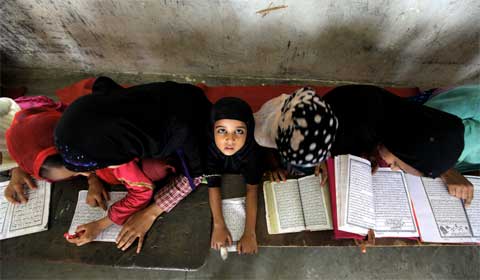 For decades, Muzaffarnagar had forged many identities. The city, inter-religious and bustling, was home to a thriving local economy. The outskirts had become an industrial hub, dealing in paper, iron, steel, chemicals and sugar. Its villages were abundant in sugarcane, people dependent on each other, their lives intricately linked, irrespective of religion. Then came the communal riots of last September that swept through the area, dividing families that had known each other for generations. More than 60 were killed, and more than 50,000 left homeless. One year later, the scars run deep, and the ties that kept the social and economic fabric together are still undone. The words on that wall could have been written across the Muzaffarnagar sky.
At one in the afternoon on Janmashtami, there is a stark difference between two floors of the popular Nandi Sweets shop in the city's main market — the ground floor bustling and the restaurant above desolate. "The ground floor is where people stand, order sweets and take them away, and that is busy as always. Where we are sitting now is the restaurant, but there is not a single customer. On a day like today a year ago, not one table would have been available. Muzaffarnagar has changed as a city.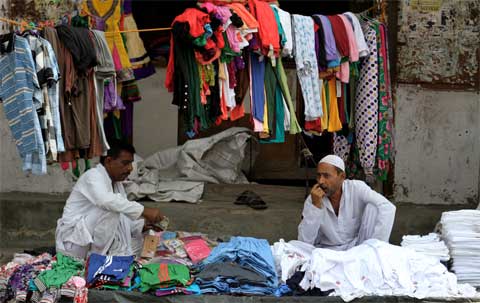 Every incident now, even a small accident, can turn into a communal spat. People don't venture out of their homes unless there is work. There is safety indoors, and this city has become less joyous. Fear has entered its soul and that is terrible for business. Our sales have dropped by about 40 per cent ," says Rajesh Agarwal, manager of Nandi Sweets.
Two kilometres away, Mohammad Al Amin sits on the pavement at the Meenakshi Chowk Sabzi Mandi behind his vegetable cart, jostling for space with nine other vendors in the lane. All of them, without exception, wear a skull cap. Quietly, over the last year, unspoken boundaries have risen, where once none existed. "Nothing was said and no fight ever happened. But one day in October, Sanjay and Ram Kumar who used to sell vegetables here just stopped coming. I saw them a month later, at Nai Mandi. That has become the Hindu part of town, and this is the Muslim section. We don't go sell there, and they don't come here. It's a pity. Nai Mandi mein raees log hain, vahan maal ke liye zyaada paisa milta hai (Nai Mandi is the more affluent part of town, you get a better price for goods)."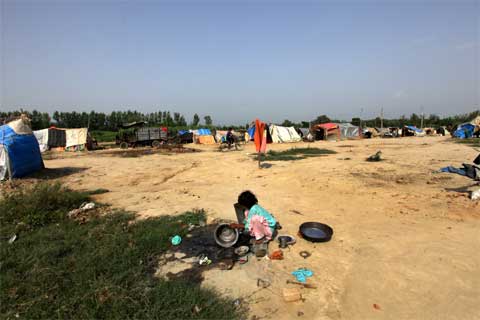 A little distance away, on the outskirts of Muzaffarnagar, its industries too reflect the city's new identity. "Muzaffarnagar was once the industrial capital of western Uttar Pradesh. There are 27 paper mills, 30 furnaces, 30 steel units and nine major sugar mills. The sugar factories, when in operation, produce 65,000 tonnes a day. But none of this matters anymore. For the first time in several years, the rate of growth of the industry will be negative. For the year ending 2012, the growth was low at 6 per cent, but at least it was there," says Vipul Bhatnagar, member of the Indian Industries Association (IIA) and owner of three paper mills.
Industry experts say that if Muzaffarnagar's industry slipped last year, it was because of problems of labour — and fear played its part again. "The labour that worked in the factories was of two kinds. Some came from Jharkhand, Bihar and West Bengal. Most of them were Muslims, who now look for work elsewhere than come back here where they could be targeted. Then, there are those who come from villages in and around Muzaffarnagar. They don't work overtime anymore, preferring to return home as soon as they can. The employment pool to choose from is also divided. If an industry owner has a largely Hindu workforce, he won't hire a Muslim for fear of trouble at his factory and vice versa," says Neeraj Bansal, president of the Muzaffarnagar Steel Traders' Association.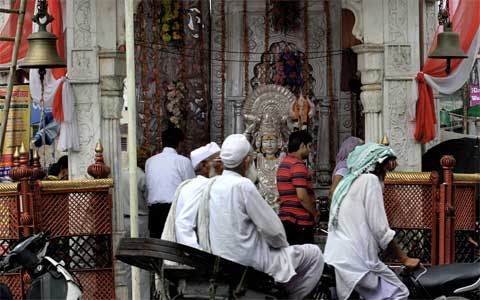 At a casting iron factory on NH 24, just outside Muzaffarnagar, contractor Amarpal Singh sits forlorn on a charpoy, five labourers working around him. In the large asbestos-roofed enclosure the size of a football field, every strike of the metal is exaggerated, the echo a reminder of how empty the unit is. "Till last year, there used to be 40 workers. Twenty workers in two shifts. But there is no night shift anymore, and only five labourers turn up. They have all gone to neighbouring Uttarakhand where there are no problems. I tried to get these five to work the night shift too. They asked if I would stay with them. I refused, not knowing what will happen if I travel the  8 km home at night. How can I ask them to?" says the 58-year-old thekedaar of Shakti Iron Mills.
For the area's famed sugar industry, nightfall also used to mean hindrance-free transport of sugarcane to the mill. Now, it only brings reluctance. "The mills run all day and night, and need constant produce. But now, for instance, a Hindu farmer won't transport his produce at night, afraid to go past a Muslim village. And that means added inefficiency in terms of production," says Kush Puri, member of the Sugar Technologists' Association of India.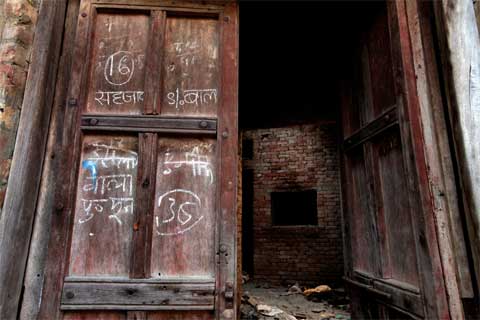 As a result, Muzaffarnagar's factories are facing ever-increasing costs of production, at a time when industry in Uttar Pradesh is anyway facing fierce competition. "The labourers who continue to work in our industry now charge nearly double of what they used to. From  Rs 8,000 a month, I now have to pay them Rs 14,000. All the other factors are contributing to higher costs as well. This at a time when our margins are low already. In the sugar industry, for instance, the entire problem is that both the input and output costs are fixed, leaving no room for good business. The mills and farmers have been locked in a fierce battle all over Uttar Pradesh. Besides, Uttarakhand is only 30 km away. They have no excise duty while the rate in UP is 12 per cent. While electricity here is Rs 6.5 a unit, in Uttarakhand, it is Rs 4.6 a unit. How can the industry here compete?" says Vipul Bhatnagar of the IIA.
But perhaps the most grievous injury in the riots that swept through Muzaffarnagar was to a group of four men, sitting on a small bed in a tiny room on a Tuesday afternoon. This is a village that came into existence in June this year. One year ago, Momin was a clothseller at a nearby town, Athar worked in a Hindu owner's sugarcane fields, Ashraf had a small grocery store, and Ali was a blacksmith. They lived in Qutba village, and fled their homes to a relief camp in Palda with their families, escaping bullets and fire. None has ever gone back to their homes. Or their jobs.

"For one year, we have had to rebuild our lives, and that has meant giving up our work. The government gave 200 families of Qutba village Rs 5 lakh each as compensation, and with that money, all of us bought land here together, built small homes, and now call it Ahmadnagar. There is security in unity and we are only 5 km from Qutba. There are some who still live in tents because they haven't received compensation, but they live with us, in our new village. We have had to find ways to earn money, so we find daily-wage jobs in Shahpur town from where we can come back by nightfall. We won't risk our families again. But there are days where nobody picks us up for work," says Athar.
Months have been spent chasing the district administration for compensation and, now that land has been purchased and plots built, for water, electricity and recognition for Ahmadnagar, and safety for their families. Some of those targets have been achieved, others still hang in the balance. But a return to their jobs is a bridge too far.
"We will never work in their fields again. You can't work with someone who took away your home, and tried to harm your families. All of our equipment was left behind in our homes and we have never gone back, save to vote. When we go to town asking for a loan to start our businesses again, they laugh at us. They know we come from Qutba and have nothing left. Why will they trust us? I wouldn't trust myself to return the capital. So this is our life. From businessmen, we have become construction labourers," says Momin.
In the 5 km between Qutba and Ahmadnagar, Mohammad Naseer stares into the distance, outside his vehicle repair shop. Somehow, the riots seemed to bypass Palda village entirely, and Naseer admits, "Yahan aman hai (There is peace here)." But there is a lot more to be read between the lines. "There has been no violence here and my family is still safe," Naseer adds, "but no Hindu comes to my shop anymore, and I don't go to their homes either. They pass by me like they don't know I'm looking at them. I earn very little, because they own all the motorcycles here. But I don't blame them. They fear me, as much as I fear them," he says.
In Muzaffarnagar, fear is a part of everything. Even when they talk of peace.
http://indianexpress.com/article/india/india-others/the-economy-of-fear/99/