My detention by Sri Lankan authorities made headlines worldwide. The story will be old news tomorrow, but concerns about human rights will remain.
Australia
must act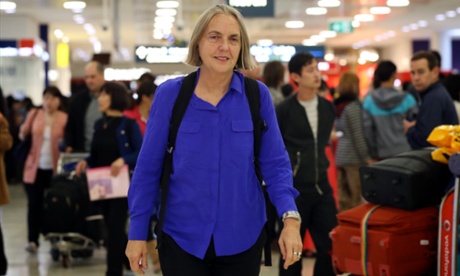 I went to Sri Lanka to be the voice the Australian government has refused to be. The voice that speaks of the human rights abuses that the Sri Lankan government is allegedly involved in. The voice that is part of a growing international call for an independent investigation into war crimes allegations following a brutal civil war in which more than approximately 40,000 Tamils were killed over five months in 2009. The voice of leadership that says Australia will not reward Sri Lanka forcracking down on journalists, human rights activists, minority ethnic and religious groups.
What I saw in Sri Lanka has convinced me that Australia needs to show courage and boycott the Commonwealth Heads of Government Meeting (Chogm), as the prime ministers of Canada and India are doing.
The determination of the Australian government, first under Labor and now the Coalition, to defend the Sri Lankan government's line – that there are no human and legal rights abuses taking place in the country – motivated me to go and learn first-hand about the reality on the ground. I was very pleased to be able to travel with New Zealand Green MP Jan Logie. We had hoped to travel with a Malaysian MP, however Sri Lanka did not grant him a visa in time. I notified the Department of Foreign Affairs and Trade of my intention to travel, and they had informed the government of Sri Lanka of my trip.
We arrived on Friday after midnight and were taken straight to Vavuniya, a town in the north, roughly a five hour drive. We then had a series of meetings with elected representatives including ministers, MPs and members of the Provincial Council as we continued north to Jaffna. We also visited a newspaper office, where we learnt of shootings and intimidation of local journalists reporting on human rights issues. On several occasions, the extent of the sexual abuse of Tamil women by Sri Lankan soldiers was brought to our attention. We met a lawyer who described to us the evidence collected about these horrendous crimes. Large areas of Tamil land are now occupied by the military. The level of hardship for women and their dependents is shocking. More than 40,000 households in the north and east of the country are now female -headed, and few of them receive any government assistance if they cannot find work.
Our subsequent detention, which has received extraordinary media attention in Australia and overseas, occurred on the last day of our visit. We had begun a series of meetings with representatives of various civil society organisations at 8am, and were planning to hold a press conference at 10.30am. At 9.45am, two immigration officers interrupted our meetings and requested our passports, which we handed over. A further two immigration officers arrived and we were told to go back to our hotel. No reason for our detention was provided – the immigration officials simply stated they had wide discretionary powers.
At the hotel they attempted to separate Jan and myself and take us to different rooms for questioning, but we refused to cooperate. Journalists had arrived by then, but were prohibited from speaking to us. In the meantime, more immigration officers arrived. About three hours later we were told we could leave on the condition that we did not talk to the media without permission from Sri Lanka's foreign affairs department. Their initial condition was that they would not release us without some kind of statement from us, which we refused to do.
While I did not fear for my personal safety, I was very aware that my lack of fear was largely due to my foreign passport and the fact that I am an Australian senator. Now I am back safe in Australia with my family and loved ones. By tomorrow, what happened to Jan and I will be old news. However the suffering of the Tamils, human rights activists and journalists at the hands of the government of Sri Lanka will continue. We have a responsibility to ensure they are not forgotten.
The findings of my visit to Sri Lanka trip and my detention has highlighted to me the reasons why Australia must not attend Chogm. If the conservative Canadian prime minister and the Indian prime ministercan boycott the meeting while citing concerns regarding alleged war crimes and human rights abuses, Australia can too. If prime minister Abbott refuses to downgrade our delegation and attends Chogm, he should demand a full and independent investigation into war crimes – a call supported by British prime minister David Cameron.
If Chogm goes ahead with Australia's full participation and Sri Lanka is made chair of organisation, the Commonwealth will have failed the people of Sri Lanka and damaged its own high standing with the international community.
read more here- http://www.theguardian.com/commentisfree/2013/nov/11/my-detention-highlights-why-australia-should-boycott-the-commonwhealth-sumit