Soni Sori is being prevented from leaving her home and participating in other Adivasi movements. Several human rights organisations have expressed concerns about the threat to her life. 
Dantewada: Three days ago, a video of Soni Sori, the renowned human rights activist from Chhattisgarh became viral.
In the video, Soni Sori can be seen confronting the people who were following her in an unmarked car.Video Player
00:0000:44
"Just kill me now. Shoot. I am ready to die," she is seen and heard saying clearly. "Film this, they want to pressurise me. They want to kill me. I want to tell the entire administration," she goes on to say in a video that has since gone viral on social media. Sori challenges the men in the car until they reverse and leave the scene.
Soni Sori has now been issued a notice to explain why she posted the video on social media. Her mentor, social activist Himanshu Kumar has also been issued a similar notice as he posted the video on his social media accounts.
For the last couple of days, she has been sent notices that she cannot leave home.
Several human rights organisations have expressed concerns about the threat to her life.
Soni Sori and Himanshu Kumar wanted to visit Sarkeguda, Bijapur where CRPF killed 17 Adivasis (Tribals) in 2012. "The inquiry commission had given a report that the victims were innocent," said Himanshu Kumar, explaining that the activists were planning to go there with others and talk with local leaders about plans to erect a memorial to the victims on June 28 (the day of the massacre).
However, Soni Sori was denied permission at the last moment, even though she had applied for it 24 hours ahead. The group canceled the trip, and on June 29 Sori came to Dantewada. That is when the bizarre chain of events unfolded.
According to her, police has pressurised taxi drivers and traders in the area to not rent their car to Soni Sori for travel.
Soni Sori is called by several adivasi groups who want her to lead their movement against the state oppression. In the neighbouring district Bijapur around, 10,000 adivasis have gathered and they want Soni Sori to lead them. But police does not want to Soni to lead the Adivasi groups.
Chattisgarh Police has been trying to use COVID 19 as an excuse to contain her at home.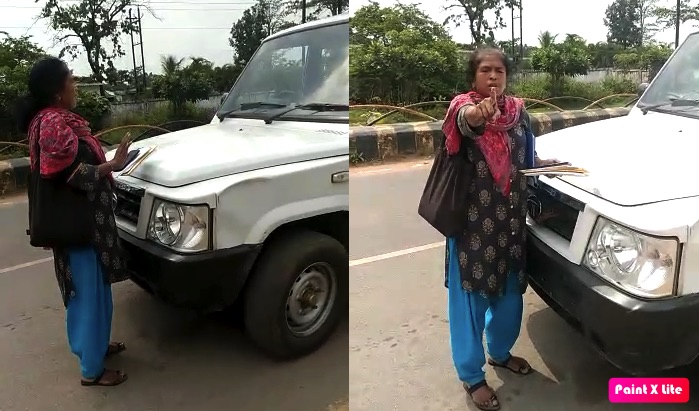 दंतेवाड़ा पुलिस मानव अधिकार कार्यकर्ता सोनी सोरी की हत्या करना चाहती है
2 दिन से सोनी सोरी के घर पर बार-बार नोटिस भेजकर उनसे कहा जा रहा है कि वह घर से बाहर कहीं नहीं जाएंगी।
असल में बीजापुर के सारकेगुड़ा में जहां सीआरपीएफ ने 17 आदिवासियों की हत्या करी थी वहां आदिवासी एक स्मारक बनाना चाहते हैं।
पुलिस नहीं चाहती थी कि सोनी सोरी वहां जाएं।
इसके अलावा भी अलग-अलग कई जगह से आदिवासी सोनी सोरी को अपने आंदोलनों और अपने साथ होने वाले दमन के खिलाफ बुला रहे हैं।
पुलिस सोनी सोरी को रोकना चाहती है।
कल थानेदार ने व्यापारियों और टैक्सी मालिकों को बुलाकर धमकाया और कहा कि वे सोनी सोरी को अपनी गाड़ी किराए पर ना दें।
आज सुबह से ही सोनी सोरी का पुलिस की एक जीप बिना नंबर प्लेट के संदिग्ध हालत में पीछा कर रही है।
सोनी सोरी ने हिम्मत से उस जीप के सामने जाकर पुलिस वालों को चुनौती दी और कहा कि आओ मुझे जान से मार दो मैं तैयार हूं इसके बाद वह पुलिस वाले दुम दबाकर भाग गए।
पड़ोसी जिले बीजापुर में करीब 10 हजार आदिवासी इकट्ठा हैं वे सोनी सोरी को नेतृत्व करने के लिए बुला रहे हैं पुलिस नहीं चाहती कि सोनी आदिवासियों का नेतृत्व करें।
लेकिन सरकार और पुलिस को यह समझना चाहिए कि दमन और धमकी से कभी जीत नहीं मिलती।
सोनी सोनी का आज थोड़ी देर पहले का यह वीडियो देखिए।
(हिमांशु कुमार गांधीवादी कार्यकर्ता हैं और आजकल छत्तीसगढ़ के दंतेवाड़ा इलाके में रह रहे हैं।)
courtesy Janchowk