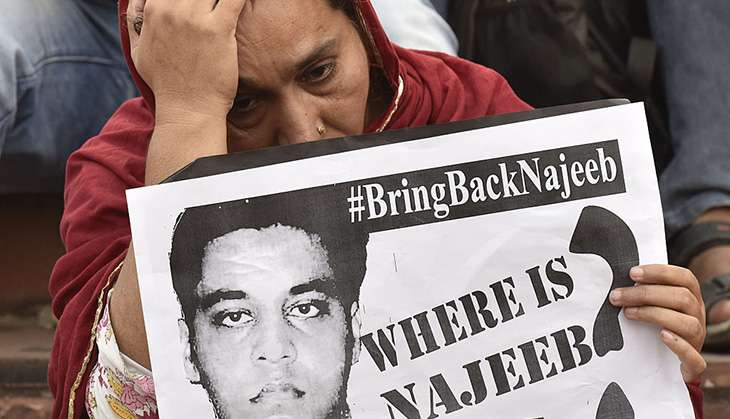 Photo by Sanjeev Verma/Hindustan Times via Getty Images
It's been a month that JNU student Najeeb Ahmed has been missing. No one either on campus or off have any information about his whereabouts yet.
The Crime Branch of Delhi Police has now taken over the case of the 27-year-old student, who went missing after allegedly being beaten up by ABVP members the night before he disappeared on 15 October.
JNUSU held a massive protest march on Tuesday under the 'Chalo JNU' call. On Monday night the university administration put out notices stating that the permission to hold the march, and also that outsiders would not be allowed to participate in the protest.
However, the march took place without much trouble and witnessed the participation of student representatives from DU, AMU, Punjab University etc. The students marched from Ganga Dhaba to the Ad-Block.
At the time of filing the report, the students were still protesting outside the Ad-Block at the 'Freedom Square'.
Meanwhile, the case was transferred from the South District branch to the Crime Branch of Delhi Police on Friday. The case files were sent to the crime branch on Saturday, said additional DCP (South) Manishi Chandra, who was heading the SIT formed to probe the case.
Police so far remain clueless in the case that has made headlines, thanks to the agitations carried out by JNU students who have alleged inaction by the university administration and police laxity in the initial days.
NOTHING CONCRETE YET
Last we heard from Delhi Police was when they told media on 8 November that Najeeb, a first-year MSc student of Biotechnology, was mentally and emotionally disturbed as police had found prescriptions for depression and obsessive compulsive disorder in his room.
The police have had discussions with a doctor at VIMHANS who Najeeb had apparently consulted in September.
Even though a case of kidnapping has been registered, police now suspect Najeeb may have gone off on his own, due to his "medical history". The cops were reportedly reconstructing Najeeb's personality with the help of medical professionals to gain clues as to where he might have gone.
DCP (South) Chandra told Catch that probing the medical angle has been helpful, and that "broad-based consultations with stakeholders of the medical history of the subject were done".
He did not elaborate on how exactly the medical angle and "reconstructing" Najeeb's personality had been "helpful", however.
TOO LITTLE TOO LATE
The police have been criticised by JNU students and Najeeb's family for looking for "excuses" and pathologising Najeeb as being "mentally ill" since they have failed to trace him.
The "mental illness" angle has also been played up by the media, with bizarre reports emerging about how Najeeb may be living with a new identity somewhere.
In fact, Delhi Governor Lt Najeeb Jung even said that the missing student, a native of Badayun in Uttar Pradesh, was spotted in Darbhanga in Bihar. A police team was promptly dispatched, but in vain.
Then there are speculations raised, mostly by ABVP members, that Najeeb is hiding on campus, as part of a ploy by the Left groups.
But DCP (South) Chandra ruled out the possibility and said the police had conducted a green area search of JNU campus twice, but it had yielded nothing.
Delhi police had formed eight teams to look for Najeeb in different parts of the country, including Badayun where he hails from.
However, the JNUSU maintains that police have not properly interrogated the ABVP members who beat up Najeeb on 14 October night, and have been demanding action against the involved ABVP students.
WHAT HAPPENED THAT NIGHT
More than 20 ABVP members allegedly thrashed Najeeb that night, according to eyewitnesses. Nine of the accused students were identified by the eye-witnesses and the hostel warden, while some others were most likely outsiders staying illegally in the hostel.
In fact, 22 witnesses have submitted their depositions to the administration. But no action has been taken against the accused ABVP members, complain JNU students.
According to all versions, ABVP members Vikrant Kumar, Sunil and Ankit went to Najeeb's room, on the first floor of the Mahi Mandavi hostel, on 14 October night to canvass for the hostel elections.
But Najeeb was alone in the room, as his roommate Quasim was not around, so there are no witnesses to vouch for what unfolded inside the room.
Vikrant Kumar claims that Najeeb made fun of his kalava (sacred thread worn by upper-caste Hindus) and slapped him first.
What witnesses did see a little later outside the room was Najeeb being beaten up by over 20 ABVP members, including the three who went to his room.
Some students, including JNUSU president Mohit Kumar Pandey, rushed to Najeeb's rescue and took him to the washroom as he was bleeding profusely and locked the door, but the ABVP men broke into the washroom and beat him up there as well.
They then beat Najeeb up again on the way to the hostel warden's room on the ground floor as well, all the while abusing him with communal slurs.
Najeeb apparently accepted his "mistake" before the warden and was asked to shift to another hostel.
Next day, a desk in the visitor's room reportedly had "Muslims are terrorists" scrawled on it with a marker.
The last anyone heard from Najeeb was at 11am the next day, 15 October, when he had called his mother, who was on her way to the campus after Najeeb had asked her to come.
When she reached, Najeeb was nowhere to be found.
COUNTER ALLEGATIONS
Meanwhile, ABVP member and former JNUSU joint secretary Saurabh Sharma said the ABVP members had also lodged a police complaint against Najeeb, alleging that the Najeeb had assaulted Vikrant.
In the past month, a lot of drama has taken place in relation to the case, including a 20-hour blockade of JNU vice-chancellor Jagadesh Kumar and other officials inside the administrative block on campus by protesting students.
Najeeb's mother and sister, along with other JNU students, were also detained for a few hours by Delhi Police during a protest march towards India Gate on 6 November.
On 3 November, political leaders such as Delhi Chief Minister Arvind Kejriwal, Shashi Tharoor of Congress and Prakash Karat of CPI (M) came to campus and addressed students in solidarity.
Kejriwal had also met Delhi Governor Lt Najeeb Jung and has written to Union Home Minister Rajnath Singh regarding Najeeb's case.
Najeeb's mother Fatima Nafees also met Rajnath Singh, who assured her of all help in finding her missing son. Fatima had demanded a CBI probe into the case.
Edited by Jhinuk Sen
http://www.catchnews.com/india-news/najeeb-ahmed-of-jnu-has-been-missing-for-a-month-what-now-1479221380.html/fullview