Narendra Modi the Liar, proved beyond Doubt.
and Media never verifies his claims
Narendra Modi, yoga and a new university for Gujarat
Reported by Rohit Bhan, Edited by Janaki Fernandes | Updated: May 24, 2013 10:10 IST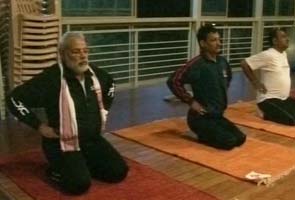 Click to Expand & Play
?
Ahmedabad
, May 23: Gujarat
Chief Minister
Narendra Modi on Thursday regretted that successive governments at the Centre neglected the importance of yoga, which is gaining prominence in the world. "Yoga was intentionally neglected by
Britishers
while they were ruling the country as they feared that through yoga
India
will become powerful in the world," Modi said inaugurating the Lakulish Yoga University. "But even after Independence, we didn't come out of the slave mentality and continue to ignore the importance of yoga. And sometimes by equating yoga with communalism, we inflicted a great damage on us," Modi said. Lakulish Yoga University, established by Life Mission Trust of Gujarat, is claimed to be the first ever such private sector self-financed institution in the country. Modi, while citing Sanskrit 'shlokas', stressed the importance of yoga and how it can play a vital and decisive role in the lives of people. "Today, every human being in the world is confused, unhappy and is seeking inner peace. He does not need materialistic wealth but needs peace and only yoga taught by a professional, an exponent or a complete teacher can facilitate this peace," he said. "People across the globe are curious about yoga and it would have been better if successive governments of our country had included yoga as a path to reach the whole world. Then India would have got a great opportunity to connect with the entire world," Modi said. "I hope and wish that this Lakulish University, inspired by one of the authority in yoga of our time, Swami Rajrshi Muni, will generate expert yoga teachers which in turn will spread it (yoga) in the world," Modi added. Addressing the gathering, varsity founder Swami Rjarshi Muni said there would not be just one medium of teaching in the institution. "No matter which language they (students) speak, here we will impart education in their preferred languages. We have yoga teachers from every part of the world," he said. The university will award degrees for the three-year courses. The state government had earlier enacted a law for creation of a Yoga university in the state.
ALL ABOVE IS A LIE 
There are many Universities of Yoga in India The
Bihar
Yoga University is an internationally acclaimed school of Yoga founded by
Swami Satyananda Saraswati
in 1964 to fulfill the instruction given by his Guru,
Sri Swami Sivananda
of propagating the ancient wisdom of yoga from door to door and from shore to shore. Situated on the banks of the Ganges, the campus of
Bihar School of Yoga
is known as Ganga Darshan, located at the top of hillock in the town of Munger in the
Indian state
of Bihar. Bihar School of Yoga imparts traditional yoga teachings to householders and sannyasins alike from across the globe.
S-VYASA is a Yoga University declared deemed to be University under Section 3 of the UGC Act, 1956,, started in 1986, in Bangalore in Karnataka yoga university .
Related articles