India elections: Narendra Modi victory would be 'lightning rod for militants'
Victory for Hindu nationalist politician could lead to increased recruitment to extremist Islamic organisations, experts fear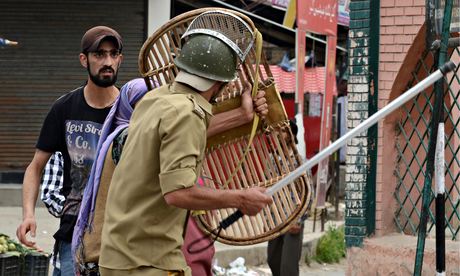 Kashmiri Muslims confront Indian policemen after they arrested a youth during a protest. Photograph: Tauseef Mustafa/AFP/Getty Images
The apple trees are in blossom and the sky is cobalt blue. Dogs snarl at strangers outside the home where Asif Wani grew up in the village of Drobgam. Under a canopy in the garden, the dead 24-year-old's father watches as sweet tea is served to neighbours and cousins who have come to pay their respects.
Wani, a member of an extremist Islamist group active in the disputed former Himalayan princedom of Kashmir, died in a firefight with Indian armed forces 10 days ago. Two other young militants were also killed – and an Indian army officer and soldier. Tens of thousands have died in Kashmir as army, paramilitaries and police have battled local and foreign separatist and Islamist fighters for 25 years.
"I am happy he did what he did," said Abdul Razzaq, Wani's father, who told the Times of India newspaper he was "proud [his] son laid down his life for the country".
The incident barely registered outside Kashmir, which was split betweenIndia and Pakistan in 1947. India is focused on the final days of a hard-fought general election, which appears likely to be won by Narendra Modi, a controversial Hindu nationalist politician, and candidate for the opposition Bharatiya Janata party.
Modi, 63, is reviled by many Muslims in south Asia due to persistent allegations that he allowed, or even encouraged, mob violence in 2002 in the western Indian state of Gujarat shortly after he took power there. More than 1,000 people died, largely Muslims, in the violence that followed a fire on a train, which killed 59 Hindu pilgrims.
Though the politician has denied any wrongdoing and a supreme court investigation did not find evidence to uphold the charge, the events of 2002 are repeatedly mentioned in extremist propaganda across the region.
Indian security officials say many militants detained locally refer to their anger at the riots of 2002 to explain their involvement in extremism.
Serving and recently retired western counter-terrorism officials overseas warn that a victory for Modi could lead to increased recruitment to extremist Islamic organisations in the region and reinforce propaganda efforts of violent international groups such as al-Qaida.
"The concern is people who would have remained on the fringes of militancy in calmer times may now be drawn in," said one US-based security official and frequent visitor to south Asia.
Another recently retired US official described Modi as a "lightning rod both for internal and Pakistan-based militant groups".
There are some signs of an increasing radicalisation among India's 150 million-strong Muslim community though the number involved in violence remains extremely small.
Videos released late last year by a newly formed extremist group calling itself Ansar ul Tauheed al Hindi and apparently based in Afghanistan or western Pakistan call for violent attacks in India in revenge for incidents including the 2002 Gujarat riots and sectarian violence in the northern Indian state of Uttar Pradesh earlier in 2013.
One video, called From Kandahar to Delhi, refers to Indians, who the group said had joined their ranks.
There have also been a series of bombings that have been blamed on a local Islamic militant cell. One, in the northern city of Patna, appeared to target Modi directly. Another blast occurred on a train in the southern city of Chennai last week.
Local newspapers have reported a case of two Chennai college students who intelligence services believe are training with jihadist groups in Syria.
However, a series of arrests of major figures has significantly undermined the capabilities of local groups and networks referred to by Indian security agencies as Indian mujahideen.
One "significant variable" is the potential reaction of Pakistan-based militants to a Modi victory, the officials said. Many such groups have long been active in India, either in Kashmir or more widely. Officials said Wani, the dead Kashmiri, had belonged to first to Jaish-e-Mohammed and then to Hizb-ul-Mujahideen. Both groups are based in Pakistan.
Extremists from Lashkar-e-Taiba, another Pakistan-based group, were responsible for the bloody attack on Mumbai, India's commercial capital in 2008.
Security officials in India are concerned that the imminent withdrawal of US combat forces from Afghanistan will trigger increased violence, especially in Kashmir.
The conflict in Afghanistan has acted as a pressure valve for many of the most extreme groups and the Pakistani security establishment "might feel the need to let them vent", said Nigel Inkster, at the International Institute for Strategic Studies in London.
Violence in Kashmir has been declining steadily since 2001 with 49 people killed so far this year, according to the Institute for Conflict Management, a Delhi-based thinktank. In 2001, more than 4,000 died.
There are about 150 armed extremists operating in Kashmir, according to local intelligence estimates, a fraction of the number even a few years ago.
The background of Wani, the dead militant, suggests that other factors, particularly local dynamics and personal associations, could be more significant than any actions of a new prime minister, however polarising.
A studious but not devout teenager, Wani appears to have been radicalised during 13 months in prison after arrest in 2010 for his role in demonstrations in Kashmir against Indian authorities.
He disappeared from home six months after his release without charge and joined a local militant groups. Officials say Wani was linked to the murder of at least one local elected councillor – a frequent tactic by extremist groups to intimidate local communities – and was killed with two other young men he had met in jail.
Several other members of his family had died in the conflict, and dozens of men from his village had been involved in militancy, local journalists said. After his time in prison, family members said, Wani became "very religious".
Razzaq, the dead man's father, said he was not bothered who won the elections.
"Their lives in India and our lives have nothing in common," the 44-year-old told the Guardian.
Inkster, the IISS expert, said much would depend on Modi's actions when in power, if he wins.
"What he does and particularly whether he keeps the more extreme Hindu tendencies in check will be key," he said.
Read more here – http://www.theguardian.com/world/2014/may/06/india-elections-hindu-nationalist-narendra-modi-victory-lightning-rod-militants