Narendra Modi belongs to Modh-Ghanchi caste, which was added to OBCs categories in 1994, says Gujarat government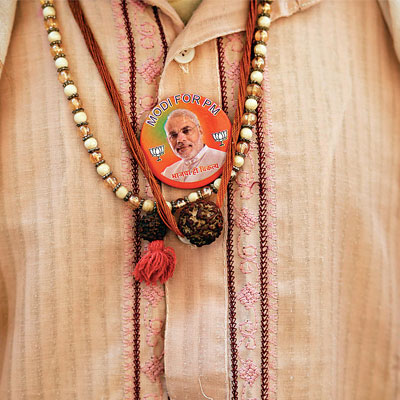 Friday, 9 May 2014 – 6:10am IST | Place: New Delhi | Agency: DNA
Responding to Congress charge that Narendra Modi was a 'fake'OBC, Gujarat government cited its two-decade old notification which says the Modh-Ghanchi (oil-pressers) caste, to which Modi belongs, was inlcuded in Other Backward Castes (OBCs) categories. "The Social Welfare Department of the Gujarat Government has passed a notification on July 25, 1994  which included 36 castes as OBCs and at number 25(b) Modh-Ghanchi caste has been mentioned to which Narendra Modi belongs. The caste has been included amongst OBCs," Nitin Patel, the state government's spokesperson, said.
The Congress claimed on Thursday the BJP's prime ministerial candidate Narendra Modi doesn't belong to any backward caste, but was in fact born into an upper caste "Vaishya" family, that is given title of "Modh", for being super rich, like Mod Brahmin and Modh Bania.
Alleging Modi was a "fake OBC", former Gujarat Assembly opposition leader Shaktisinh Gohil armed with documents said Modi belonged to a Vaishya sub-caste the "Modh Ghanchi", a microscopic minority found only in Gujarat. "He, in fact, belongs to the upper caste since he comes from a prosperous business community," said Gohil.
Gohil further contested Modi's claim of being a tea-seller, saying his uncle ran a canteen at a state road transport office, where Modi used to sit occasionally. Gohil's disclosure came at an AICC press briefing here, when he said, "Here comes the "fake OBC" of Gujarat after the state is already getting a bad name for fake encounters."
He went on, "If Modi is speaking the truth that he used to sell tea, he should disclose from which "larri" (cart) he used to do so, and there must be still many people of his age who used to have tea stalls in the area to vouch for his authenticity."
Gohil flaunted a Gujarat government resolution dated January 1, 2002 that he had procured through the Right To Information Act (RTI) to show how Modi usurped the rights of Other Backward Castes (OBCs) by placing his rich "Modh Ghanchi" caste in the OBC category within four months of becoming chief minister.
Asked why he was making the disclosure so late in the day when Modi has been flaunting his OBC credentials all these months, Gohil said he was supplied the government resolution only two days ago, after the second RTI appeal, and he could make it to Delhi to share it with the media only after polling was over on Wednesday in the Abdasa Assembly by-election, which he was contesting in Gujarat.
He explained the "Modh Ghanchis" are not of "Teli" caste like the Muslim Ghanchis of Gujarat who enjoy OBC status. They are "Vaishyas". He also quoted from the authentic Gujarati lexicon 'Bhagvadgomandal', which says the Modh are rich people living in a particular village. Gandhiji was a "modh vanik", he said.
Modh is an adjective showing the prosperity status of a particular caste or community. "By acquiring OBC status for his selfish motives, Modi has in fact encroached upon the right of members of OBC. Modi is a man born in upper caste and indulging in low level politics. A man's actions have nothing to do with his caste. The best example of this was Dr BR Ambedkar," Gohil said.
Read mor ehere– http://www.dnaindia.com/india/report-narendra-modi-belongs-to-modh-ghanchi-caste-which-was-added-to-obcs-categories-in-1994-says-gujarat-government-1986389