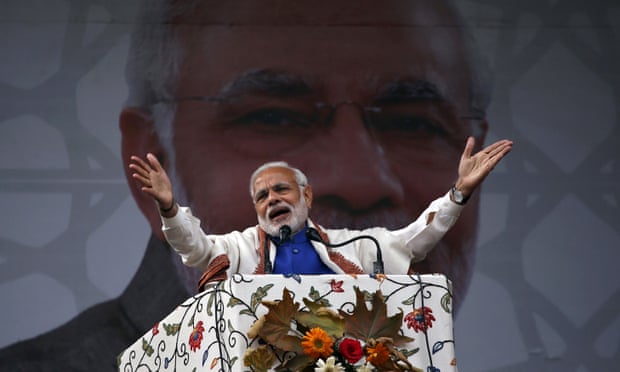 As India's prime minister Narendra Modi prepares to visit Britain, an ominous situation is developing in his country.
In the last few months, mobs of fanatics, some linked to his party, the BJP, have lynched Muslims for eating, carrying or possessing beef, or on mere suspicion of having done so.
The body of the latest victim, Mohammad Hasmat Ali, was discovered last week in the north-east state of Manipur. The slaughter of cows, considered holy by most Hindus, is proscribed in several states, but people of many faiths, including Hindus, still eat beef. It is clear, however, that the Muslims were killed not because they ate or smuggled beef but because they did this while being Muslim.
In other attacks two Dalit children, aged one and two, were burned to death, allegedly by upper-caste men, who doused petrol over their house as the family slept in the northern state of Haryana; and a thinktank director who hosted a former Pakistani minister's book launch in Mumbai had ink smeared on his face.
Equally disturbing, however, is the reaction from those in the establishment or their supporters. Soon after the lynching of Mohammed Akhlaq, on 28 September, a spokesman for Modi's ruling BJP, Tarun Vijay, wrote in an editorial meant to condemn the killing: "Lynching a person merely on suspicion is absolutely wrong" – as if implying that if you're sure of guilt, lynching is OK. A day after the Dalit children's murder, India's junior defence minister appeared to liken the killing of the children to the pelting of dogs.
Most of all, however, critics say it was Modi himself who spawned the narrative of beef as a critical issue during elections last year by warning of a "pink revolution" (a widespread slaughter of cows) if his party didn't win. Almost every day, a leader from the ruling party makes a provocative statement, mostly targeting Muslims and those who express dissent. One of India's biggest actors, Shah Rukh Khan, who spoke about the need for tolerance, was called a traitor and Pakistani agent by senior BJP figures.
Amid all this, the party leadership chooses to deny the rise of prejudice altogether, prompting a scathing critique by a former BJP minister and well-known journalist Arun Shourie, who accused Modi of deliberate silence over the lynchings.
This growing atmosphere of hate has sparked an unprecedented protest by scores of writers who have returned their awards to the country's premier literary body, the Sahitya Akademy, including most recently Arundhati Roy. Hundreds of artists, scientists and historians have now joined the protest. In support of the writers, Salman Rushdie denounced the "thuggish violence" sweeping India. India's culture minister advised them to stop writing.
This also raises the question of tensions and tyrannies that predate Modi's India. Critics of the revivalist new Hindu nationalism may perhaps consider their indifference to atrocities committed on the borders for years: in Kashmir Indian troops have filled mass graves and murdered, raped and tortured with impunity. In the north-east the world record-holding hunger striker, Irom Sharmila – the Iron Lady of Manipur – has for 15 years waged a lone battle against a law giving the armed forces draconian powers. And in the Maoist belt in central India, the denial of indigenous people's rights has triggered a decade-long armed rebellion.
Today, the language in politicians' speeches and in the hysteria on TV screens bears echoes of the bloody divisiveness of the partition of India in 1947. This rapid descent into chaos, and the unravelling of many certainties within a year of the BJP's ascension to power, has prompted uncomfortable comparisons with Pakistan.
There certainly are obvious similarities, especially with regard to the mainstreaming of the politics of hate. The two countries were separated in a partition that left nearly million 1 dead. Pakistan, unlike India, has only fleetingly had democratic governments; such noble concepts as secularism are not enshrined in the founding laws of the country. India, on the other hand, has always claimed to be a secular democracy. Pakistan doesn't say secular on the tin; India does.
It took decades for Pakistan to get to the brink (from where it is making attempts to claw itself back) while in India this has taken just over a year. Perhaps the seed was always there, under the surface, waiting for a warm, conducive environment.
Modi, a man with statesmanlike ambitions, seems to straddle two absurdly opposing narratives: one where he likes to be embraced by world leaders and tech gurus; and another where he either remains silent over the hounding of his country's citizens by vigilante squads, or speaks in platitudes that obscure the nature of the crimes.
During his trip to Silicon Valley in September, Modi was seen hugging a fawning Mark Zuckerberg. Yet, at the same time he was promoting Digital India to Silicon Valley tech-plutocrats, his government turned off the internet in disputed Kashmir for nearly four days.
India is a uniquely diverse country, the form and size of a continent. It was supposed to show the world a new mode of pluralism and tolerance. But it seems its founding principles are being recast at breakneck speed. A new tryst with destiny is being arranged: to turn India into a majoritarian Hindu state.
http://www.theguardian.com/commentisfree/2015/nov/11/narendra-modi-uk-visit-nationalist-violence-india?CMP=share_btn_fb