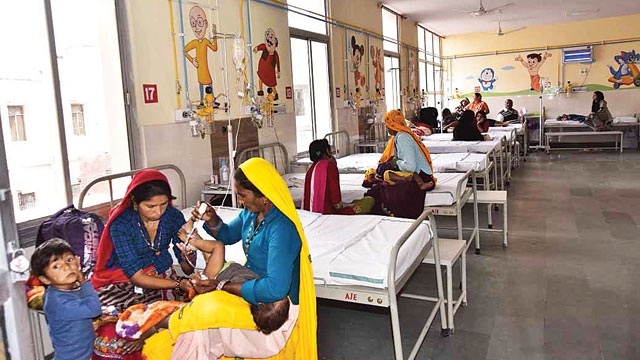 The new National Health Policy sets pragmatic goals, albeit with a few sticking points, and seeks to undo past mistakes.
The new National Health Policy has been cautiously welcomed. The policy sets out three clear objectives- progressively achieve universal health coverage, reinforce trust in public health care system, and aligning the growth of private healthcare sector with public health goal. Clearly, the government is seized of both the declining trust in public systems and the misalignment of the commercial private sector with public health goals. There are also specified a set of numerical targets for health status, health sector performance and health systems strengthening- which are pragmatic, perhaps even low set. Some key targets notably life expectancy and TFR could even be achieved by extrapolations of current trends. The deadline for reaching the modest public health expenditure target of 2.5 per cent of GDP is scaled back from year 2018 in the draft document to 2025 in the final text. The government's cautious and hesitant position on declaring health as a fundamental right is another manifestation of this pragmatism.
A welcome feature of the new policy is the clear articulation of the overall architecture of assured health care services, which should lead onto universal health coverage. The policy articulates seven key policy shifts in organizing health care services required for universal health coverage. The first is a shift from the selective services prescription of the structural adjustment years that limited care to a few communicable diseases and care in pregnancy to a vision of comprehensive services that places adequate emphasis on including chronic illness care into the primary care package. To achieve this, it calls for the existing 1.5-lakh peripheral public health facilities to be upgraded into "health and wellness centres"- a new term that this policy introduces, with every family linked by a health card to a primary care facility providing a defined package of services. And since the Health and Wellness centre idea is also mentioned in this year's budget speech, there is clearly some vision and seriousness to back this proposal. But one misses the clear policy commitment to increase the public health workforce to the level required to realize such an ambition. Further, when even the first examples of such centres are yet to be established, one is concerned at the ability of the government to deliver on this promise.
The other big new idea is "strategic purchasing", a term entering Indian health policy discourse for the first time. Strategic purchasing is "need based purchasing of secondary and tertiary care services"… from public, not for profit and private sector in the same order of preference." There is, however, in a contradictory manner, the use of this same term to mean an across-the-board engagement with the commercial health sector (para 13). The multiple meanings of strategic purchasing within the same document are perhaps reflective of the internal contestation around this concept. Whereas the earlier formulation highlights closing critical gaps to attain desired health outcomes, the latter formulation is implicitly for a different goal- promotion of a private health care industry. In this context, the lack of any seriousness in the policy statement to regulation of clinical establishments or reforming the medical and professional councils becomes a matter of serious concern.
A third policy shift is the clear commitment to re-orient public hospitals and shift away from a user fee and cost recovery approach, (another legacy of the structural adjustment reform years), to one where there is free drugs and diagnostics and emergency services to all. This requires that state and central governments substantially increase outlays for public hospitals. As recently as January this year, the finance ministry released an order applicable to central hospitals to raise 30 per cent of the revenues required to meet its Seventh Pay Commission obligations. This would mean that hospitals like JIPMER which have over five decades provided high quality tertiary care that reaches the poorest without charging any user fees whatsoever would now be forced to introduce user fees and push up out of pocket expenditures.
Public hospitals, due to long queues and bare minimum amenities, tend to be self-selective for the poorest. These hospitals are the only safety net for a wide range of secondary and tertiary healthcare that most of the poor have access to. To force such public hospitals to recover costs was a policy perversion introduced in the nineties- which NHP2017 explicitly promises to reverse. One hopes that the January circular is an aberration. But taken along with the stagnation in public health expenditure under the new government, it raises the fear, that NHP2017 could be "policy as placebo". As the Hindi saying goes "The elephant has two sets of teeth- one to show and one to eat." One hopes that the policy is meant for implementation and not just for politically correct articulation.
There are many interesting ideas in the NHP which have considerable potential like strategies for attracting and retaining health professionals and the development of a public health management cadre. But as NHP 2017 itself concludes- "a policy is only as good as its implementation." The next steps may not lie in creating yet another document called an implementation framework. It would be better served by the creation of a number of multi-stakeholder implementation task forces or working groups around some of these new ideas and priorities – with the secretariat of these task forces housed in a corresponding division of the ministry- so that the ministry gets down to the implementation without any further time lost. It is a pragmatic policy- but only if work on implementation begins at once.
The author teaches at School of Health Systems Studies, Tata Institute of Social Sciences, Mumbai.
http://www.dnaindia.com/analysis/column-national-health-policy-2017-the-challenges-of-implementation-2371059