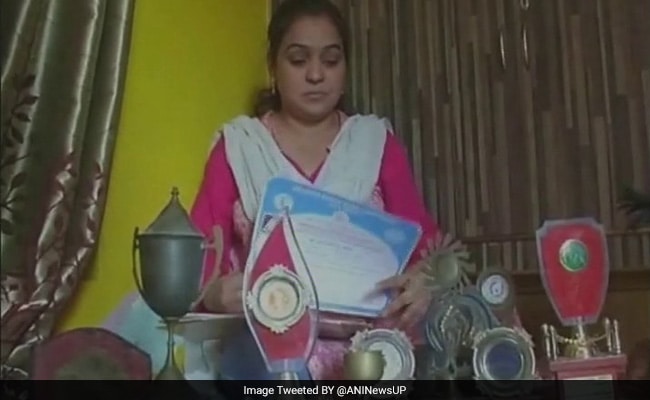 NEW DELHI: 
HIGHLIGHTS
Uttar Pradesh's resident Shyumla Javed divorced over phone
Shyumla now wants Chief Minister Adityanath to look into the matter
Mediums used for triple talaq by Muslim men has sparked a debate
Her husband said the word 'talaq' thrice on phone to divorce national-level netball player Shumaila Javed in Yogi Adityanath's Uttar Pradesh, reports news agency ANI. Her fault? She gave birth to a girl. Ms Javed from Amroha, about 380 km from Lucknow, is currently staying at her parental home and wants Chief Minister Adityanath to look into the matter.
In another case from Agra, a woman was given talaq because she gave birth to twin girls.
For 22-year-old Afrin from UP's Shahjahanpur, the news of her marriage fallen apart came in the form of a Facebook post, which was followed by a message on her cellphone. Her husband's way to annul the marriage, which in Islam is a civil contract based on consent, broke her.
The mediums used for the termination of marriage by Muslim men sparked a debate on the practice of Triple Talaq. The issue came to the fore in February last year when Shayara Bano from Uttarakhand approached the Supreme Court challenging the constitutional validity of this exercise and urged for a ban on Triple Talaq, polygamy and nikah halala, a practice under which a divorced Muslim woman has to marry again, consummate the marriage and then break it if she wants to go back to her first husband.
A couple of petitions have been filed in the Supreme Court opposing Triple Talaq after women complained of being divorced on Facebook, WhatsApp, via postcard and more recently through a newspaper advertisement.
Among those seeking change in the law is Rizwana, a 33-year-old Railways employee from Delhi. She married an Indian Air Force employee in 2012. But her husband didn't think it was important to inform her about his two previous marriages. When she discovered the truth, she sought a divorce. But her husband held that Islam allowed him to marry without divorcing his wives.
Being a government servant helped her to be financially independent, but it took away from her the right to alimony from her estranged husband. "In our country, women with government jobs are not entitled to alimony," she said.
The controversy, in many ways, is reminiscent of the Shah Bano case of the 80s, which was a landmark step in Muslim women's fight for social justice and equality. In 1985, the top court had ruled in favour of Ms Bano, who had sought maintenance from her husband who had divorced her. But following a backlash from orthodox Muslim groups, the Rajiv Gandhi government diluted the order through the Muslim Women (Protection of Rights on Divorce) Act, 1986, which gave a Muslim woman the right to maintenance only for the period of iddat (about three months) after her divorce. Her relatives or the Waqf Board are to take care of her after that.
The Centre, which sees the practice to be a violation of fundamental rights guaranteed by the Constitution, has already made its stand clear on the issue. The Supreme Court will take a call on whether Triple Talaq or polygamy can be upheld under the right to religion. Chief Justice of India JS Khehar said that a five-judge Constitution Bench will look into it during the court's summer vacation.
The All India Muslim Personal Law Board, however, claims that Sharia law upholds the validity of Triple Talaq and allows a Muslim husband to divorce his wife by merely pronouncing  'talaq' three times. It added that the pleas challenging such practices among Muslims were not maintainable as the issues fell outside the realm of judiciary.
http://www.ndtv.com/india-news/national-level-player-gives-birth-to-girl-gets-talaq-on-phone-1684861