The much delayed NCRB report for 2017 shows that three-fourths of those accused of crimes against women are set free by courts.
Subodh Varma 22 Oct 2019
After an unexplained delay of over one and a half years, the National Crime Records Bureau (NCRB) released its report on crimes in India in 2017, which shows a shocking 16% increase in crimes against women compared with 2013, the last year before the Bharatiya Janata Party (BJP) government led by Narendra Modi took over in 2014.
Crimes against the two most oppressed and exploited sections of Indian society — dalits (Scheduled Castes) and adivasis (Scheduled Tribes) — too showed increases by about 10% and 5%, respectively, over 2013.
A Crime Against Woman Every One-and-a-Half Minutes
There were 3.59 lakh registered cases of crimes against women in 2017. This means that such a crime is committed every one-and-a-half minutes, every day, round the year. In 2013, as many as 3.09 lakh such crimes took place.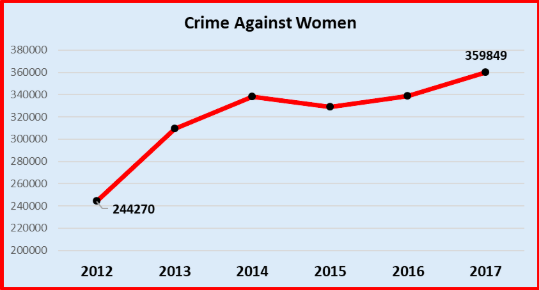 The regressive social outlook of the ruling party, and its ideological mentor, the Rashtriya Swayamsevak Sangh (RSS), which considers women as best suited for procreation and care of family within the four walls of the home, seems to be the main contributory factor behind this tragic state of affairs.
There have been numerous instances of Sangh Parivar affiliates demanding that women adopt a conservative dress code when they go to schools and colleges, and one BJP MP even declared that Hindu women should produce more children. Widespread propagation of such medieval values, packaged with bigotry and hatred for other religious communities, has led to increasing safety concerns for women.
Such thinking appears to have found some influence in some of the courts, as evident when the Supreme Court in 2017 passed an order which diluted Section 498A of IPC which deals with cruelty by husband or relatives in the context of dowry demands. India is the only country in the world where young, newly married women are often burnt to death or otherwise forced to commit suicide because of persistent harassment by the husband or his family for more dowry. The latest NCRB report in fact records that 7,838 women were killed in India in 2017, in this barbaric manner.
Another, equally disturbing trend that emerges from the report is that conviction rates do not seem to have shown any marked improvement.
In 2013, the conviction rate for cases of crimes against women was 21.3%. This has inched up to 24.6% in 2017. What this implies is that despite all the talk of ensuring women's safety and punishing the culprits speedily, only one in four of the accused actually serve punishment sentenced by courts. This is the one thing that the government could have improved, besides better policing.
The low conviction rate serves as booster for impunity because if there is no fear of punishment then criminals would be emboldened to continue with their ways.
Atrocities on Dalits and Adivasis
Another equally shocking information emerging from the 2017 NCRB report is that crimes against dalits and adivasis continue unabated and, in fact, show a rising trend under Modi's rule.
In 2017, 43,203 cases of crimes against dalits under various laws were registered with the police across the country. That is an increase of nearly 10% over 2013, right before Modi-led BJP took over in 2014.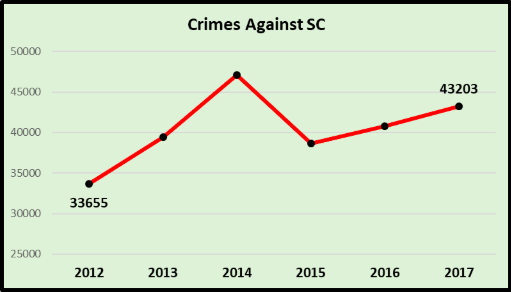 Similarly, crimes against adivasis stood at 7,125 in 2017, up from 6,793 in 2013.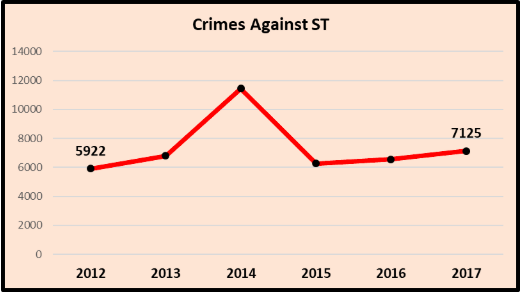 As can be seen from the charts above, 2014 witnessed a sharp spike in crimes against both dalits and adivasis. This can only be explained by the hotly contested campaign for the Lok Sabha elections that year, followed by the victory of BJP/Sangh Parivar.
The election campaign involved coercive measures against the most disadvantaged sections, such as dalits and adivasis. And, after the victory of BJP, there was a sense of euphoria among its supporters belonging to the upper castes who had long chafed at the administrative disapproval and curtailment of their anti-dalit, anti-adivasi feelings.
Events the years following the 2014 elections confirmed that the ruling BJP stood in favour of dilution of the Prevention of Atrocities Act meant for stringent action against anti-SC/ST practices. When the Supreme Court diluted the Act in 2018, there was widespread protest by progressive sections all over the country.
The BJP government had failed to properly defend the Act in the hearings and even dithered over appealing against the order. It was only after the issue acquired incendiary proportions that the government tried to rescue the Act through an ordinance. It is more than likely that as these events were unfolding in 2017, registration of cases under protective laws would have become tardy and thus the final figures released by NCRB are in all probability, under-estimates.
In fact, for all these data, the caveat of under-estimation applies because the patriarchal and upper caste ideologies are so heavily entrenched in the law and order machinery that more cases are refused to be recorded or coerced into settlements than actually enter the records and emerge as these statistics.