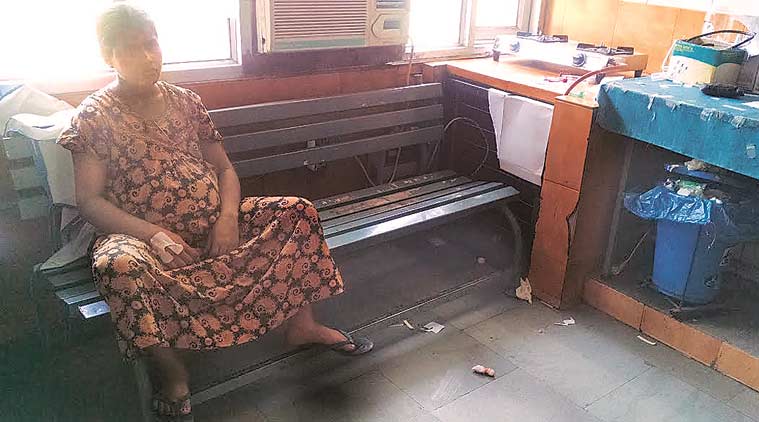 The 925-bed hospital in North Delhi is out of surgical gloves and critical syringes, hasn't received its supply of saline drips in three months, and is always short of basic painkillers such as morphine, apart from sutures and cotton gauze.
Hindu Rao Hospital's gynaecological emergency gets an average 60-70 cases a day, going up to 100. Its main emergency usually has 300 admissions a day. Every time a patient is brought in, doctors brace for one common procedure. How to tell the relatives to go fetch basic medical equipment.
The 925-bed hospital in North Delhi is out of surgical gloves and critical syringes, hasn't received its supply of saline drips in three months, and is always short of basic painkillers such as morphine, apart from sutures and cotton gauze. There are around 390 doctors on rolls, but most of them — from resident doctors to specialists and even the dean of its attached medical college — are on a 44-day contract, renewable every 39th day.
Under severe financial stress, the hospital recently delayed salaries to doctors for three months. It was among the government hospitals in Delhi whose doctors went on a two-day strike last month.
It's 8.30 pm on a Thursday when a 39-year-old reports to gynaecology emergency. In labour and bleeding, she is referred to the labour room on the third floor. There are no nursing orderlies or stretchers, so her husband carries her up the two floors.
There are 43 patients squeezed into 14 beds in the labour room, and 20 on six beds in the post-delivery ward. The beds have no sheets. Earlier patients were asked to buy clean sheets; now every time a woman's water breaks, an ayah preps for the next case by wiping the bed dry with one of four pieces of cloth with her.
As Dr T (name withheld to protect identity) tries to get her medical history, the 39-year-old stands leaning on an ayah. Simultaneously, the resident doctor is doing a vaginal examination of another patient, who is sharing a bed with two others. They have shifted wordlessly to make space.
The 39-year-old reveals this is her sixth delivery and that, for a month now, she has been going to a neighbourhood quack to ensure it is her last, behind her husband's back. The ayahs have meanwhile laid out two cardboard sheets on a bench outside the ward, and the patient is helped onto it.
There are two fans in the room, one of which works. The six women who share the two beds directly under this fan squabble constantly. Dr T has learnt to ignore them.
Right now, her mind is on another matter. Before she examines the 39-year-old, she needs fresh surgical gloves. So she sends her intern to the patient's husband. Seconds later, the intern returns. Her nose cringed, she complains that the husband seems drunk and is creating a scene. The 39-year-old struggles up, telling the ayah to let her speak to him. Dr T screams at her to keep still and goes out to talk to the husband herself.
"Use the same gloves you are wearing," the husband tells her, as a crowd of restless relatives listens. Two women guards flanking her, Dr T is blunt. "These gloves have already gone inside a patient. If you want your wife to live, get gloves. And vaginal pads, and a packet of cotton gauzes."
The gloves arrive half an hour later, and Dr T does the examination. The woman needs an emergency ultrasound, but before that a form must be arranged. Since the hospital is out of ultrasound forms, the husband is given one of four copies and told to get it photocopied from outside the hospital.
Muttering abuses, he leaves. Dr T calls out, "Your wife looks dehydrated, she will need a saline drip, you need to buy that too."
The 39-year-old has by then started crying in pain again. In the delivery room, the bulbs have fused once more. An intern points with her cellphone light as Dr T makes a cut between the vagina and anus to prevent injury during delivery. The cut is stitched back later, under mobile light, and doctors joke they have to ensure they don't close the whole vaginal opening.
There are no bags when women in labour vomit. An ayah just pushes a dustbin near them — to the foot or head of the bed, depending on which mother is throwing up.
At times, when the rush is too much, deliveries are done on the floor or on the cardboard bed, say senior resident doctors.
"Women come to hospital in the hope of hygiene, but really, there is no difference. If they have to deliver on the floor, they might as well go to midwives," Dr T says, nine deliveries and five hours later.
Vaginal pads — about 10 are needed per delivery — are lacking, while sutures are finally available after having run out a month earlier. The emergency has more critical shortages, including of antibiotics like augmentine, hemantics, cardiac drugs, sedatives, painkillers and analgesics.
Sources said centralised regular purchases haven't taken place since December, and buying is done as per emergency demand. No permanent posts of resident doctors have been opened for interview in three years, and none for specialists in a decade.
It's around 10 pm, and two floors below, the main emergency has just got 60 new patients. A woman is hurling abuses at a doctor. Her husband got bitten by a snake about 13 hours ago, and she has taken him to three government hospitals, to be told for anti-venom drugs are not available. When told the same at Hindu Rao, she collapses.
Doctors start calling the casualty medical officer for an immediate purchase, circumventing the tendering process. Two hours later, the woman's husband gets his injection but she is counselled he may not live. He needs at least 30 vials of anti-venom in 24 hours. Anti-rabies serum injections, administered directly on severe animal bites, continue to be out of stock across Delhi, Dr A says.
An intern and a single guard stand at the door of main emergency. The intern's duty is to warn every arrival that drugs are in short supply. Around 11 pm, a 45-year-old is carried in by four people. The 23-year-old intern crouches on the floor to examine him; the guard struggles to keep the attendants away.
They argue, even as the patient is collapsing. So, in full view of at least 100 people, jostling on all sides, the doctor starts cardiac resuscitation with her bare hands. Half an hour later, the patient is declared dead.
At 1 am, a 15-year-old arrives screaming. Four attendants hold him down as a doctor stitches his open thigh wound. Lignocaine, a common local anaesthetic, is out of supply. The parents are given the option of going to another hospital. At this time of night, they choose to stay back. They are later sent out to get 5 ml syringes. These too are scarce.
There is an eight-bed ICU on the ground floor. Of 12 ventilators, three are out of order. The single ECG technician on duty after 4 pm handles cases there and in OTs, wards and emergency. The High Dependency Unit — an intermediary between ICU and general wards — is closed due to shortage of staff.
It's around 2 am now, and a man who arrived in a critical state 24 hours earlier with liver cirrhosis and needing intubation (placement of a tube in the windpipe) is still waiting for an ICU bed. Finally, after four hours, he is sent to the medicine ward.
Normally one attendant is allowed per patient, but at least 10 crowd around his bed, taking turns with the ambu bag, to give him manual resuscitation. Of the hospital's four portable ventilators too, two are out of order.
"This is a difficult intubation due to his weight (85 kg) and his small neck. We need to shift him to ICU," says Dr D, the only anaesthesia resident on duty.
Attendants pitch in at the ICU too, around 15 at any given time. Doctors can't say no; the attendants are the ones who run out to buy critical supplies, including syringes needed for infusion pumps and transfusions. None of them wears protective gowns or surgical masks. "Gowns, gloves and masks are in short supply even for doctors. How can we give them to attendants?" a doctor laughs.
Such rationing, says Dr S, is key to keeping Hindu Rao going. "If a patient needs two vials of a painkiller, we give him half. There is no other way."
See more at: http://indianexpress.com/article/india/india-others/neither-gloves-nor-saline-drip-patients-given-just-half-a-dose/99/#sthash.zOpZywWt.dpuf