A major criticism of the new law is that it can become an instrument of abuse as it confers the tax enforcement authorities with strong discretionary powers.
As Congress MP from Thiruvananthapuram Shashi Tharoor points out, the new law essentially recreates the inspector raj of the pre-liberalisation days by giving the taxman judicial powers, powers to scrutinise files for 16 years, levy penalties, and make people criminally liable.
In the second of a three-part series, Paranjoy Guha Thakurta explains why the new law is skewed.

Part I: The nuts and bolts of the new black money law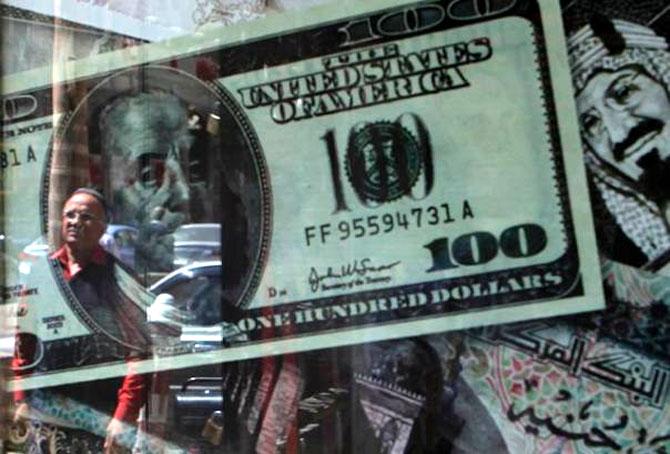 In their election campaign in 2014, Narendra Modi and many Bharatiya Janata Party leaders had claimed that if elected, they would bring back enough black money to distribute a sum of  15,00,000 (or the equivalent of nearly $25,000) to each and every poor Indian family.
Some of Modi's supporters, like Baba Ramdev, even claimed that the money would be brought back within 100 days of the new government coming to power. Having repeatedly asserted that the United Progressive Alliance government had deliberately not revealed the names of those with foreign bank accounts because it was trying to protect them, the BJP government was now on the back-foot.
On October 17, 2014, the government had come under fire from judges of the Supreme Court for failing to furnish the so-called HSBC list of 628 names, addresses and bank account details of Indian individuals, firms and trusts holding accounts in the Geneva branch of HSBC's Swiss subsidiary. (HSBC is an abbreviation for Hongkong and Shanghai Banking Corporation.)
This list of 628 names was part of a longer list of some 130,000 suspected tax-evaders with accounts in HSBC Private Bank, Geneva, that had been "stolen" in 2006 by a computer systems engineer Herve Falciani (described by some as a whistle-blower) and subsequently "leaked" to representatives of governments of different countries in Europe.
The HSBC list that had been given to India by the government of France in 2011, is not the only one of its kind. Another list of names of 50 Indians with accounts in LGT Bank in Liechtenstein, a tax haven in Europe, had been handed over to the ministry of finance by the German government in 2010.
When the BJP was India's largest opposition party for a decade between May 2004 and May 2014, its leaders — notably former Deputy Prime Minister of India Lal Krishna Advani — had frequently attacked the previous UPA coalition government led by the Congress party for not doing enough to bring black money back to the country. Now the shoe was on the other foot.
In October, Finance Minister Arun Jaitley had told journalists that a delegation of government officials led by revenue secretary Shaktikanta Das had visited Switzerland and come back with "positive feedback" that Geneva would cooperate with India in identifying holders of illegal funds but that the Indian government would have to first provide evidence "independent" of the HSBC list since "foreign countries say that it (the list) is stolen".
The finance minister, who had first stated in October that disclosure of the names in the list would embarrass his political opponents in the Congress, later contended that the names of account holders could be made public only in accordance with the "due process of law", which he said had been "constrained" by the DTATs (or double taxation avoidance treaties) that the India government had signed with different countries.
The government's affidavits before the Supreme Court and statements by Prime Minister Modi and Finance Minister Jaitley clearly reveal that the government has no idea how much illegal money Indians have in foreign bank accounts.
Readers Choice – Business Ethics & Social Responsibility (General) Books
Modi acknowledged that the exact amount of black money stashed abroad by Indians was not really known.
He said: "Till date, no one knows, not me, not the government, not you, not the earlier governments, as to how much money is actually stashed. Everyone quotes a different figure in their own way. However, I do not want to get entangled in the numbers, my commitment is whatever is the amount — two rupees, five rupees, one crore (ten million) or more — that money which belongs to the poor, should be brought back. And I assure you that there will be no shortcomings in the efforts that I make."
This issue became more controversial when BJP president Amit Shah stated in an interview with ABP News that what had been said in the run-up to the elections was in the nature of jumla — a quaint word which means an idiomatic statement made with rhetorical flourish or exaggeration.
Various estimates have been made of the quantum of black money in India and abroad. Arun Kumar, professor at the Centre for Economic Studies and Planning, Jawaharlal Nehru University, places the total figure of black money generated in India between 1948 and 2012 at around $1.2 trillion, or over half of India's current annual gross domestic product (GDP) which is roughly $2 trillion.
Of this amount, Kumar believes around 10 per cent has gone abroad while 90 per cent has remained within the country. In other words, if this estimate is accurate, the new law aims at tackling only a tenth of the black money in circulation.
The Washington-based Global Financial Integrity (GFI) puts the figure and the interest earned on it at $462 billion for the period between 1948 and 2008. A former director of the Central Bureau of Investigation, A P Singh, had publicly claimed that $500 billion of illegal funds were held by Indians in foreign banks.
According to the 'White Paper on Black Money in India' prepared by the ministry of finance in May 2012, the Swiss National Bank estimates that the total amount of deposits in all Swiss banks by citizens of India at the end of 2010 was $2.1 billion.
A leaked report of the National Institute for Public Finance Policy commissioned by the government has reportedly estimated the black economy to be around $1.4 trillion or 70 per cent of India's GDP.
Pointing out that various estimates of black money in India have been advanced, Congress MP from Thiruvananthapuram Shashi Tharoor wrote that even if the highest estimate — the one by GFI — is considered, the total sum of illicit transfers out of India stands at about Rs 28 lakh crore (or 28 followed by 12 zeros), which works out to less than Rs 25,000 per Indian citizen.
He said that foreign countries were not waiting to hand over information about Indians holding black money in their countries. "…the Swiss government will not reveal information on Swiss bank deposits, and cannot reveal them under their own laws, until we provide the names of individuals we are investigating, the names of the banks where they have their money, and evidence of criminality in the acquisition of this money," he wrote.
"The Swiss government has said that they will not support any 'fishing expedition' by the Indian government looking for Indian names in their banks. The Government of India has announced harsh punitive measures… but how will punitive measures alone promote compliance when the government has no way of knowing who has assets abroad, or of getting information that will inculpate people?"
Tharoor had joked in the Lok Sabha that Jaitley, "who once used to enjoy good South Indian food, has given us a medu vada … a bill with a big hole in the middle of it."
He added that the "big hole is the lack of means of obtaining information about those whom the government actually wants to prosecute… You can announce threats of jail and hefty fines, but you cannot fine or jail 'persons unknown'."
A major criticism of the new law is that it can become an instrument of abuse as it confers the tax enforcement authorities with strong discretionary powers.
Tharoor apprehends that the new law "essentially recreates the inspector raj of the pre-liberalisation days..by giving the taxman judicial powers, powers to scrutinise files for 16 years, levy penalties, make people criminally liable…"
Research assistance: Shinzani Jain