M J Akbar is the first political public figure to feature in the growing list of men — so far largely from the media, film and entertainment — named in India's own #MeToo movement that is gathering momentum since it broke on social media last week.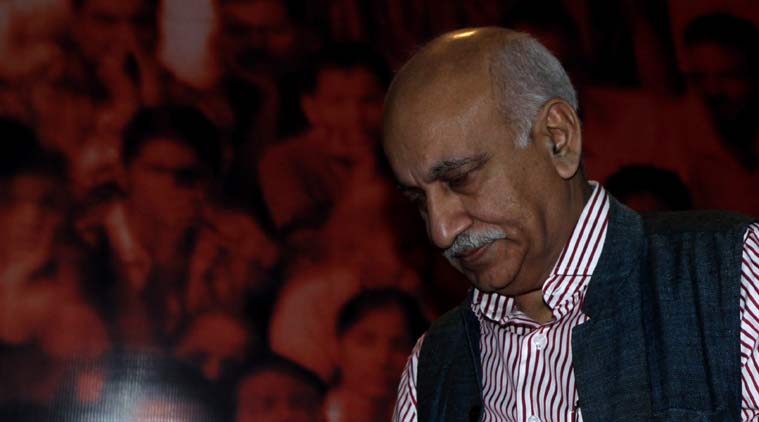 #MeToo: More Women Accuse MoS MJ Akbar of Sexual Harassment
At least nine women journalists have named Minister of State for External Affairs MJ Akbar for sexually harassing them while he was working as an editor of a newspaper.
These journalists have given detailed accounts of Akbar violating consent and conducting uncomfortable interviews in hotel rooms.
Akbar is the first political figure to have emerged in the list of men who have been accused of sexually assaulting and harassing women from across the media and entertainment industry.
IT STARTED WITH AN ACCOUNT BY JOURNALIST PRIYA RAMANI
Priya Ramani, who was formerly associated with India Today, The Indian Express and Mint, was the first to level allegations against MJ Akbar.
In a piece titled 'To the Harvey Weinsteins of the world' published in Vogue India in October 2017, Ramani describes an experience that she had with Akbar, when he was an editor – without naming him.
She says that she was invited to a plush hotel in Mumbai for a job interview, which she remembers more as a date than an interview. She goes on to call him a "predator" and says, "You're an expert on obscene phone calls, texts, inappropriate compliments and not taking no for an answer."
"You know how to pinch, pat, rub, grab and assault. Speaking up against you still carries a heavy price that many young women cannot afford to pay," the article read.
On Monday, 8 October, Ramani took to Twitter to name her aggressor – MJ Akbar.
After Ramani tweeted the 2017 article naming Akbar, another journalist Shuma Raha took to Twitter and said, "Year: 1995, Place Taj Bengal, Kolkata. After that encounter, I declined the job offer."
Raha also clarified that Akbar didn't do anything to her, although she mentioned the experience of an interview in a hotel room was "deeply uncomfortable".
Speaking to The Indian Express, Raha also said that she was asked by Akbar to come to his hotel room for the interview in Kolkata in the year 1995 and the level of discomfort she faced while giving the interview, sitting on the bed, was one of the major reasons why she didn't take up the job.
HE RAN HIS HANDS FROM MY BREAST TO HIPS: GHAZALA MUSTAFA
Another journalist Ghazala Wahab wrote her account on news portal The Wire.
Recalling her early days as a journalist, Wahab said she joined The Asian Age in 1994, as an intern, where Akbar was an editor. And it was in 1997, her third year at work, when the "office culture hit her".
Wahab said that Akbar would send her lewd messages on The Asian Age intranet and would often call her to his cabin, where she was repeatedly harassed.
Wahab mentioned that she was called to Akbar's room, while he would write his weekly column, to look up words from a dictionary that was placed on a low surface. In one such incident, she mentioned that she was squatting to look up a word when Akbar held her waist.
"I stumbled in sheer fright while struggling to get to my feet. He ran his hands from my breast to my hips. I tried pushing his hands away, but they were plastered on my waist, his thumbs rubbing the sides of my breasts," Wazab said.
She also mentioned multiple instances where Akbar touched her inappropriately and repeatedly harassed her.
Wahab also said that she had confided in the then bureau chief of the newspaper, Seema Mustafa, but her cries had fallen on deaf ears.
PRERNA SINGH BINDRA: ANOTHER HOTEL ROOM INTERVIEW
On 6 October, journalist Prerna Singh Bindra put out a tweet saying she was called to a hotel room by this "brilliant, flamboyant editor who dabbled in politics" and later made her worklife harder when she refused. Bindra hadn't spoken, named the editor at that moment, but later on 8 October she, too, named Akbar.
She also mentioned that Akbar once made "lewd comments" during a meeting with the entire features team. Bindra also recalls how the other girls (in the team) had told her that they were invited to hotel rooms too.
SHUTAPA PAUL: 2010-2011 IN KOLKATA
Retweeting Ramani's account, another female journalist Shutapa Paul tweeted, "#MeToo #MJAkbar 2010-11 while in @IndiaToday in Kolkata."
Shutapa, in a detailed thread on Twitter, said Akbar scheduled his meetings with her in hotel rooms, sometimes at odd hours.
"MJ Akbar told me how journalists working together often 'grew close' and things could happen between them. He told me I should accompany him on his foreign visits. I told him about my mother, my recently deceased father and the committed relationship I was in at that time."
KADAMBARI M WADE, TOO, NAMES MJ AKBAR
Another former journalist at Asian Age has named MJ Akbar.
Kadambari M Wade took to Twitter to say, back in 1998, when she was working as a sports reporter, Akbar made her feel 'awkward'.
Narrating one such incident, she said Akbar would always look at her 'chest' while talking to her, so one day, she confronted him about it and after that – as Wade recalls – Akbar and she never spoke.
KANIKA GAHLAUT: 1995-1997
Speaking to The Indian Express, freelance journalist Kanika Gahlaut said she worked with Akbar from 1995 to 1997 and Akbar's behaviour towards everyone was inappropriate.
Describing an incident, Gahlaut told the daily that she was invited to a hotel room once by Akbar, to which she agreed but never showed up. She also said she gave him an excuse, and he never bothered her and she continued to work.
Gahlaut added that Akbar "wouldn't push" once he was told "no". She also mentions that she was "always given her due" and that she "learnt a lot from him".
SUPARNA SHARMA CALLS OUT AKBAR
Currently the Resident Editor of The Asian Age, Suparna Sharma has also accused Akbar of harassing her, reported The Indian Express.
Speaking to the daily, Sharma said she became a part of the team from 1993 to 1996, and was reporting to Akbar. She said she was working on the first page of the newspaper and Akbar was standing behind her.
"He plucked my bra strap and said something which I don't remember now. I screamed at him," Sharma told the daily.
In another incident, Sharma said she once went to Akbar's cabin at work and he kept staring at her breast and said something that she ignored.
Sharma says that these incidents were routine and there were "no committees one could go to".
SABA NAQVI'S ACCOUNT OF HARASSEMENT
In an article on DailyO, senior journalist Saba Naqvi has written about the harassment she faced at her workplace by a certain editor who shares his name with a "Grand Mughal Emperor".
Though Naqvi doesn't name anyone, she goes on to narrate a few incidents that she faced in office with this person she describes as a "predator" who later became a senior politician.
But as Saba Naqvi tweeted out her account, journalists Priya Ramani and Suhasini Haider called out MJ Akbar.
Naqvi clarifies that the man never laid a hand on her, but what he did was nothing short of harassment.