Reported by Siddharth Ranjan Das, Edited by Shamik Ghosh |  NDTV Updated: September 06, 2012 18:37 IST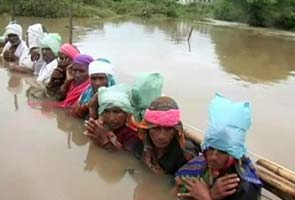 Click to Expand & Play
Bhopal: 
In
Madhya Pradesh
's
Khandwa
area, 51 people stayed immersed in water for the 13th day today in what's being called a 'jal satyagraha'. The protestors are demanding compensation and rehabilitation for villagers whose homes will be submerged under water after with the state government's order of opening all the gates of the
Omkareshwar
dam in Madhya Pradesh.With
Narmada
flowing above the danger levels, the government has little choice. However, the protestors, members of the '
Narmada Bachao Andolan
', say the government's decision to increase the
water level
of the Omkareshdam on the Narmada without rehabilitating people living in low lying villages is a violation of a Supreme Court order, which says villagers must be rehabilitated at least six months before such a move is implemented.
"Till the time water level comes down to 189 and as per court orders, we get the 5 acre land. And labourers get Rs. 2.5 lakh. Till that time even if we die, we will sit here," said one of the 51 protestors at Madhya Pradesh's Ghogal village, who have been sitting in water for the past 13 days.
"In the water, fishes and crabs are biting us, our skin is affected and it is raining also," said a protestor.
However, despite the deteriorating health of the protestors, the government has so far offered no medical help. No one from the local administration has visited the spot of the protest.
The water of the Omkareshwar Dam has already risen to 190.5 meters and its effects can been seen in Ghogal, Kaamankheda and 28 other villages, where crops have been damaged.
[youtube=http://www.youtube.com/watch?v=dRWT1s5T4q4&feature=g-upl]
Related articles