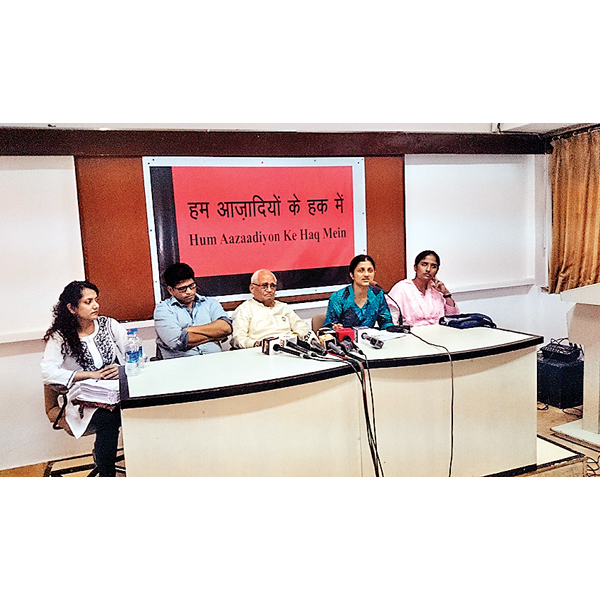 Barely a few days after the state government announced a special investigative team to look into the murder case of communist leader Govind Pansare, his daughter-in-law Megha Pansare says the fight for justice has now taken over the grief of his loss.
Appearing to be losing faith in the system, similar statements were repeated by Sandeep Shetty, the brother of slain activist Satish Shetty, who has been fighting for justice for five years now; and Mukta Dabholkar, daughter of rationalist Narendera Dabholkar, who was killed last year in Pune.
COPS ARE SNOOPING ON US – Says Govind Pansare's daughter-in-law. Narendra Dhabolkar and Satish Shetty's family also critical of murder probes.
At a public meeting organised by 'Hum Azadiyon ke haq mein' group, Sandeep Shetty, brother of RTI activist Satish Shetty; Medha Pansare, daughter-in-law of communist leader Govind Pansare and Mukta Dabholkar, daughter of Dr Narendra Dabholkar have openly criticized the state government, police, the CBI and bureaucrats for lack of political will to investigate these three high-profile murder cases in the state.
Late communist leader Govind Pansare's daughter-in-law has alleged that the Maharashtra police are snooping on the family. She said her close sources have confirmed that her phone, email account, bank accounts have been tapped by the police without her knowledge or permission.
Megha Pansare, an activist who used to be part of all of Govind's movements and social work, told Mumbai Mirror: "The police have asked me for my bank account details and bank statements. This is just ridiculous. We have been supporting police in the investigation into my father-in-law's death and have provided all them with necessary information. How can they secretly keep a watch on us?"
"Comrade Pansare passed away two months ago. The police have still not been able to put together a single clue to suggest who murdered him and instead they are snooping on the family? I'll meet the inspector general and file a complaint soon," she added.
Ankit Goyal, Kolhapur deputy superintendent of police and SIT member, however said, "I have nothing to say. I can only comment on the issue after reading her official statement. We are continuously in touch with her. If she has any complaints, she should let us know."
"When we filed a petition before the Bombay High Court asking them to form a special investigation team to unravel the mystery behind Govind Pansare's murder, the state government had hastily announced a team, without even consulting us. It seems the state does not want a court-supervised SIT. We are not satisfied we are going to demand court supervised SIT inquiry into the Pansare murder case," Medha said releasing her anger.
Rationalist, communist leader Govind Pansare was shot at in Kolhapur on February 16 and he died five days later on February 20.
Megha further accused that the state government did not want to bring the investigation details in the public domain.
"Days after we have filed an application in the Bombay High Court demanding a court monitored investigation by a special investigation team (SIT) in the case, the state government hurriedly announced that it has set up an SIT to avoid the court supervision of the probe. Our previous experience of cases like Dabholkar is not good. Also, we don't get to know the status of investigation and the failure of the police authorities in nabbing the culprits. So, we want a court monitored SIT to probe the case which will bring the details of investigation in public domain," she added and claimed that the focus of the investigation was not moving in the right direction.
"Even if the investigating agencies interrogate thousands of people, it will be of no use if they do not focus properly. If it is not investigating the case as expected, it will not lead to any conclusion," said Mukta Dabhokar adding that she will continue to fight for justice.
Sandeep Shetty blamed the system saying that the corruption has prevented any progress in the investigation. "The system is always biased and they are inclined towards powerful people. It is not the CBI or the police that is not capable of investigating the case. It is their intention that is more important. They can find the culprits immediately if they decide," said Sandeep.
DABHOLKAR KIN TO FILE PLEA
Even after ten months of taking over the investigations in the murder of Dr Narendra Dhabolkar, the agency has not been able to figure the case out. Dhabolkar's daughter Mukta said, "We are going to file a petition and request the high court to observe the CBI investigation into my father's murder. There is no hope with this investigation right now. Both the police and the state are aware of the culprits but neither are they being interrogated nor do they plan to arrest them.
GADKARI INFLUENCED SATISH SHETTY MURDER PROBE: SANDEEP SHETTY
Five years have passed since RTI activist Satish Shetty's murder, yet the killers are still at large. Satish's brother Sandeep on Wednesday said, "When Gadkari became a cabinet minister, he influenced the investigation and since February 17, 2015, we have not heard anything from the CBI. The CBI had assured to reinvestigate the matter," he claimed. Satish Shetty was murdered on January 13, 2010
He further said, 'CBI has been investigating the case since the last four years and on 20 December 2013 it specifically told the High Court that Satish's murder is directly related to the FIR Satish has lodged against Mhaiskar and others in 2009. Again, a few days back, on 8 August 2014, the CBI told the High Court that prima facie Satish's FIR is the basic motive for his murder. This gave me hope that the case was on its way to getting solved and the culprits would be booked and punished as per Law. However, what else can one derive when in three days flat the CBI completely changed its stance and said that there is no circumstantial evidence against the accused, who were very much the accused until 8 August 2014.'
We all know Nitin Gadkari's links with the the Ideal Road Builders-IRB group of companies and it's all in the public domain wherein IRB had loaned large amounts of money to Gadkari's controversial Purti group of industries. Hence, I strongly feel that Gadkari's pressure on the CBI resulted in the latter doing a complete u-turn unlawfully.  Would you believe that any government agency can do such a startling and brazen turnaround on its own, especially when it was sticking to its ground for a good four years?