Iranian Nobel Peace Laureate Urges Trial of Myanmar Leader, Nobel Peace Laureate Aung San Suu Kyi
Sena Guler | Anadolu Agency – TRANSCEND Media Service
Shirin Ebadi reminds de facto leader of Myanmar the moral and legal responsibility of Rohingya genocide.
31 May 2018 – Iranian human rights advocate and Nobel laureate Shirin Ebadi today called for a trial in an international court for Myanmar's de facto leader and military generals.
Ebadi said in a statement: "I wish that Aung San Suu Kyi, as the leader of the party in power, and the Myanmar generals are tried in an international and impartial court for the accusations of committing genocide in Myanmar."
"That is the message I will convey to a diverse gathering of French citizens and politicians, international lawyers and rights activists, as well as Rohingya refugees at the Assemble Nationale (French Lower House) in Paris this coming Friday," she said, referring to an international conference slated for June 1 where Ebadi will deliver a keynote speech.
Stating that the Rohingya were the world's largest stateless people, Ebadi said they have been subjected to a "slow genocide".
Sharing her experiences when she traveled to the Bangladeshi borders together with other rights activists Mairead Maguire from Northern Ireland and Tawakkol Karman from Yemen, Ebadi said they met 100 Rohingya women and girls who "survived and/or witnessed systematic 'gang rape by command'" before they could flee Myanmar security forces between August 2017 and March 2018.
"We did not fail to take note that the tales of first-hand horrors formed a pattern, even though the victims and witnesses we spoke to were drawn from a diverse geographic and familial backgrounds across Myanmar's killing fields of Northern Rakhine," she added.
Ebadi went on to say that the Myanmar military had "institutionalized and popularized" the idea that the indigenous Muslim population living near the border with Bangladesh is "the greatest threat to national security", since the early 1960s.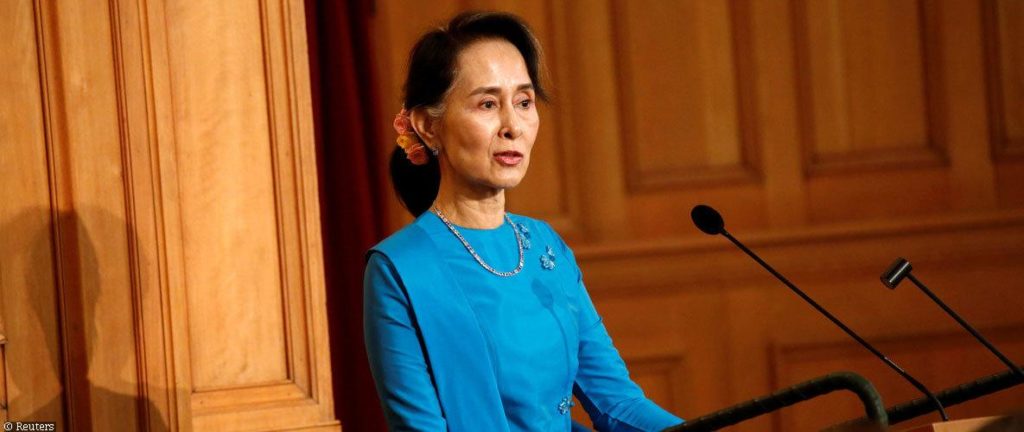 Islamophobia
"Aung San Suu Kyi [Myanmar's de facto leader] herself has fallen prey to the Islamophobia," Ebadi said.
Suu Kyi presides over a party which "cleansed itself of Muslim representation" and promoted the point of view that "Myanmar military was only defending the country against Muslim 'terrorism'," she added.
She slammed Suu Kyi for dismissing incidents of sexual violence, such as public stripping of Rohingya women, as "made-up stories".
"The UN Secretary General's Special Envoy on sexual violence Primila Patten of Mauritius has also gone public with her exasperation over Suu Kyi's refusal to engage substantively on the issue of Burmese military's systematic sexual violence against literally thousands of Rohingya women and girls – many of whom did not make it to Cox Bazaar's camps," Ebadi added.
She also warned the de facto leader of the country that she should know that "inactivity in the face of genocidal actions can carry moral and legal responsibility".
Ebadi recalled the protests she organized in favor of Suu Kyi, when was under house arrest.
"Now Suu Kyi is in the commanding heights of power. And it astonishes me how someone who has been an activist and subject to tyranny herself for years, now with her silence approves the atrocities that is upon unarmed innocent people."
Persecution of Rohingya
Since Aug. 25, 2017, more than 750,000 refugees, mostly children, and women have fled Myanmar and crossed into Bangladesh after Myanmar forces launched a crackdown on the minority Muslim community, according to Amnesty International.
At least 9,400 Rohingya were killed in Rakhine from Aug. 25 to Sept. 24 last year, according to Doctors Without Borders.
In a recent report, the humanitarian group said the deaths of 71.7 percent or 6,700 Rohingya were caused by violence. They include 730 children below the age of 5.
The Rohingya, described by the UN as the world's most persecuted people, have faced heightened fears of attack since dozens were killed in communal violence in 2012.
The UN documented mass gang rapes, killings — including of infants and young children — brutal beatings, and disappearances committed by security personnel.
In a report, UN investigators said such violations may have constituted crimes against humanity.