"Patanjali Atta Noodles has not got product approvals from us. The matter has been brought to our notice. We are pursuing it," said an FSSAI chairperson.
–
The instant noodles brand launched by yoga teacher Ramdev has not obtained mandatory product approvals from the Food Safety and Regulatory Authority of India, officials said, even though Patanjali Atta Noodles packets display an "FSSAI licence number". "Patanjali Atta Noodles has not got product approvals from us. The matter has been brought to our notice. We are pursuing it," Ashish Bahuguna, FSSAI chairperson who also holds additional charge as its CEO, told The Indian Express. –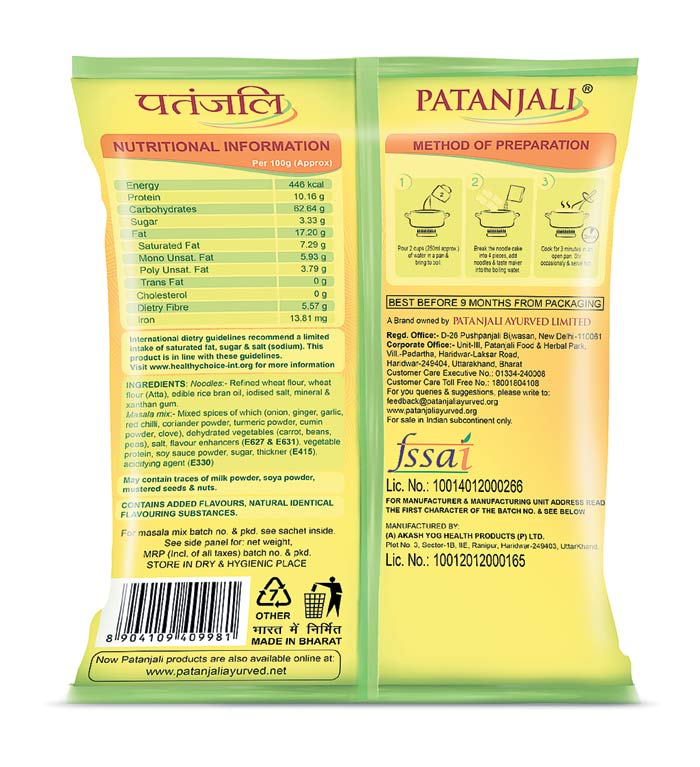 The back of a Patanjali Noodles packet.
Asked about Patanjali noodles packets at the Monday launch flaunting "FSSAI licence number 10014012000266", Bahuguna said: "How can licence be given for a product that has not been approved? Licences are issued by the state government to manufacture certain items. But approvals for (non-standardised) products are given by us. That approval was not taken. I do not know how the licence was procured."
When contacted, Ramdev's spokesman S K Tijarawala said: "I am not aware of the technical details and currently there is nobody available who can give me the clarifications. I can revert tomorrow."
FSSAI sources said that noodles is not a standardised product, which means FSSAI is the sole authority mandated to grant product approval.
Sources added that Patanjali Ayurved, the FMCG venture that Ramdev promotes, has not applied for approvals for the noodles yet. "I do not know what is there in the noodles," said a senior official in FSSAI.
According to information available with FSSAI's Food Licensing and Registration System, the licence issued to Patanjali Ayurved Ltd, Patanjali Food and Herbal Park is for manufacturing a range of products, not including noodles.
The list covers fruit juices/ready to serve fruit beverages, ghee, mustard/coconut oil, salt, asafoetida, biscuit, sattu, oats, cornflakes, poha, soan papdi, jaggery powder, namkeen and papad, gur, whole wheat atta, pulses, sweets and pasta products (macaroni, spaghetti, vermicelli).
FSSAI sources clarified that the noodles cannot be treated as a constituent of the pasta group, either, as per the food safety act. Besides, Patanjali Atta Noodles comes with a masala mix, they said.
Technically, however, the FSSAI cannot act till a product is actually being sold in the market and the Ramdev-promoted noodles is expected to going to hit the market by next month.
Patanjali Atta Noodles, priced at Rs 15 for a 70 gm packet, was launched in Delhi at an event where plates of the cooked product — endorsed by Ramdev as a "healthy option" — were served.
The launch comes in the wake of Maggi's announcement that it had cleared legal hurdles and would be available in stores across the country.
The FSSAI has, however, approached the Supreme Court for an immediate ban on the sale of Maggi, in an appeal against an order of the Bombay High Court that had given an all-clear to the flagship product of the Swiss FMCG giant Nestle.
All nine variants of Maggi were taken off the shelves following an FSSAI order in the first week on June after a flurry of reports from various states that the popular brand had lead in excess of permissible limits. Some samples were also found to contain monosodium glutamate despite claims of "No added MSG" on the label.
In September, the then FSSAI CEO, Y S Malik, was shifted to Niti Ayog after just nine months at the helm of the food regulator.
See more at: http://indianexpress.com/article/india/india-news-india/noodles-launched-by-ramdev-have-no-approval-says-fssai/#sthash.iEb05tdq.dpuf