On his 123rd birth anniversary as community leaders, politicians, their parties and outfits try to outdo each other in evoking Dr Babsaheb
Ambedkar
, 150 kms from Mumbai seven families of Ambedkar's descendants living in Ambe-Tembe, his ancestral village in
Thane district
(
Murbad
tehsil), wonder about the sheer pointlessness of it all.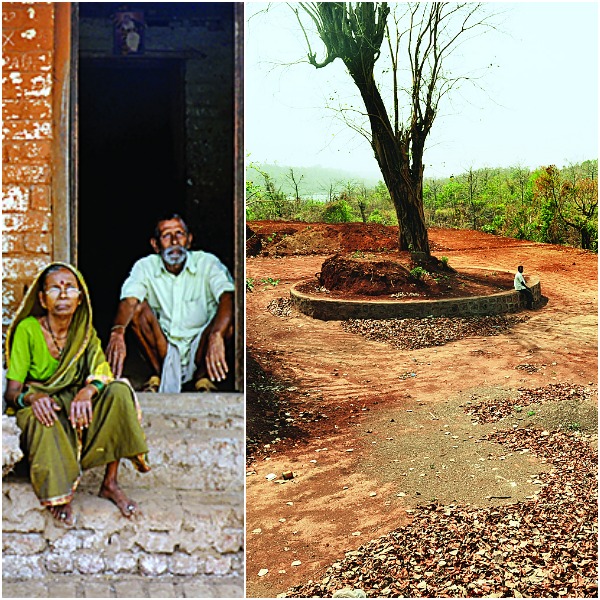 On his 124th birth anniversary as community leaders, politicians, their parties and outfits try to outdo each other in evoking Dr Babsaheb Ambedkar, 150 kms from Mumbai seven families of Ambedkar's descendants living in Ambe-Tembe, his ancestral village in Thane district (Murbad tehsil), wonder about the sheer pointlessness of it all.
Not only has the promised-in-1994 memorial to Ambedkar's mother Bhimabai (then Chief Secretary Ratnakar Gaikwadeven visited the place in 1997) been completely forgotten but the remote village sandwiched between Raigad, Pune and Thane districts suffers from an acute lack of basic amenities. "Its barely April and already we have to walk long stretches to get water," complains the septuagenarian Yamubai Ramchandra Gaikwad, a direct descendant of the Pandit clan from which Bhimabai hailed. Her panting leaves her glasses fogged over as she sits by the doorside to catch her breath. "Bhimabai's father joined the army to escape the casteist persecution by the upper castes. His grandson's worshipped all over for standing up for Dalit rights and yet see our condition."
A new storage tank built in the middle of Ambe-Tembe last year by the Thane Zilla Parishad mocks its women fetching water in the blazing hot son. "When there is no power, often for several days at a stretch, how can water be pumped up to the tank?" asks Bhaurao Ratambe, a local activist who also points out the lack of a primary health centre, anganwadi and a school beyond Class IV.
"Even women caught in labour have to be rushed to the rural hospital in Murbad town, 12 kms away," admits uppercaste sarpanch Uma Chaudhari who adds, "We've only one teacher for all four classes. Since the school has no toilet facilities no one wants to send girls there." She also complained of food supplies to the local anganwadi being erratic. "We last got supplies before monsoon," she said. When we try to ask more questions her husband (the sarpanch-pati) Eknath Chaudhari told dna, "Women don't know anything. I hope you don't write anything based on what she said."
Though both parried questions on whether seven Dalit families face any discrimination, the contrast between their upper caste well-built homes lined with concrete paths leading to each doorway and the unplastered Dalit hovels accessible by kachcha mud paths is too stark to ignore. Moreover, the neglect of Ambe-Tembe is all the more striking when compared with neighbouring villages, given that they are better-developed and, no surprises for guessing, are all fully upper-caste villages.
A trudge up a hillock outside the village where a 12 acre plot overlooking the Mhasa dam has been allocated for the memorial, showed how apart from clearing the plot (with as many as 23 old trees cut), little has been done. This when documents with dna show that a sum of Rs 50 lakhs was allocated in 2012 for building an access road so that trucks bearing construction material could reach there. Three years and Rs 22 lakh later the road is conspicuously invisible.
Activist Dashrath Daji Khare, 69 and his wife Priya 62, have been battling for the past 21 years to get the work started on the promised memorial, and develop the area. "We thought they would be excited at the historical significance of this place," he says. "When repeated reminders fell on deaf ears, we started our own annual ceremony in his mother Bhimabai's honour."
The Khares met state minister Rajkumar Badole and principal secretary Ujjwal Uke of the Social Justice and Special Assistance on the April 9th to renew their demand for expediting the memorial. Uke told dna, "We told them we'll get Mahad-based Dr. Babasaheb Ambedkar Research and Training Institute to research and validate the spot's historicity before going ahead with the memorial." When asked why this was needed again when the project was already sanctioned by then state Chief Secretary Ratnakar Gaikwad he offered, "This is due process and we have to follow it."
On poor conditions of the village, Uke, who has himself been Thane collector a few decades ago, said, "More than the memorial, improving living conditions of Ambedkar's descendants and their village should be a priority. I'll write to the Thane ZP CEO to look into this urgently."
MISSING FILE
Then Thane District Collector  A L Jarad on April 19th 2012 had given written orders for the work to begin. When nothing happened till October, the Khares were told that the file had gone missing. They pieced it together again by January 2013 after visiting all concerned departments. "We were hoping that will help but nothing has come of it," laments Priya Khare.
VOICES:
Ramchandra Gaikwad, 82, Ambe-Tembe resident:
"Our Dalit leadership's eagerness to agitate for the Indu Mills land is a sharp contrast to their silence over Ambe-Tembe. Ramdas Athawale contributed Rs 12 lakh from his MP fund. That's hardly sufficient but at least he's done something. Other Dalit leaders hardly show interest."
Dalit ideologue, poet and litterateur Namdeo Dhasal's protégé Vaibhav Chhaya:
The Congress was eager to pander to ostentatious multi-crore memorials for the Nehru-Gandhi clan.This government wants one for Sardar Patel but the apathy in preserving Dr Ambedkar's legacy is appalling. It smacks of an anti-Dalit agenda.
Prakash Ambedkar, Grandson of Dr B R Ambedkar:
Where are all those who repeatedly make loud, public claims as legatees of Ambedkar's legacy? Why are they waiting for the government to do something? Can't they do this much on their own?
http://www.dnaindia.com/mumbai/report-not-a-happy-ambedkar-jayanti-in-babasaheb-s-ancestral-village-2077259