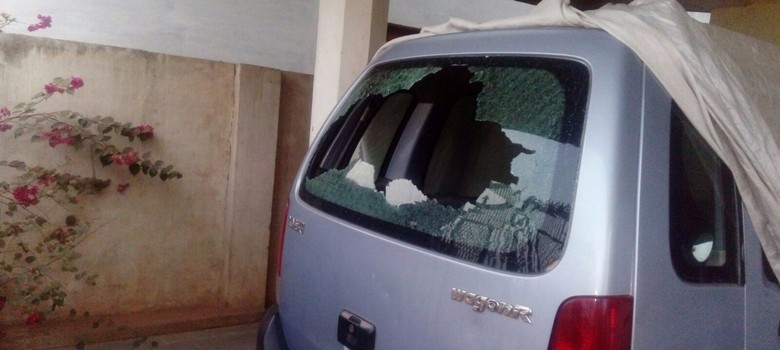 Image: Malini SubramaniamWe, members of the Network of Women in Media,
India
, strongly condemn the shocking attack on the residence of Malini Subramaniam, a journalist based in
Jagdalpur
,
Chhattisgarh
and correspondent for the
news site
Scroll.In, and the continuous attempts to intimidate and threaten her into silence.
According to reports in the news site, Scroll.In,  a group of around 20 persons had come to her residence at about 6p.m. on February 7,  and shouted slogans attacking her, including 'Naxali Samarthak Bastar Chodo. Malini Subramaniam Mordabad' (Naxal supporter, leave Bastar. Death to Malini Subramaniam). The mob apparently tried to instigate neighbours to attack her and said that she was a Naxal supporter. Early on February 8, morning, at around 2.30a.m.,  a motorcycle slowed down her home and threw stones at her residence.
Ms Subramaniam has identified two of the men in the mob – Manish Parakh and Sampat Jha. Both had visited her residence on January 10 last month and were members to the Samajik Ekta Manch, a Jagdalpur based forum formed to counter Naxalism in Bastar and support the work of the police in the area. Parakh is the secretary of the Bharatiya Janata Party's Yuva Morcha and that Sampat Jha is a member of the Congress in Jagdalpur.
The online news site, Scroll, has documented the level of intimidation faced by Ms Subramaniam and has pointed out that, over the last year, she has been writing consistently on issues of adivasis and of displacement, mass sexual violence as well as other human rights violations. It is these reports that the Manch appears to have targeted as being 'pro-naxal' and anti-police. Subsequent to the Jan 10 'visit' by members of this Manch, Ms Subramaniam also received late night enquiries from the local police and had to face a number of questions and submit documents giving proof of her identity. The news-site had tried to take up the instances of intimidation with Chhattisgarh Chief Minister Raman Singh but received no response.
It is clear that the local police, which is tasked with protecting its citizens, has chosen to look the other way while the mob demonstrated outside her residence. It has made no attempt to register an FIR or investigate the incident, much less ensure the safety and protection of MsSubramaniam and her daughter.
Already, journalists across the country have lodged strong protests over the arrest and continued incarceration of two journalists from Chhattisgarh, SantoshYadav and Somaru Nag. Now, in this incident, the indifference of the police and the state administration as well as the Chief Minister is a dangerous portent for freedom of expression and for the safety and security of media persons.
We demand that Chhattisgarh Chief Minister Raman Singh immediately announce a full and thorough investigation into the incident and take steps to ensure the safety of Ms Subramaniam. His failure to do so can only be taken as an indication of his tacit support for such heinous and coercive tactics