Seven innocent Christians – six of them illiterates – have been languishing in jail since they were arrested on the charge of murdering Swami Laxmanananda. After over four years of non-stop trial in the Fast Track Court, all of them were found guilty and were convicted to life imprisonment on October 3, 2013.
The judgment claimed that the swami's assassins had carried out the murder in a 'highly professional manner'1 . Though the charge-sheet mentioned that the criminal antedecent of each accused was 'under investigation', the prosecution could not cite a single criminal charge against any of the seven accused.
Note: The following true story of each of the accused is excerpted from the forthcoming investigative book 'Cry of the Oppressed' by Anto Akkara – the journalist author who has pursued Kandhamal passionately from the day one. Since surnames are common, first names are used to avoid confusion
1. Bhaskar Sunamajhi – a lamb branded wolf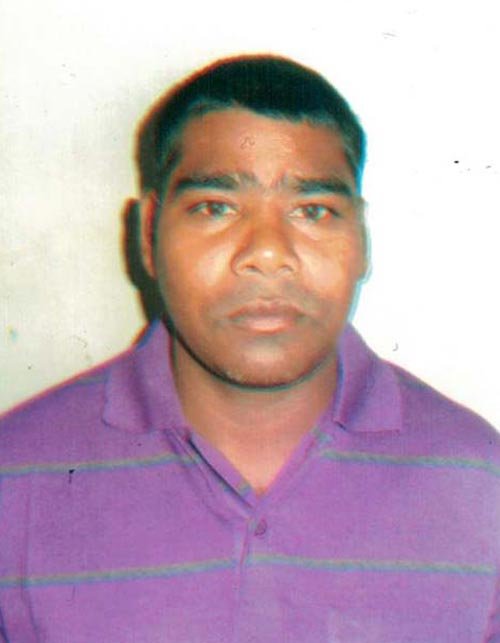 An illiterate, Bhaskar Sunamajhi was playing cards with his village friends in Kutiguda village when police came to call him around noontime on December 13, 2008. Being a 'gram rakhi' (village protector), police used to come even at odd hours to fetch Bhaskar to accompany them for crime investigation and other sundry works.
"You can return tomorrow," Bhaskar's wife Debaki recounted the police's words when they took him away. When Bhaskar did not return even after two days, she went to the police asking for the whereabouts of her husband. "Has he not returned?" was the sarcastic response from the constable at the Kotagarh police station.
Later, a senior officer came in and told her: "He will come after six months." However, even after more than seven years, Bhaskar is yet to return home. The jail in Phulbani (headquarters of Kandhamal district) has been his home since then.
In the verdict, the judge cited the testimony of Prashanta Kumar Parida2 – recorded a year after the murder – that he had been told by one Parbat Panigrahi "two/three years back" that Bhaskar was "hand in globes (read gloves) with them (Maoists) and has undergone Maoist training at Daringbadi for about 15 to 20 days."
The fact that this testimony itself had been recorded eight months after Parbat had been shot dead3 – raises serious doubts about its credibility.
The allegation that Bhaskar was a Maoist and that he had attended 15-20 days of Maoist training at Daringbadi was denied by his wife Debaki. In an interview at her Spartan home in October 2015, Debaki insisted that in their 8 years of marriage (when he was arrested), Bhaskar had "never ventured out from his home." "He never travelled to anywhere far away from the village except to the Kotagarh market and the police station."
As for the murder charge, even the Hindu neighbours of Bhaskar were equally indignant. "This is a total lie. He was with us on the day (the Swami was skilled)," Birancha Paraseth, Bhaskar's Hindu neigbhbour, vouched for the innocence of Bhaskar.
"He is a good man. He will not do such a crime like killing of a Hindu leader. All of us feel very bad about this," quipped another Hindu, Pavitra Sanseth.
"Sir, if we all could have gone there (to the court) and explained his innocence. Please tell us how we can help and ask for his release," he added.
2. Munda Badmaji – 'dumb' man among seven convicts
Take the case of Munda Badmajhi who was picked up by the police in his sleep from his house in the night on October 4, 2008 from his village of Duringpodi under Madaguda panchayat (village council). Bandigudali, his wife, did not shy away from revealing the true character of her beloved from the same village she had married 21 years ago – when I met her at her house in October 2015.
An illiterate like Munda, Bandigudali said candidly: "He never went outside the village even for buying his own clothes as he could not distinguish between different denominations of notes. I had to go buy lungi for him. He had to depend on others for everything."
"He cannot communicate properly. He would not even mix with other village people due to lack of self-confidence or join them for a drinking session. He works in the field, eats and sleeps at home – like an animal. He is like a dumb man," she added bluntly stopping short of describing her husband an 'idiot'.
Yet, the judge who convicted the seven accused declared that the prosecutor had argued the case 'meticulously'4 and produced the 'reliable witnesses' to prove the murder charge against the accused.
Prosecution even claimed to have recovered a 'muscle loading gun' (hunting gun) from the house of Munda who cannot even handle currency notes.
"We never had a gun and my husband could not even use a gun. This is shocking," asserted Bandigudali. Further, she pointed out that no police or investigator ever visited her house to verify such an allegation after the midnight raid when her husband was dragged away in sleep.
3. Bijay Kumar Sanseth – Being popular costs heavy
Bijay Kumar Sanseth, the only one who has been to school among the seven Christians convicted for the Swami's murder, was a leading government contractor of Kotagarh and a Christian leader from the Baptist community.
Police called up Bijay on his mobile phone on December 12, 2008 when he was in the Kotagarh market. "When he came back home in the evening, he told me that police had called him to the station and that a senior officer wanted to meet him next day," Pabitra Sanseth, Bijay's wife recounted, sitting in her house at Madhuguda, 8km from Kotagarh.
On December 13 morning, Bijay went to the field to till the land with his new tractor and returned home by 10 am. That was to proceed to the police station as the police had asked him to. Bijay did not return home for the night, Pabitra said. Later she came to know that Bijay had been taken to Rayagada jungle, over 100 km from Kotagarh.
However, the investigating officer cooked up a different story and told the court that "on 12.12.2008 he got reliable information regarding presence of the accused persons Bijay, Garnath, Buddha, Bhaskar near a forest near village Sartul under Kotgarh police station to attend a meeting held by Maoists. On 13.12.2008, he reached Kotgarh P.S. and found that Kotgarh police had already apprehended Bijay and Garnath. He interrogated both of them. On the next day, he apprehended Bijay, Garnath, Buddha and Bhaskar and shifted them to Chandili police station on security point of view for further interrogation."5
But the investigating office also made a fanciful claim alleging that Bijay was with six others who stood near the gate of the Kotagarh High School on the busy main road and discussed publicly the conspiracy to murder the Swami6 . This claim was attributed to Mahasingh Kanhar (Prosecution Witness 17), a Kandho tribal migrant to the region and active member of Sangh Parivar. Mahasingh who had initially refuted the prosecution claim attributed to him, But he made a u-turn and later endorsed the prosecution claim on his retrial…
(This entire cooked up plot that stretches human imagination to wildest level is dissected and the fallacy exposed in the chapter titled 'Questionable Evidences'.)
"Wherever I go, people tell me 'He was a good man. Why he is in jail?" Salei Sanseth, illiterate father of Bijay told me in October 2015 at his house – adjacent to the house of his imprisoned eldest son.
"The popularity of my son and his high contacts with government officials have led to this tragedy," Salei explained how his son got framed up as accused in the Swami's murder.
"Many were jealous of him," summed up Salei. As the secretary of the Baptist Union in Kotagarh, he added, Bijay knew three of the accused Christians and all of them were named in the murder along with Bijay.
In their hurry to cook up the case, the investigation team even failed to record his proper age. While the charge-sheet says he was born in 1972, his real year of birth in the voter id is recorded as 1966.
4. Gornath Chalanseth – friendship with police no help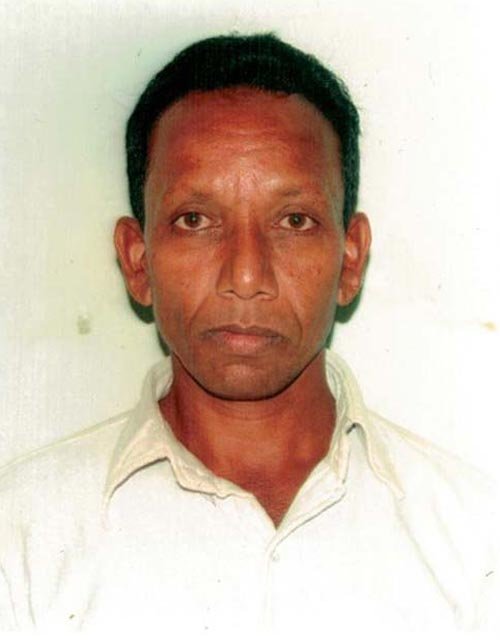 Gornath Chalanseth suspected nothing when the Kotagar police officials called him for a meeting in the first week of December 2008. Being active in politics and a member of Kotagarh Block panchayat, Gornath had couple of sessions with the police.
On December 13 early morning, police came and Gornath went with them with his cousin pastor Paramanand Badaseth accompanying them. From the police station, pastor Paramanand saw Gornath being taken away in a police van. As Gornath did not return for a couple of days, pastor Paramanand inquired about him from a friendly policeman and learnt that he had been taken to Rayagada jungle along with Bijay, Bhaskar and Budhadev.
Along with Bijay, Gornath was also accused of distributing sweets in the church solely based on the testimony of Mahasingh.
"The evidence of P.W.17 (Mahasingh) that soon after the incident accused Garanath and Bijaya were distributing sweets at Kotgarh Church further indicate principle object behind the conspiracy which nothing but assassination of Swamiji," claimed the judgment 7.
"The police never came to verify if sweets had been distributed in the church at all," asserted Pastor Paramanand in charge of the Baptist church attached to his compound.
Moved by the framed up story of the innocent Christians, Sujit Dolemajhi – the Hindu sarpanch of Madaguda, Baleswar Nayak – former sarpanch and other top 10 Hindus of the area went to Mahasingh's house along with pastor Paramanand. Mahasingh told them to wait and called the police. The Tumudibandh police arrived promptly and questioned them why they were 'forcing him' and threatened to arrest them.
But the sarpanch told the police: "We are not forcing him but telling him in friendly manner why he should bear false witness to put innocent people in trouble." …
5. Durjo Sunamajhi – charged with murder despite being away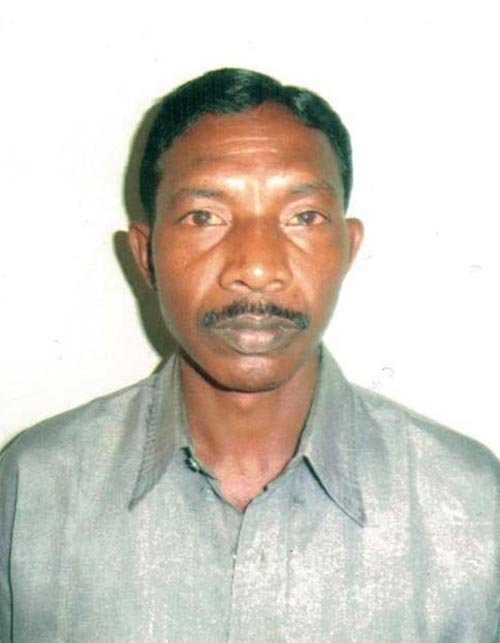 A home guard for the police, 35-year old Durjo Sunamajhi was in drunken stupor on October 4, 2008 night when police barged into his house in Budapada village. They carried him away in sleep when he was wearing only a lungi. Neighbours who woke up hearing the commotion saw the police carrying him while he muttered: "Who are you? Why are you carrying me?"
After putting Durjo in the van, police banged on the door that fell apart and searched the house. Hearing the noise, when his wife Gumili got up and asked the police what they were doing.
"Don't make noise," the police told her. They searched the house and picked up the broken ancestral hunting gun that was lying unused for years.
"My husband never touched a gun. The gun was broken and only the barrel was there," recalled Gumili.
Gumili has not yet understood how the police could charge her husband with the Swami's murder as he was not even in Kotagarh area on the fateful day.
Durjo had accompanied Debonath Rupamajhi, Andrea Sunamajhi and Sukantho Mallick and reached Muniguda railway station on August 22 to go to Kerala seeking employment.
"When the train came early next morning, they were sleeping and missed it but stayed at the platform," said Jeremiah Sunamahji, who had met Indian president Pranab Mukherjee on September 7, 2015 with a delegation of Kandhamal survivors demanding the release of the seven innocent Christians. He reiterated his uncle was not in Kandhmal on the day the Swami was murdered.
Further, he added that Durjo's elder brother Sarbe Sunamajhi had even shown the train ticket to Kerala to the police to prove that he was not in the area on the day of the Swami's killing. Sadly, the illiterate villagers did not have the wisdom to preserve their tickets to contest the police claim…
6. Sanatan Badamajhi – axe planted by police nailed him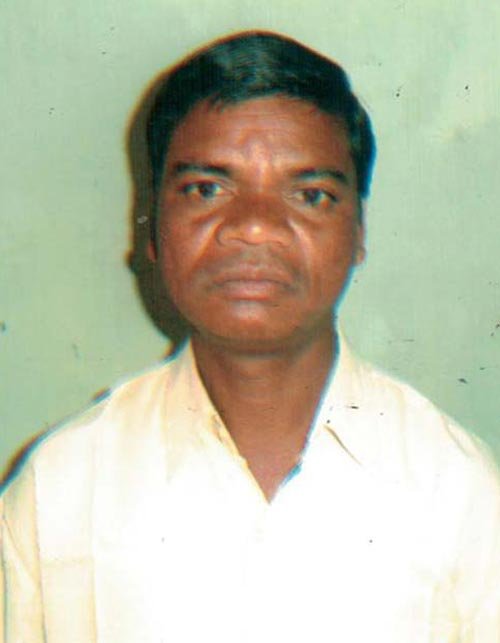 "We were sleeping when the police came in at around 11 pm and forced open the door. They made him (Sanatan) stand in the veranda and kept an axe there. When I saw the axe, I asked the police: "Who kept the axe here?" recounted Badusi – wife of Sanatan Badamajhi, a labourer living in a one-room house in Parigado village.
"But they did not respond. They took him away along with the axe saying, he will return tomorrow," she added.
Meanwhile, Nimantho Badamajhi, Sanatan's elder brother, came out of his house hearing the commotion. But, police sent him back saying:"You go and sleep. Nothing will happen."
Badusi later came to know that police had brought the axe from the house of Mukantho Mallick, a Hindu neighbour who had accompanied the police to identify Sanatan' s house.
"Later, Mukantho had been repeatedly complaining that the police took away his axe. I had only one axe and it is still in my house," Badusi reiterated.
Days before his arrest, Badusi said, some of the Hindu village leaders had cautioned Sanatan that he would be arrested and asked him to go away.
On the day Swami was murdered (August 23), Sanatan had gone for community pasturing – to tend the 100 cattle and sheep of the entire village with 22 families – 16 Christian and 6 Hindu. Each adult had to go for this pasturing duty by turn as they lived together as a community.
"He came back in the evening and had not gone anywhere (on the day Swami was murdered)," asserted Longisha Badmajhi, Sanatan's Hindu neighbor. Nakula Mallick, another Hindu who had accompanied Sanatan on pasturing on the day, too vouched for his innocence.
"Police never came to investigate or ask anything about him. If we had been called, we would have testified for him in the court," Nakula pointed out.
The judge who convicted all the seven accused had sprung a surprise even to the prosecution. While the prosecution had claimed to have 'siezed' two guns from the houses of the accused, the judge had made it three,. The third gun, according to the judge, had been seized from Sanatan's house!
"His (investigation officer S K Patnaik's) evidence with regard to seizure of the muzzle-loading guns from the house of Duryodhan Sanamajhi, Munda Badmajhi and a gun from the house of Sanatan Badmajhi clearly implicate the above accused persons," claimed the judgement8 .
Despite the judge professing that "I have carefully gone through the entire evidence adduced by the investigating officer"9 , he has committed a blunder when he declared that a third gun had been recovered from the house of Sanatan Badmajhi…
7. Budhadeb Nayak – son threatened with arrest to trap father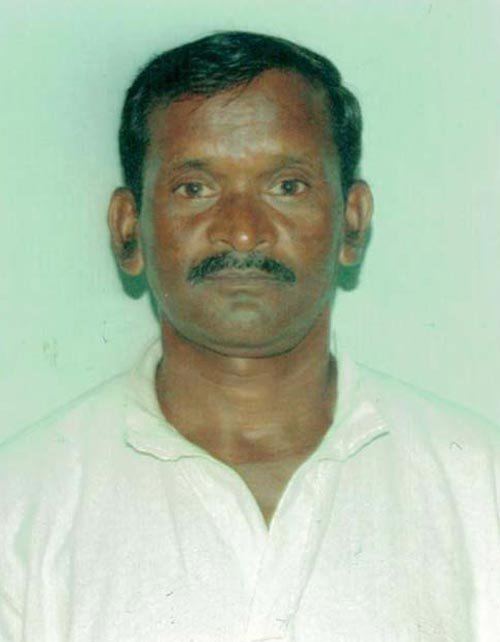 "Be careful and go into hiding," Mohindero, a gram rakhi (village protector), cautioned Budhadeb after he got hint of a police plan to arrest some of the Christians for the Swami's murder.
But Budhadeb told him nonchalantly: 'I am not a robber."
However, the Hindu leader's caution soon came true. Police reached Budhadeb's house looking for him. Lingaraj, his 20-year old elder son was at home and the police told him: "Your father has killed Swami Laxmanananda." Police even threatened to arrest him unless he informed the whereabouts of his father.
On the night of December 13, police came again and arrested Budhadeb while he was sleeping. "He was wearing only a lungi and baniyan. They tied his hands to take him away. He asked for clothes and I gave him a shawl," recalled his wife Nilandri.
Three days later, the family met him in Balliguda jail. The police had the same concocted claim that he had been with Maoists in the jungle on December 12 as in the case of Bijay, Bhaskar and Gornath…
Watch this video that provides vital clues to 'Who Killed Swami Laxmanananda?'. It's from 'The Agony of Kandhamal' – a DVD produced by dubious India Foundation – 'saffron truth factory'.
"The actual intention of the Europe, US, the Pope and Sonia Gandhi was to convert the entire region into the independent Christian land. ..god has sent me from Himalaya and it was stalled. That is why their campaign was to drive away swamiji and create a Christian land. As long as I am alive I shall not let you do that" – this boastful claim seemed to have been capitalized upon by vested interests.
The swami along with four others were mysteriously murdered on the night of Janmashtami 2008.
The DVD portrays Christian victims of Kandhamal as Hindus while Hindus claim: 'The Christians are eating happily in the relief camps. We Hindus are not getting anything to eat. We end up wandering in the jungles."
That is how Sangh Parivar manufactured truths to fool the Hindus of the nation.
http://www.release7innocents.com/