August 13, 2015 16:15
IST
Olga Tellis, a legend in Indian journalism, completes 50 years as a reporter this year.
A no-nonsense journalist whom politicians and officialdom took on at their peril, Ms Tellis has always been known as a hard-as-nails scribe who would ferret out the truth at any cost.
Shaheen Mansuri, who began her career with the formidable Ms Tellis, salutes a true legend of our times.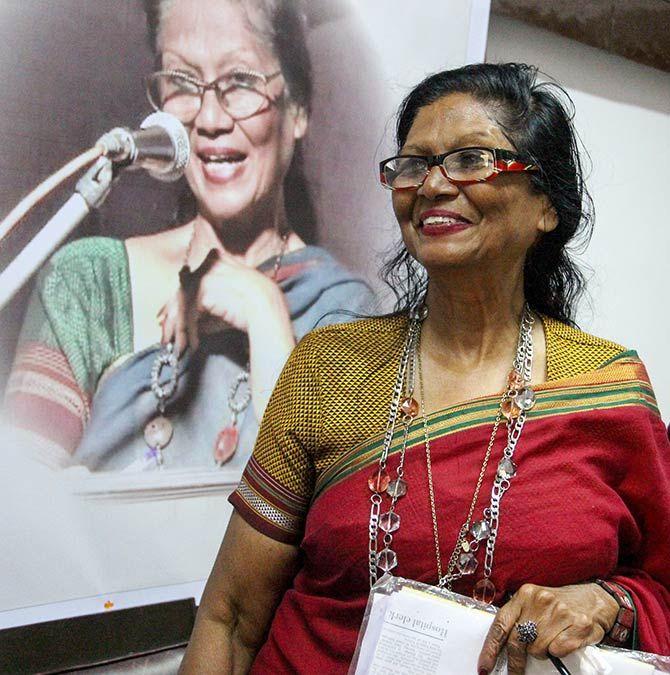 IMAGE: Olga Tellis retains her incredible spirit at 75. Photograph: Uttam Ghosh/Rediff.com
Exactly nine years ago, I started off as a cub reporter under Olga Tellis at the Asian Agenewspaper, where she was then the resident editor.
I can never forget the initial days of my career when I did not know how to write a news report. Olga being the taskmaster she is, it was clear that a roller-coaster ride awaited me.
On my first day at the Asian Age, she told me I would have to cover the BrihanMumbai Mahanagarpalika Corporation (also known as the BMC, the country's richest civic body). I was expected to break stories regularly which must deserve page one treatment, to which I dutifully replied, 'Yes, Ma'am.' 'You can call me Olga,' she said drily.
From that day on, I was always comfortable calling her Olga, even though she was a veteran and I a mere rookie.
I started going to the BMC headquarters where I came across senior municipal corporators who knew Olga well and started giving me leads for good stories. Her contacts helped me get good stories, even page one fliers. This is the respect and trust people had in her, and it continues to this day, I am sure.
Gathering information was not as difficult as writing the story.
My heart would sink each time she asked me to come to her cabin. Only I and the good lord knew what I went through when she edited my copy.
Senior copy editors at the Asian Age didn't dare look at copy without Olga's permission. Pardon me to leak this well-kept secret: A few good colleagues edited my copy without her knowing about it, before it landed on her computer screen. Thank you guys for saving me from Olga's ire; she would get really angry at shoddily written copy.
Those days were tough I must confess, but amazing. I would not trade them for anything.
In time my equation with Olga improved as I gave her good stories, which were well received by readers.
Among them were a three-part series on the real estate scam in Dharavi, one of India's biggest slums; the rising business of quacks in Kamathipura, Mumbai's redlight area; and the lavish lives of bar dancers in south Mumbai.
Olga's high spirits on encountering a good story kept me and my colleagues going.
She would not hesitate to call up the late Bal Thackeray or the Ambani brothers or any top bureaucrat. No one ducked her call.
If they could not answer the phone for some reason, they would always return her call to give her their side of the story — that was an illustration of her power and reach, something which she wore lightly.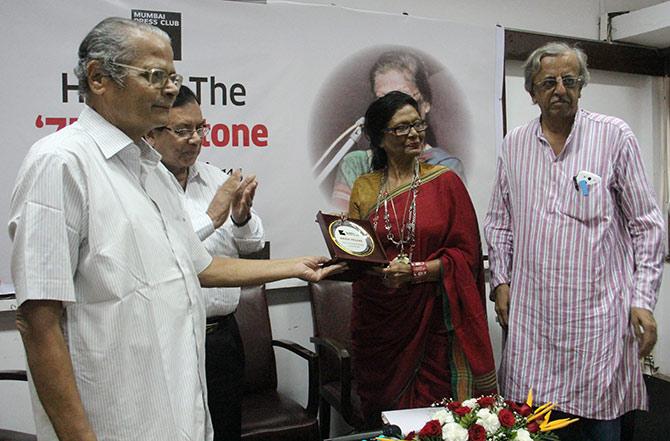 IMAGE: Olga Tellis, Consulting Editor, Asian Age,, felicitated by the Mumbai Press Club, August 12, on completing 50 years in journalism. Photograph: Uttam Ghosh/Rediff.com
The Asian Age was known to hire freshers. Most of us were young reporters who had novel story ideas which we discussed at the edit meetings.
It was not easy to fool Olga. She knew exactly when one was bluffing.
A stupid story idea would make her angry and the reporter next in turn to discuss her/his idea would bear the brunt of it.
When her very good friend Shobhaa De dropped by to see her, Olga would proudly tell Shobhaa how good her reporters were. She was tough during work hours, but never let us down before her friends and guests.
An endearing memory I have of Olga is from the 26/7 Mumbai deluge in 2005 when she waded through the water-logged railway tracks from Mahalaxmi station to the office in Lower Parel after the trains stopped running.
We saw blisters on her feet, but she didn't care. When most office-goers take the day off on account of a slight drizzle, such unprecedented commitment is what sets Olga apart.
Another time, an office boy told us that she had been hospitalised for surgery. We thought we would have an easy day with her in hospital. Imagine our surprise when she arrived in office straight from hospital.
When I left the Asian Age in 2008, Olga was not happy to see me go and neither was I. But I wanted to join one of those 'pink papers.' After leaving the Asian Age, we would bump into each other at press conferences. Exchanging pleasantries and gossip was mandatory.
When I called her up the day before she was felicitated by the Mumbai Press Club, she said, "Shaheen, I am so touched you called me. I was so tough with you, remember? Let's catch up for lunch this week."
After speaking to her for a few minutes I felt I had grown old while she was still beaming with joy like a 16 year old.
Where do you get this energy from, Olga? What is the secret of your youthful spirit?
Olga began her career in the early 1960s with the Ananda Bazaar Patrika group, the first and only female reporter who covered politics and business those days.
Be it taking up cudgels against powerful builders in support of slum-dwellers or fighting a case against the BMC or helping the needy, Olga did it all with elan. A politician once told me how his tribe and builders were scared of Olga as nothing could stop her from exposing wrong-doers.
Working with her for three years was a remarkable journey. Her professional standards were high. Some colleagues fled, but those who stayed the course with her walked away with life lessons which perhaps no one else could have taught us.
When my father had a paralytic stroke in 2012, she gave me the phone number of a doctor and regularly followed up with me about his recovery. I was financially broke then and could not see my dad in that condition, but she constantly instilled positive thoughts in me about things getting better with proper medication.
Thank you, Olga, for standing by me, for encouraging me to do good work.
Congratulations on completing 50 years in journalism! May you go from strength to strength!
Shaheen Mansuri / Rediff.com
http://www.rediff.com/news/column/olga-tellis-a-true-legend-of-our-times/20150813.htm
OLGA TELLIS: KARMAYOGI OF JOURNALISM
Olga will probably stop talking to me when this column appears. That may end our 45-year-old friendship rather abruptly! But I am happy taking the risk – because Olga's many unsung achievements are worth documenting. On Wednesday afternoon, Olga Tellis nearly didn't show up for her own "Felicitation", organised by Gurbir Singh, and her fourth estate admirers at Mumbai's historic Press Club, right across from the offices of the Old Lady of Boribunder. Singh had unwittingly done the unthinkable when he posted about Olga having turned 75 on the 4th of August this year. By his rough calculation, that made it 50 years of Olga as an active journalist. By any standards, it is a colossal milestone, and definitely one worth celebrating. But, unsurprisingly, Olga herself was aghast when she was alerted about the post by friends and promptly declined the honour. Said she to Gurbir, "…. it is unthinkable. I don't accept felicitations. I love my work. To be felicitated for that is demeaning the beauty of work…please, make it a meet for senior journalists – not a felicitation – or else, I won't turn up!"
Nobody messes with Ms Tellis! Not even Gurbir Singh, Chairman of the Press Club – the invitation was hastily reworded. As Gurbir Singh put it disarmingly, "Let's call this a farce of a panel discussion – we are all here for Olga Tellis."
And there she was! Red nails, red lipstick, red Maharashtrian "lugde" worn with a gold coloured "Khaan" choli. A far cry from the Olga Tellis who used to stride into the ultraconservative Mantralaya 40 years ago for regular press briefings wearing 4-inch killer stilettos, miniskirts, sensuous jersey blouses…and loads of attitude! This, at a time when she was possibly the only woman on the political/business beat. And that's the time I first met her – was she jaw-droppingly gorgeous! She worked crazy hours then and she works crazy hours now, rarely leaving her desk before 10 pm.
Nothing but nothing matters to Olga as much as her beloved work. Her life is about the next story. The next deadline. The next exclusive. The rest can go to hell. Me included! It is an admirable trait for someone in her unique position. She craves nothing. And shuns personal glory. She has consistently refused awards and recognitions, saying her work is reward enough. So single-minded is she that if you ask her about movies, music, entertainment – you will draw a blank. Her Spartan existence is reflected in the way she lives – a simple roof over her head in the middle of a vegetable market. Strictly no frills – not even a geyser! She seems to subsist on thin air, while concentrating all her energies on gathering political and financial information/knowledge.
Olga and I have many unusual connections – spotting rainbows is one of them. Wherever I am in the world, the minute I spot a beautiful rainbow arching across the sky, I send Olga a message. She does the same. We love sunsets and skies. Plants and flowers. Her tiny balcony is a mini forest with wild shrubs and vivid hibiscus. A weaver bird visits once a year and methodically builds a nest. The huge rubber tree has long outgrown its planter. These are Olga's real friends! These are the "people" she goes home to, and wakes up with. Because her heart was given 53 years ago to a very demanding partner – journalism.
When I had asked Zia Modi to write a book for my imprint, identifying 10 judgements that changed India, she had picked as one of those ten, a Supreme Court verdict delivered on a case filed by Olga Tellis, upholding the rights of slum dwellers. This was way back in 1980. It was a significant judgement that provided legitimacy, dignity and shelter to thousands by recognising their fundamental right to life. When I mentioned this to Olga, she was happy – not for herself, but for the slum dwellers she had fought so strenuously for. In an era where any and every semi-literate pen-pusher actively lobbies for national awards ("at least a Padma Shri…" they bleat), here is one individual who has spent the better part of her life doing what she believes in – sans compromise!
The best compliment I can pay my friend Olga is that she remains the quintessential reporter's reporter – generously sharing her contacts and information with younger colleagues, taking copious notes at boring press conferences, paying attention to routine RBI briefings on fiscal policy, keeping a hawk's eye on corporate "jigri pokri", asking tough questions to hard boiled politicians, and hammering out copy late into the night, her long, carefully varnished nails tapping the keys somewhat noisily…and her attention remaining unwaveringly on the edit she has to file, an impossible deadline she has to meet.
Olga Tellis represents true Azaadi!
Happy Independence Day, readers!
http://www.mumbaimirror.com/columns/columnists/shobhaa-de/Olga-Tellis-Karmayogi-of-journalism/articleshow/48488621.cms