In a chromite-rich Odisha district, 17 malnourished tribal children living on just boiled rice and salt have succumbed to disease in the past two months. Odisha has now taken note of a village too far up a hill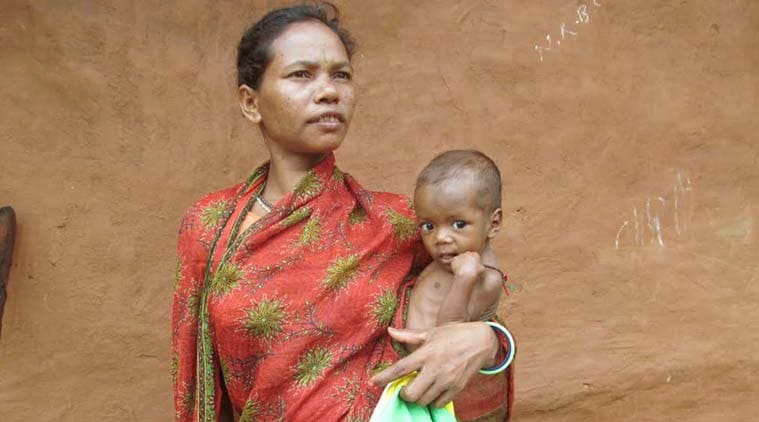 Sukei Pradhan, 36, a mother of seven, with her sixth child. She has already lost two children. (Source: Express photo by Debabrata Mohanty)AS IT rains, a barefeet Babuni Pradhan struggles up the hill of Sukinda valley in Jajpur district, slouched under sackfuls of rice slung from his shoulders. His village Nagada is still 10 km away. Wife Suki holds out a hand to steady him as Pradhan feels around with his feet for solid ground that can bear his weight. The couple, Babuni in his 40s and Suki in her late 30s, continue slowly but steadily as a thick mist hampers visibility. At the other end wait their six children, between the ages of 2 and 10. The rationed rice, brought from Chingudipal gram panchayat office 25 km away, must last the family of eight the next couple of weeks.
"I need to reach home before the rice gets wet," says Babuni, who has to walk uphill for at least 2 hours before he can get there. "My children have nothing to eat but boiled rice and salt."
Babuni considers himself lucky. In the past two months, 17 children in his village, aged a few months to three years, have died after contracting chickenpox and measles. The underlying reason, officials admit, was that all were malnourished. Help was only rushed in after an NGO, the Delhi-based Aspire, brought the news of the spate of deaths from this remote tribal village to the outside world.
Nagada and two other nearby hamlets atop the hill are home to the Juanga tribals, one of the most primitive in Odisha with a population of around 9,000. There is no road, so the tribals must walk up the boulder-filled stretch, rendered even more treacherous by the rain. The nearest anganwadi centre, supposed to help children like Babuni's through the Integrated Child Development Scheme (ICDS), is located at least 8 km away. The anganwadi worker who mans it lives right at the foothill. Like other government officials, the worker never climbed up to Nagada, till the children began dying.
A few of the district officials who initially came, including District Collector Satya Mallick, had to return midway. Mallick managed to climb up a few days later. "A chopper is the best possible way to reach the village," he says. "It's tough for anyone to make this trip, especially during rainy days."
The long trek to Nagada village, which a few officials only recently made after reports emerged of the deaths. (Source: Express photo by Debabrata Mohanty)Nidhia Pradhan says he isn't surprised. "The walk to my village is a curse. Every time I walk up, I wish I don't have to do that again."
His daughters, Sukumari, 3, and Mangali, 1, were among the first to die. Nidhia, in his 20s, remembers it was Mangali who first got chickenpox, followed by Sukumari. The hamlet last saw a vaccination drive more than a decade ago. Officials say villagers resist such initiatives due to their faith in traditional healing practices.
Nidhia had seen children in the village die of chickenpox earlier, after "the village deity could not cure them". So he feared the worst when pockmarks started blotting the emaciated frames of his daughters.
Nidhia doesn't remember ever giving his girls anything to eat other than boiled rice and salt, except for a few lucky occasions when he managed to find wild mushrooms or wild potatoes. And he doesn't doubt why they put up little fight to the disease, despite him turning to the deity. "I could count their ribs," he says.
Nagada has no hospital, no school, no electricity, no source of drinking water, and no means to make a livelihood that would change any of this. None of the Juanga tribals had ever set foot inside a school till November last year, when Aspire, with funding from Tata Steel, started a single-teacher school in the village. The nearest hospital, run by Tata Steel, is 25 km away, which the tribals have to walk to. The government-run Sukinda Community Health Centre is 40 km away.
Though villagers have NREGS job-cards, there is no work. With little agricultural resources, they rear pigs, roosters and cows. Occasionally they sell the odd rooster in the local market and buy basic provisions like salt and oil. For water, the villagers depend on a mountain stream.
On paper, six people in Nagada have been allotted pucca houses under the Indira Aawas Yojana; all that is visible, however, are thatched huts. Similarly, not a single tribal has been allotted land under the Forest Rights Act though Odisha began implementing it in 2008.
Sukinda, a Maoist-affected block, got only Rs 23 crore under the Integrated Action Plan between 2011 and 2014, while the rest of the non-affected blocks in the district got Rs 93 crore. Officials, not wishing to be quoted, said changes in the IAP implementation guideline and hijacking of the scheme by influential politicians had led to the diversion of funds.
The soil in Nagada is not fertile enough to grow fruit-bearing trees or vegetables. What it is rich in is chromite, drawing in companies like Tata Steel, the Odisha Mining Corporation, the Jindals, IMFA and Balasore Alloys. They all have offices in Kaliapani town, 20 km away.
"Nagada is a place where civilisation seems to have ended," says social activist Pradip Pradhan, among the first few to have reached the hilltop village after the malnutrition deaths.
Activists point out that while steel and mining companies have made huge profits by either selling processed chrome ore mined from here or using the ore to make stainless steel, there has been no attempt to improve the lives of tribals living in their backyard. "It's ironical that the area which has thousands of crores of wealth sitting under its soil has the maximum poverty. None of these companies ever bothered about the plight of tribals," says Rajendra Biswal of the Sukinda-based Shahid Bhagat Singh Yuvak Sangh.
A senior Tata Steel official at Sukinda, who does not wish to be named, says the company has begun providing hot cooked meals to the children in the village for the last 10 days through its CSR wing.
"We have also given six radio sets to Nagada to link them to the rest of the world, as well as six solar lamps to the villagers. We are treating the malnourished kids at our hospital in Kaliapani. So far 32 children from the affected area have been admitted to our hospital in phases," the company official says.
The Naveen Patnaik government has also sent IAS officers and a team of doctors, and admitted several of the malnourished children to a rehabilitation centre at the Tata Steel hospital.
Union Petroleum and Natural Gas Minister and a senior BJP leader from Odisha, Dharmendra Pradhan, also took note, writing to Women and Child Development Minister Maneka Gandhi, Union Health Minister J P Nadda and Tribal Affairs Minister Jual Oram seeking a probe into why Central government schemes were not being implemented in Nagada.
A doctor at the Nutritional Rehabilitation Centre in Kaliapani says the fight is long and hard. The number of malnourished children here has dwindled from 22 to just two. "The Juanga parents are scared of shots being given to the children. Someone spread rumours that the doctors were trying to inject blood into their kids' bodies. Though we wanted to keep the children at the centre for a few more days, parents were unwilling," says a doctor.
Officials say the practice of early marriage among the tribals and the lack of an institutional system of childbirth also contribute to the number of malnourished children. "The Juanga women in Nagada marry as early as 13 and become mothers soon after. With little nutrition during pregnancy, the children are born severely underweight and thus have little immunity against diseases like chickenpox and measles. We found several kids suffering from acute malnutrition," says Phanindra Kumar Panigrahi, Chief District Medical Officer of Jajpur.
Hira Pradhan, 40, had her eighth child last year, while her daughter-in-law Raibari, 16, became mother to a boy four months ago. Similarly, Kandi Pradhan, 38, is now pregnant for the eighth time, while her daughter-in-law Laxmi became a mother at the age of 14.
Sukei Pradhan, 36, recently became a mother for the seventh time. Her one-year-old daughter is her sixth child and the weakest. Sukei fears she might succumb like two of her other daughters, to chickenpox or some other disease.
"None of the women has ever been vaccinated and they have little nutrition during pregnancy. With poor hygiene, the children are suffering from worms in their intestines too," says Subhashis Jena, a doctor from nearby Danagadi PHC who visited the village.
Officials also admit that the much-vaunted Mamata, a conditional cash transfer scheme started in 2011, under which, pregnant and lactating women are given financial assistance of Rs 5,000 for the first two live births, failed in the village. Even the Ministry of Health and Family Welfare scheme of Janani Sishu Suraksha Yojana that ensures free delivery programme for pregnant women at government health centres has not taken off.
In the latest decision, the Odisha Women and Child Development Department has announced the setting up of three mini-anganwadi centres in Nagada and said it would provide eggs four days a week, along with other forms of nutrition.
Jugia Pradhan, 6, has heard he may soon get eggs. "I have heard they are very tasty," he says.
http://indianexpress.com/article/india/india-news-india/odisha-tibral-children-malnutrition-deaths-government-measures-relief-and-health-centres2945156/