Women in science, technology, engineering and mathematics faculty are rare,and women speaking at conferences are even rarer.
In the past three years, 35% of all science, technology, engineering and mathematics (STEM) conferences held in India featured only male speakers, according to a preprint1 posted on the bioRxiv server on 27 October. Female researchers in India are outnumbered by their male counterparts in STEM fields, but their under-representation is even more pronounced on the conference circuit.
"I knew it was bad. I just didn't know how bad," says Shruti Muralidhar, a neuroscientist based in Toronto, Canada.
Muralidhar and Vaishnavi Ananthanarayanan, a cell biologist at the University of New South Wales in Sydney, Australia, enlisted volunteers to trawl through publicly available data from Indian university websites between June 2020 and December 2021. They found that, on average, women make up just 16.7% of the STEM faculty across 98 Indian universities and institutes (see 'Few women in STEM'). Biology had the highest proportion of women, at 22.5%, whereas engineering had the lowest, at just 8.3%. For comparison, a 2019 study found that the public-health faculties at the 15 top-ranked universities in the world for the social sciences and public health — all in the United States, United Kingdom and Canada — were composed of between roughly 33% and 54% women2.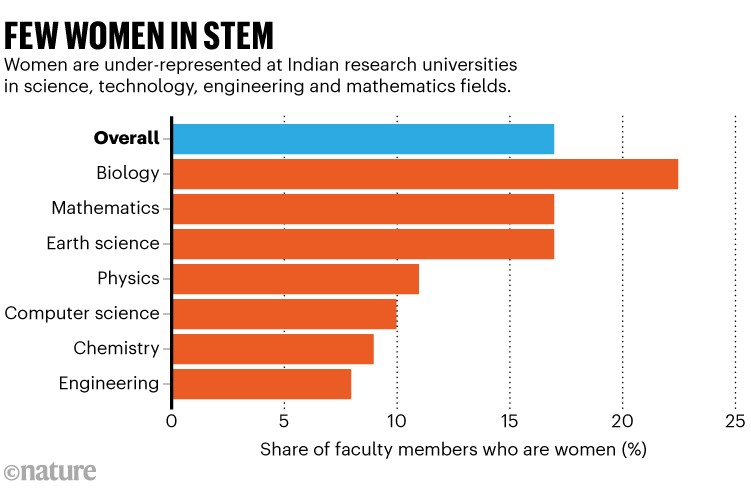 The gender disparity was especially pronounced at India's elite institutions. The eight highest-ranked institutions in the India National Institutional Research Framework 2022 rankings had fewer female faculty members than average, with a median of around 10%.
The causes of this under-representation are complex, says a spokesperson for the Tata Institute of Fundamental Research (TIFR) in Mumbai, India, one of the highly ranked institutions. They added that the institute has introduced initiatives to encourage women to take up a research career. "TIFR's hiring policies and evaluation processes for scientists and academicians are completely gender-neutral," they said.
Leaky pipeline
The low faculty numbers are not because of a lack of girls interested in science in secondary school, Ananthanarayanan says. Girls frequently outnumber — and outperform — boys in STEM subjects. Even at the undergraduate and postgraduate level, women are well represented. According to a 2015 report by the Indian Academy of Sciences, women accounted for 39.4% of the science and technology enrolments at Indian universities in 2000–01, and 35% of science PhDs were awarded to women.
Ananthanarayanan thinks that societal pressures to start families draw many women away from pursuing careers in STEM. A lack of support for women who remain in academia makes the situation worse, as does a hostile workforce culture. "You're constantly having to fight for belonging," she says, and there are few female peers to turn to for support.
The Indian Institute of Science said in a statement that it is "strongly committed to providing a safe and inclusive work environment for all women faculty members, students and staff", and has established a committee for women's equity and inclusion. Other highly ranked institutes did not respond to Nature's request for comment.
BiasWatchIndia
In June 2020, Muralidhar and Ananthanarayanan launched BiasWatchIndia, an effort to document and call out the under-representation of women at conferences in India. By August 2021, they found that 54% of conferences had fewer female speakers than might be expected by the proportion of female faculty members (see 'Conference failure'). Between August 2021 and March 2023, they found that women's participation had improved in some fields , but had become worse in others. In mathematics, the share of conferences with no female speakers dropped from 80% to 25% between the two data-collection phases. But in chemistry, the under-representation of women increased from 47% to 83% of conferences.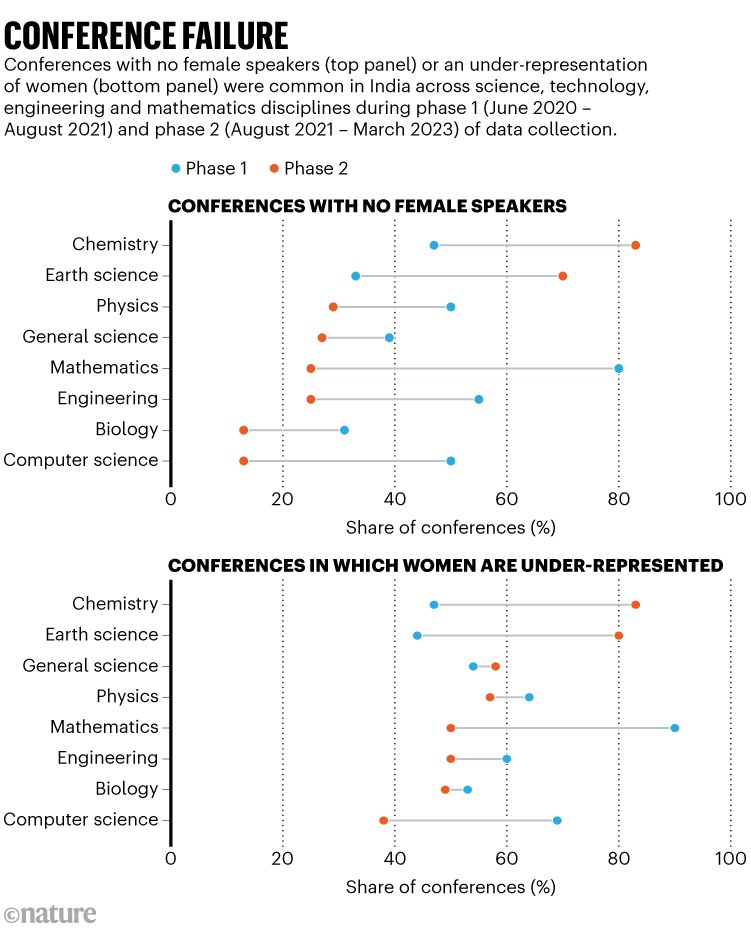 Nidhi Sabharwal, an education-policy researcher at the Center for Policy Research in Higher Education in New Delhi, is not surprised by the lack of representation. Her own work has shown that women and members of other under-represented groups are less likely to be granted permission from their institutions to attend conferences, which stymies their ability to participate in academic networks that garner speaker invitations3. "It has a cascading effect," she says.
Sabharwal says that conference organizers are not trying hard enough to reach women. "If you want to find expert academics, women do publish," and often at higher rates than men, she says.
doi: https://doi.org/10.1038/d41586-023-03519-z