<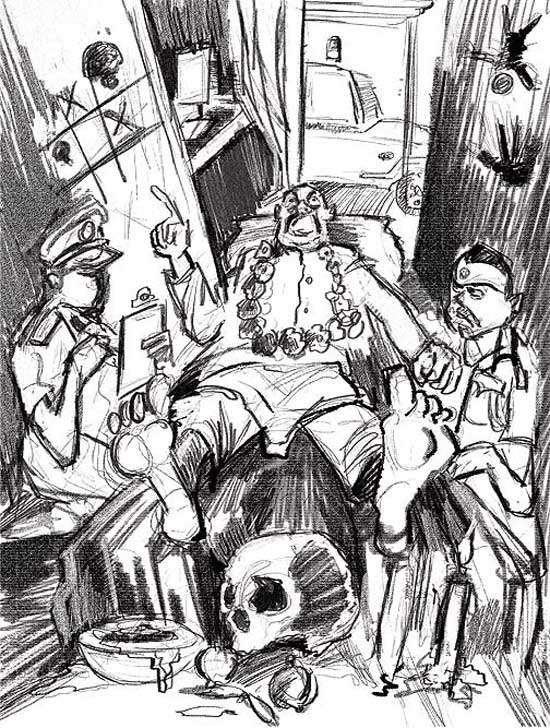 ILLUSTRATION BY SAAHIL
EXCLUSIVE INVESTIGATION: DABHOLKAR MURDER
Murder? Search My Soul
To solve Narendra Dabholkar's murder, the Pune Police resorted to supernatural mumbo-jumbo and irrational faith, the very societal ill that he fought against so valiantly
Ten months after the killing of noted rationalist Narendra Dabholkar, we are none the wiser about his killers. Ashish Khetan visits Pune and Mumbai to reconstruct a near-perfect murder and a 'spirited' police investigation hits an absurd, irrational low.
The Maharashtra Police is notorious for messing up critical crime investigations. Its supposedly premier agency—ATS or the Anti-Terror Squad—manufactured bogus evidence in the Malegaon bomb blasts, the 7/11 serial train explosions and the German Bakery terror case. They have also failed to solve RTI activist Satish Shetty's murder and the rape and killing of three minor girls in Bhandara—both of which cases are now with the CBI. But nothing prepares you for the investigation techniques—eventually all in vain, alas!—deployed by the Pune Police to solve the Dabholkar murder (this case too was transferred to the CBI in May this year by the Bombay High Court).
Dabholkar, a medical doctor-tur­ned-social activist, devoted his whole life to promoting a scientific temperament and critical thinking, and campaigning against witchcraft, superstition and blind faith. On his death, Maharashtra chief minister Prithviraj Chavan was constrained to compare the murder to Gandhi's assassination: "The forces of intolerance that killed Gandhi have also killed Dabholkar." But if the killing of Dabholkar meant a huge loss for the secular, liberal space in the country, the investigation that followed into his murder is an affront to his legacy and everything that he stood for. Appallingly, to solve his murder, the Pune Police resorted to supernatural mumbo-jumbo and irrational faith, the very societal ill that Dabholkar fought against so valiantly, a fight that perhaps took his life.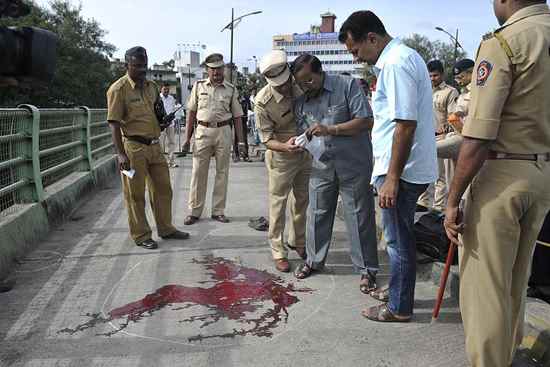 Photograph by AFP, From Outlook 14 July 2014
Dabholkar was gunned down on August 20, 2013. And since their investigation was not yielding anything, the then Pune police commissioner Gulab­rao Pol took the help of self-proclaimed spiritualists to communicate with Dabholkar's spirit and ask it for leads! These are acts that could well qualify as an offence as per the anti-superstition ordinance promulgated by the state government within just a week of Dabholkar's death and which became the Maharashtra Prevention and Era­dication of Human Sacrifice and other Inhuman, Evil and Aghori Practices and Black Magic Act after it was passed by both houses of the state legislature in December 2013.
Just two or three months earlier, in September or October, Pol had even set up a 'crack team' trained in marshalling the spirits of the dead to invoke Dabholkar's. Retired assistant commissioner of police Ranjit Pandurang Abhyankar (decorated with the President's police medal), ex-police constable and now self-styled godman Manish Thakur, along with senior Crime Branch police inspectors and constables formed part of this team. They were given ample police resources, be it vehicles or secret service funds.
Thakur's task was to conduct a seance to summon Dabholkar's soul. He would light a candle, place a vessel of water and lie on a bed in an anteroom to the commissioner's office. What followed would make a worthy sequel to Aamir Khan's supernatural thriller Talaash.
Within minutes, Thakur's body would start shaking violently. It was an indication that Dabholkar's soul had now entered his body. Thakur's own soul, meanwhile, would travel for the time being to the water-filled vessel. (His own soul, in fact, was not his own either, he told me. It was of a Shiv Sena rioter he had shot dead in Jogeshwari during the 1992-93 Bombay riots. Thakur took voluntary retirement in 2014). Pol would then question Dabholkar's soul about his movements a day before the killing, the men he suspected to be behind his killing and the profile of those who shot him. Assisting the assembled in this task were 10-12 other spirits—both good and evil—who were always at his command during the 'investigation'. Senior Crime Branch officers would then act on the 'information' thus generated, pick up 'suspects' and interrogate them. They would eventually have to let them off in the absence of any prima facie evidence of their involvement. Pol commissioned many such seances in 2013.
Both Thakur and ex-ACP Abhyankar need little encouragement to share the outcomes of their 'questioning sessions' with the souls of Dabholkar and others, and the follow-up investigations the police duly carried out on their basis. "For two months," Abhyankar told me, "Pol sahib deputed us one senior inspector, two constables, one driver and a vehicle. We worked day and night and picked up suspects from Mumbai and Pune on the basis of the inputs given by the spirits. But detentions were not converted into arrests. Pol sahib was worried what the police would tell the court, there was no concrete evidence."
| | | |
| --- | --- | --- |
| | | |
| | When I met Dabholkar's soul, I spoke to him in English. The man once proficient in English now couldn't understand it. | |
| | | |
When I met Gulabrao Pol at his luxurious 100-acre farmhouse on the outskirts of Kolhapur city where he has been living since his voluntary retirement in March, he conceded Thakur would summon Dabholkar's 'soul' in his presence and he would interact with it. "My first introduction to Thakur was through Mr Abhyankar (sic)," Pol told me. Abhyankar and he went back a long way, he said; "he was my sub-inspector during my first posting as acp in Pune." And Thakur had helped Abhyankar solve some 'tough' cases of train robberies while he was the deputy superintendent (DySP) in the Railway Police, a fact Abhyankar himself confirmed. "Dada (an honorific Abhyan­kar uses for Thakur) helped me in solving cases of train robbery with the help of spirits," he told me as he introduced me to Thakur at his residence in Premnagar Society, Pune. Abhyankar was awarded the President's police medal in 2009 for distinguished service as DySP, Railway Police, a feat Abhyankar now credits to Thakur's supernatural powers. Abhyan­kar retired from the force in 2012.
Pol confirmed that he put a substantial amount of manpower and logistics to Thakur and his team. "Sab kuchh diya unko, gaadi diya, paisa diya, kahin bhi jao, inquiry karo, kuchh information mile to local police ko bolo, kuchh problem ho to mujhe bolo. (I gave them everything, vehicles, money, freedom to go anywhere, make any inquiry. I asked them to share info with local cops and inform me if there was a problem). I would talk to the superintendent of police of the district concerned or commissioner of pol­ice or deputy commissioner."
Eerily, Pol also recounted some of the 'conversations' he had with Dabholkar's soul. It revealed, for instance, that he (Dabholkar) had visited the state secretariat (mantrayala) in Mumbai a day before he was killed, and that two persons were following him. One of them bumped into him as he was entering the mantralaya building. And Dabholkar's spirit told him all this, I asked Pol. Yes, he confirmed. The two men then followed him to Dadar and got into the same bus as him. Had Dabholkar really gone to the mantralaya on the said day? "Yes," Pol said. "That he came by bus was also right. He didn't get off anywhere en route (to Pune). The man who was chasing him got off at a bus stop."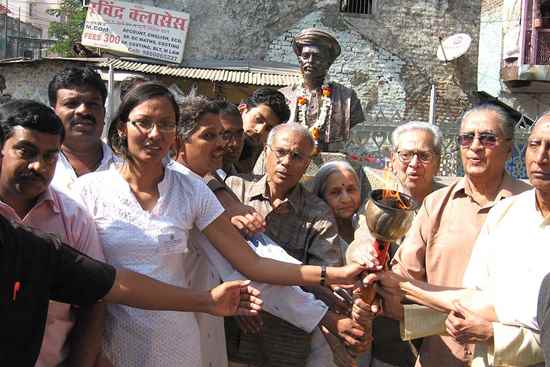 Circa 2009 Dabholkar with others in Pune, vowing to hand over reins to youth
However, assistant commissioner of police (Crime Branch), Rajendra Bha­mare, who was the investigating officer before the case went to the CBI, refuted that Dabholkar had visited mantralaya. Pol's faith in the theory remains unshaken only because it originates from Thakur.
Sufficiently intrigued at this point, I asked Thakur if he could set up a seance session between me and Dab­holkar. I am invited to his safehouse near the railway station in Daund city, a one-and-a-half-hour drive away from Pune city. There were two people with him when I reached, but their problems were seemingly resolved after an incantation in Mara­thi and a blessing by hand. After they left, Thakur obliged me with what I had come for.
The home was furnished with expensive modern gadgets, a testament to his flourishing business. I was led to a room, where he lit a candle, and placed a vessel of water. He then proceeded to lie down on the bed, draped in a white sheet. I was instructed to hold a small stone, round and black, while he set about the business of summoning Dabholkar's soul. Shortly after, he started shaking violently. He calmed down, however, in less than a minute. Rising up from the bed, he told me, in Marathi, that he was Dr Dabholkar.
Dr Dabholkar's 'soul' repeated to me what it had 'told' the others before. That two men were following him as he ent­ered mantralaya. He also named a few of the 'suspects', most of whom had already been interrogated at length by the Pune police and released for lack of evidence.
Not very conversant in Marathi, I deci­ded to pose a few questions to Dr Dab­holkar in English. However, though the man was proficient in English, Dr Dab­holkar's soul could barely understand what I was saying. In fact, he even avoided speaking to me in Hindi and preferred to stick to his mother-tongue, Marathi. He did tell me the name of his son and daughter, and a few details of his life, nothing that a Wikipedia search would not throw up. You had to be blindly superstitious or utterly stupid to believe what you were seeing.
The pity is that an officer of the rank of a police commissioner chose to rely on Thakur's 'method' to investigate Dabholkar's murder, wasting critical time and crucial resources in the process. A senior inspector in the Crime Branch, who was part of the probe, told me that he and his team loathed the fact that they were made to act on Thakur's instructions, and whose continued presence there became a cause of much resentment.
However, Thakur isn't the only act in the bizarre sequence of events. Around 10 am on August 20, three hours after Dabholkar's murder, the Thane police had arrested two arms dealers—Manish Nagori and Vilas Khandelwal—in a completely unconnected case (though officially they were shown as being arrested on August 24). Both were known arms dealers and had been under observation for some time, their cellphones under interception. The duo were taken in police custody by several agencies, including the ATS and booked in a range of cases over the next five months. It was the turn of the Pune Crime Branch in the last week of January, as it booked them in the Dabholkar case on the basis of a match between the lead recovered from Dabholkar's body and a gun recovered from Nagori and his aide Khandelwal.
I asked Pol and Bhamare if they knew the killers since the gun had been found. They didn't. The only explanation Pol could offer was that the arrests were effected on the basis of a ballistic report by the state forensic science laboratory. "Under the Evidence Act, you cannot ignore an expert report," he told me. Both Nagori and Khandelwal walked out on bail in April. When we asked the present police commissioner Satish Mathur about it, "We have neither filed a chargesheet against them nor have we filed a discharge application. It is over to the CBI now."
Meanwhile, almost a whole year has been lost. Crucial leads have gone cold. The killers have had enough time to cover their tracks. Dabholkar's murder is a grievous assault on all those who believe in reason and tolerance, an attack on those who have faith in democratic and persuasive methods while battling for larger ideas. It is imperative that Dabholkar's killers are brought to book so that the conspiracy of hate and violence is uncovered. Fixing the accountability of people like Pol would be a good place to begin with.
***
Dramatis Personae

Gulabrao Pol
Awarded the President's police medal for meritorious service and another medal for distinguished service, Pol, 58, took voluntary retirement after he was unceremoniously removed as the Pune police Commissioner in March this year.

Ranjit Pandurang Abhyankar
Joining as a sub-inspector in 1975, he retired as ACP in 2012. He is also a recipient of the President's medal for distinguished service as DySP, Railway Police. According to a police press release, he was also part of the team that cracked down on the activities of the Balu Andhekar gang and Pramod Malvadkar from 1977 to 1986.

Manish Thakur
An ex-police constable, he took voluntary retirement in 2004 and now practises as a godman in Daund. A state-level hockey player before he joined service, Thakur claims to have killed a Shiv Sena rioter during the 1992-93 Bombay riots.
---
(Journalist Ashish Khetan stood for the 2014 election as a candidate for the Aam Aadmi Party.)