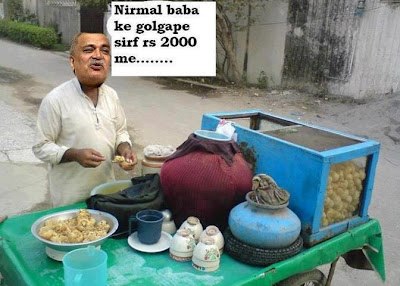 ( PIC COURTSEY- desicomments.com )
To
The Hon'ble Chief Justice, Mohit S Shah
Subject- An Appeal under Art 51 A of the Indian Constitution
I write to you as a Citizen Of India under my fundamental duty ,  mentioned in  Article 51-A of the  Indian constitution  for  developing the scientific temper, and voicing against superstition, and blind beliefs .
Below is come excerpts of the Delhi High court judgment by Honble  Justice  Kailash Gambhir in  NIRMALJIT SINGH NARULA vs SH. YASHWANT SINGH & ORS  (I.A. No.10017/ 2012 in CS(OS) 1518/2012)
"Our country was perceived as the land of the sadhus and saints since time immemorial…Though we have come a long way…the mystical sadhus and the god-men have not left the picture, the difference may be that some of the sadhus travel by a private jet and have a turnover worth [tens of millions.]"
'The question is, whether such spiritual babas in their lectures or discourses can suggest solutions which are absurd, irrational, illogical, unfathomable and unacceptable. advising his disciples in the Samagams and through media, millions of people watching television to open black purses at the time of showering of his blessings then the same will result in inflow of money to them and likewise to tell people to eat Rabri, Masala Dosa or Paani Poori to overcome their miseries, are the kind of solutions which are highly irrational, weird and unacceptable to commonsensical notions, bound to result in backlash by the media and other such agencies. ( Para 27 of the Judgment)
 The videos of Nirma Babas Samagam  also depict the various cures and remedies propagated by him. It would be pertinent here to quote at least one of them:
"Baba: puri chhole khaye kabhi?
Bakht: ji baba ji khaye hain
Baba: Aisa karo puri chhole baba ko yad kar do char garibo
ko khila do, prabhu ki zyada kripaa ayegi." (para 28 )
The above instance is only one odd out of the basket and any prudent person with average intelligence would be in rapt disbelief if such a remedy would get him rid of the difficulties he is facing in his life. Primafacie, these do not appear as logical to a rational mind but the whole edifice of this God market and its nuances is based on the belief system of people. This court cannot help but sound a word of caution that this sudden resurgence of the babas who claims to have mystical powers and give all kind of illogical solutions to overcome the miseries of people has amplified and glorified superstition and has turned the clock back of development in our country. ( Para 29 )
Who is Nirmal Baba
Nirmal Baba, former name Nirmaljit Singh Nirula, was born in 1952 in Samana, India, near Patiala Punjab, to a Namdhari Sikh family and is the youngest of two brothers and three sisters. He grew up in Palamau, Jharkhand after his parents shifted there in the Fifties. He is married to Sushma Narula and has a daughter and a son. Nirmaljit Singh began his brick kiln business in 1981. However, he suffered losses and following this, he started a cloth shop but again failed in his venture. He was then involved in mining of Kyanite from Jyoti Hill, Jharkhand in 1998–1999.He claims to have attained nirvana in a Jharkhand jungle in the 1980s. He then cut his Sikh hair, shaved off his beard and adopted the name Nirmal Baba.[1]
Nirmal Darbar  is the name of the paid televised show corresponding to each public meeting of Baba. This show was broadcast by approximately 40 different channels including AXN, TV Asia, Star News, SAB TV and more.[2] During these Darbars, he makes public appearances and converses with aggrieved devotees who usually narrated their personal, social or financial worries to him. He asks questions to diagnose what has stopped "kirpa" (God's kindness) from flowing in the devotees' lives. He then, advises them on those issues publicly and suggested "solutions" to make "kirpa" (God's kindness) flow in the devotees' lives again thereby solving their problems. Nirmal Baba also claims to save his devotees from negative effects of black magic and evil spirits. All the Samagam meetings havetickets for  Rs 2,000.[3] The tagline of the show is "Yantra chale na tantra mantra, na rahe dukhon ka ghera. Bhagya uday ho jayega jab ho, Nirmal Baba aashirwad tera." meaning "Even when objects representing aspects of divine and mystical hymns and sounds having special meanings fail, good luck can be awakened in a person's life by blessings of Nirmal Baba . He  also asks his followers to deposit a part of income to someone which may give a sort of guarantee for continuing KRIPA. That part of income which has been offered is called Daswand.
Complaints and Cases against Nirmal Baba
In April 2012 various news papers published news about Nirmal Baba's bank accounts. He advertised on 35 channels. On every congregation (darbar) around 5,000 are believed to be present. Each person has to pay Rs 2,000 to be a part of it. This amounts to a staggering figure of around Rs 1 crore from every darbar he organizes. It is believed that around 7 such darbars are conducted every month which takes the stats to Rs 84 crores per year. This not the end to it.He also gives group appointments, conducts pujas, takes donations etc. Every devotee of his, who is healed of his problems, has to pay 1/10th of his earnings. Plus thousands shell out a lot from their kitty to free themselves from the problems which Baba claims to solve.
A Hindi daily, Prabhat Khabar, exposed the  details of two of these accounts. As per the newspaper, Rs 109 crore have been deposited in these two accounts this year (until first week of April 2012). Roughly, everyday Rs 1.11 crores are deposited into these accounts. Although a large part of the deposit comes from Bihar, West Bengal and Jharkhand, but transactions take place from all over the country. Prabhat Khabar states that Rs 16 crore were deposited into Nirmal Baba's account on April 12, 2012.
Nirmal Baba told to media that he has  been paying my income tax regularly. His  annual turnover is Rupees 235 Crore. Nirmal Baba bought hotel worth Rs 30 crore in Delhi's Greater Kailash Area using the money donated to him by his devotees, according to a Jharkhand daily.[4]
In an another controversy two youngsters, Tanaya Thakur and Aritya Thakur, filed a report against self-proclaimed godman Nirmal Baba at a police station on  April 11, 2012 . They wanted  the Baba  be punished for allegedly cheating ordinary people through his "impractical" solutions. The written report said Nirmal Baba cheats common people by claiming godly powers. The report said his activities fuel superstitious thoughts and are a "hindrance to modernistic thoughts".[5]
Also, Nidhi, a junior-artist who has worked in many TV serials, claimed that Nirmal Baba shot many of his programmes in Film City, Noida, UP and surprisingly the people who asked questions were not the 'genuine' ones but 'fake' people hired by Nirmal Baba. According to Nidhi, she got Rs 10,000 from Nirmal Baba for asking questions. [6]
First FIR was registered against godman Nirmal Baba in Bihar, on April 22, 2012. The FIR was filed at a police station in Bihar's Araria district, and accused Nirmal Baba of fraud and cheating. [7] The court of Araria Chief Judicial Magistrate Satyendra Razak then issued a warrant of arrest on the basis of an FIR filed  by complainant who alleged that the Baba forced him to pay Rs. 1,000 in three installments between January and March 2011 on promise of fame and fortune. In his complaint, Singh also sent by courier counterfoils of the deposits of Rs 300 twice and Rs 400 in the Baba's account at the Punjab and National Bank to his Delhi address as sought .According to Araria Superintendent of Police Shivdeep Lande, the accusation was found prima facie true following which he directed the investigating officer to move the court and seek a warrant of arrest.[8]
In Uttar Pradesh , three cases have been filed against controversial  Godman, Nirmaljeet Singh for alleged fraud and cheating.A case was filed against Baba and his wife in the court of Additional Chief Judicial Magistrate in Meerut for alleged fraud. The complainant, Harish Veer Singh, claimed that on Baba's advice he ate 'kheer', which led to a health problem. In another police case filed at Indira Puram here, one Jai Ram Singh alleged that Nirmal Baba cheated him of Rs 31,000 by promising cure to his ailment, but he found no relief. In third case, One Jitender Singh filed a police complaint against Baba for allegedly cheating him of Rs 11,000 for curing his health problem . He claimed that he developed regular pain in his body after he ate 'Pani-Poori' for months following Baba's advice. He alleged he had deposited Rs 11,000 in Baba's bank account, but when he demanded more money, he decided to lodge complaint against the controversial Godman.[9]
In Madhya Pradesh , on a  complaint filed by Bina resident Surendra Vishwakarma,  local court issued a non-bailable arrest warrant, and directed police to produce him on June 25., 2012 . However, the police could not find the controversial Godman on his Delhi address. The  Madhya Pradesh High Court granted him an anticipatory bail. Justice G S Solanki of High Court asked him to execute a personal bond of Rs 50,000. A magistrate's court at Bina had rejected Baba's application seeking exemption from personal appearance .Vishwakarma has accused Baba of "cheating and hurting personal sentiments". As per the complaint, Vishwakarma kept Rs 2,000 in a black purse so that his finances may improve, on Baba's instructions. However, he lost the purse with the money, he alleged.[10]
Please do see the news report, where the above complainants talk about their complaints
[youtube=http://youtu.be/TkZqfXfRoqg]
Here is  another  Aaj Tak  interview of  Nirmal Baba
[youtube=http://youtu.be/t2psfvvseBk]
In  June 2012, Following a strong stand taken by Indian Broadcasting Federation asking its member channels to stop telecast of Nirmal Baba's show Nirmal Darbar, the number of TV channels showing the show  dwindled from 36 to 19. A court in Madhya Pradesh  also issued an order asking stay on telecast of Nirmal Darbar. All the Nirmal Darbar programmes are paid shows on the channels, which runs into crores of rupees.[11]
The  self proclaimed , fraud God man is exploiting people who are in search of easy solutions to their agonies be it relating to health, poverty, unemployment, disharmony in the family etc . Nirmal Baba  is  s preading blind faith in the society, with his preachings under title of  'Third Eye of Nirmal Baba' in his samagams , where he asks people to follow his preachings and guidelines to become rich and get rid of all problems in life, while his only motive is to make money.  He has no degree in religious teachings, and spreads fear among people by claiming that he has supernatural powers and asking them "to deposit ten per cent of their income in his bank account to receive his blessings.
I am a votary of  Freedom of Expression and  Speech and  am not asking for any curtailment of speech, but  I  amd asking for an intervention from  the Honble  High Court, that a  caution  be displayed , at all his ' samagams', and public meetings, darbars  venues ,  so that people know what they are listening to — in the nature of a  Statutory Warning.
His next  Samagam in Mumbai as per his website is on April 8, 9 and  2013[12].
Please consider this as a petition against fraud and blind belief.
Sincerely
Kamayani Bali Mahabal
Feminist and Human Rights Activist
Mumbai
Dated- March 16, 2013
---
[2] http://daily.bhaskar.com/article/NAT-TOP-plotting-nirmal-babas-rise-on-the-web-3108745.html?HF-2=
[4] http://m.oneindia.in/news/2012/04/16/nirmal-baba-donations-buy-rs-1-8-cr-flat-30cr-hotel.html
[5] http://www.newsbullet.in/india/34-more/28574-star-news-exclusive-hard-facts-about-nirmal-baba
[6] http://daily.bhaskar.com/article/NAT-TOP-ask-fake-question-and-get-rs-10000-from-nirmal-baba-3102181.html
[7] http://zeenews.india.com/news/bihar/first-fir-registered-against-nirmal-baba_771060.html
[8] http://www.siasat.com/english/news/hc-stays-nirmal-baba%E2%80%99s-arrestnext-hearing-june-18
[9] http://www.indianexpress.com/news/cheating-fraud-cases-against-nirmal-baba-in-up/938268
[10] http://articles.timesofindia.indiatimes.com/2012-06-26/indore/32424181_1_personal-bond-godman-arrest-warrant
[11] http://www.indiatvnews.com/news/india/nirmal-baba-show-discontinued-16432.html