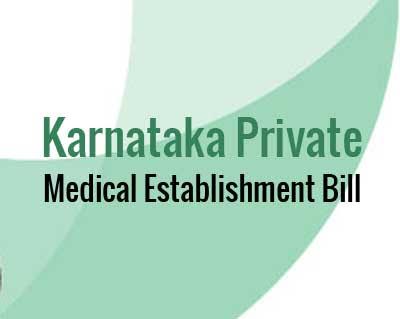 Dear Sir,
With regard to the Karnataka Private Medical Establishments (Amendment) Bill, 2017, tabled in the Karnataka Assembly in June 2017, we support the government's decision of regulating private medical establishments, introducing a Charter of patients right's, creating a grievance redressal committee and fixing a cap on rates.
Karnataka has seen a massive overgrowth of the private sector which has neither self-regulated nor allowed any form of government control. This has led to rampart overcharging, denial of patient rights, negligence, unnecessary procedures and tests. Patients have been over-charged and held to ransom. The cost to life and the burden that private healthcare has imposed on patients has been well documented in India as well as other countries. Government health services, on the other hand, have systems of monitoring and oversight, even if the implementation has generally been poor.
When the government health system is strong, health has shown to improve, easily measured by maternal and child mortality rates. The government health system, apart from its curative role, plays an important role in prevention, promotion of health and rehabilitation. The private sector has never taken up preventive roles because that has low economic value. While the public sector undergoes rigorous training on management of diseases of public health importance such as tuberculosis, HIV, non-communicable disease, dengue etc., the private sector has often initiated treatments that not only lead to bad outcomes for the patient, but create major public health problems such as antibiotic resistance, Multi-drug resistance and other complications which are then left for the public health system to manage. Rather than working on prevention of public health diseases like dengue, the private sector often capitalises on the fear syndrome for its own private gain.
It is also well known that private hospitals have no mechanism of reporting data on morbidity, mortality, caesarean sections, hysterectomies and other surgeries. There is poor documentation and maintenance of records of rationale for investigations and treatment, referral patterns and cause of death, if it occurs. Patients therefore have very little access to information if they would like a second opinion, which they are entitled to, or if they suspect negligence and would like to follow the case legally. The public health system has a more rigorous system of data collection and transmission, which helps to understand disease and mortality, as well as diseases of public health concern.
It is also well known that expert doctors very rarely testify against colleagues even in the face of obvious denial of care or negligence. This makes patients and their relatives extremely vulnerable and puts them completely at the mercy of a medical establishment with doctors as experts.
With the Vajpayee Arogyashree scheme (VAS), the private empanelled hospitals have demonstrated how they are quite ready to manipulate the government for economic gains, pick and choose lucrative patients, while closing the door on patients who are terminally ill or requiring protracted care. They have also been shown to bring on several added costs for the patient over and above the money received through VAS. This has created a burden on patients, with out of pocket expenditure with the VAS ranging from anywhere between 10,000 to more than 1 lakh.
We therefore feel that your move to regulate the private medical establishment is urgently required and long overdue. We feel that the government should not give in to the pressure by the corporate private sector lobby and instead do whatever is required to ensure that all patients, irrespective of their ability to pay, are offered access to comprehensive preventive, promotive, curative and rehabilitative health care.
This would go a long way in making the government people centric instead of market centric, and make Karnataka a model in comprehensive health care for other states to follow.
In solidarity
Dr. Ambrose Pinto SJ, Principal, St. Aloysius Degree College, Cox Town, Bangalore 560005
Brinda Pancholi
Meena P, Azim Premji University.
Teena Xavier, Karnataka Janarogya Chaluvali (Kalaburgi)
Chethan BV
G. Ravi, Jana Chinthana Kendra
Vishal Kumar, Theatre research scholar
Sumathy Nagendra, Bhumika media
Dr. Sunil Kumar Hebbi
Rajesh Umadevi Srinivas, Sangama
Jayaram, People's Union for Civil Liberties, Bangalore
Dr. Venkat Pandu
Karthik Ranganathan
Lohith Sharanappa
Safiya, Movement for Justice
Pushpa Achanta, Journalist and trainer
Dr. Sylvia Karpagam, Public health doctor
Dr. Karthik Bittu, Biologist
Nagarjun Kandukuru
Geeta Thatra, Researcher, Jawaharlal Nehru University
Meera Sanghamitra, National Alliance of People's Movement
Cynthia Stephen, Independent policy researcher and journalist
Siddharth K Joshi
Chetana
Bala Krishnan
S.S.Rajani, Consultant, development sector
Sowjanya B, IT employee
Gee Imaan Semmalar, Sampoorna
Kamayani Bali Mahabal, health and human rights activist
 Rajesh Umadevi Srinivas, Sangama
Nidhin S, IT employee
Guru, Associate director, Basic needs India
Dr. Akhila Vasan, Karnataka Janarogya Chaluvali
Vijayakumar S, Karnataka Janarogya Chaluvali
Vinay K Sreenivasa. Alternative Law Forum
Doddipalya Narasimhamurthy, Swaraj Abhiyan
Dr. Vasu. Karnataka Jana Shakti
Karnataka Janaarogya Chaluvali
Karnataka Janashakti
Karnataka loading and unloading workers union
Safai Karmachari Kavalu samiti
Alternative Law Forum
Slum Janandolana Karnataka
Right to Water Campaign
Karnataka Jana Shakti
Mahila Munnade
Swaraj Sanghatane
Kamayani Bali- Mahabal
Movement for Justice
Swaraj Abhiyan
Sangama, Karnataka Sex Workers' Union
Garment and Textile Workers' Union
Karnataka Rajya Raitha Sangha
Janaandolanagala Mahamaitri
Samanathegaagi Janaandolana
Manthan Law
Dalit Sangarsh Samiti (DSS)
Jana Sangram Parishat
Samaana shikshekaagi jandandolana