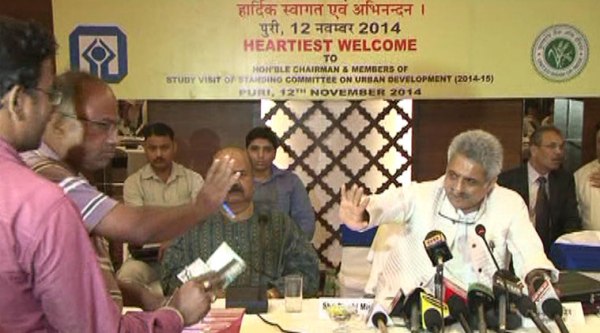 Angry journalists in press meet at Puri waving the envelope at the organisers after they found Rs 200 slipped in their press kits. (Source: IE photo)
Written by
Debabrata Mohanty
| Bhubaneswar | Posted: November 13, 2014 12:05 am | Updated: November 13, 2014 12:59 am
In a shameful cash-for-coverage episode, the Parliamentary Standing Committee on Urban Development headed by BJD MP Pinaki Mishra on Wednesday allegedly tried to bribe journalists in temple town of Puri in a press conference causing much outrage among the mediapersons in the town. Soon after the incident came to light more than a dozen journalists in Puri lodged a complaint against Mishra and BJD MLA Maheswar Mohanty accusing them of bribing the members of fourth estate for favourable coverage.
The Committee headed by Puri MP Pinaki Mishra came to Puri on Tuesday to oversee some of the developmental works being undertaken by the union ministry and discuss the progress of some of the projects. Soon after the discussion, a press conference sponsored by Uco Bank was organised at Mayfair Hotel in Puri where the journalists were allegedly given Rs 200 in envelopes.
"When we found the currency notes tucked inside envelopes in the notepad, we started protesting. It was a cheap attempt of the organisers to get a favourable media coverage," said Jit Patnaik, reporter of a local TV channel. "We all boycotted the press conference." Some of the reporters later lodged a complaint with the Sea Beach police station against the BJD MP and MLA over the "bribery"
attempt.
However, in a second press conference organised by Uco Bank on behalf of the standing committee at Bhuaneswar, Rs 300 were allegedly given in envelopes to about 40 journalists who attended it. No one is known to have returned the money.
Mishra, who was addressing the press meet, however said there was no attempt to bribe the journalists. "The bank gives conveyance allowance to journalists in such press meets. It was just mere courtesy. There is no quid pro quo arrangement. I find it ridiculous that journalists can be bribed by Rs 200. I don't care for such FIRs. I know how to deal with such things," he said.
Mishra said the whole controversy was engineered by his rivals who envied the rise of BJD in Puri.  "Of the 53 journalists who attended the press conference, 15 returned the money while the rest did not complain," he added.
Puri SP Ashis Singh said the police were still not sure under which section of IPC can a case be lodged against the organisers. "There is
no electoral code of conduct in place now. But we are still closel scrutinising the complaint and would take appropriate steps," he said.
Opposition Congress and BJP said the 'bribery incident' only proved the political culture of the ruling party and was a brazen attempt to
buy the media. "After buying votes through money power, the party now wants to use money power in everything it does," said Leader of
Opposition Narasingha Mishra. Senior BJP leader Suresh Pujari said it was a brazen attempt to curry favour with the media.  BJD spokesperson Samir Dash however demanded a thorough investigation to fix responsibility.
– See more at: http://indianexpress.com/article/india/politics/orissa-journalists-lodge-fir-against-bjd-mp-and-mla-over-attempts-to-bribe-them/99/#sthash.7CxlFU0J.dpuf