Written by Chandan Haygunde |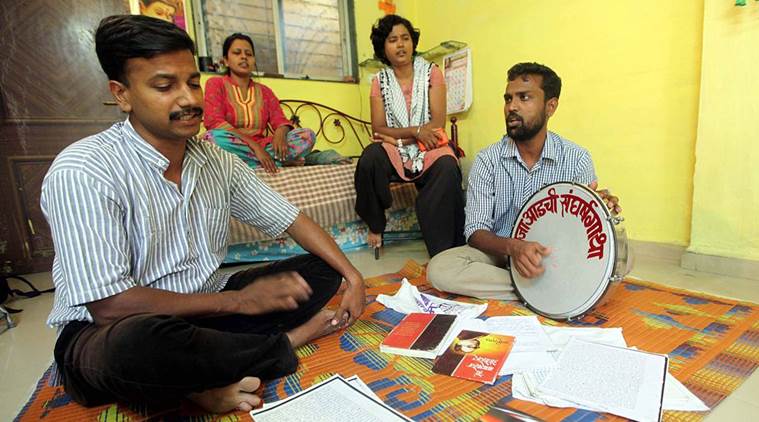 Note of protest: Ramesh Gaichor (left) and Sagar Gorkhe of Kabir Kala Manch. (Photo: Sandeep Daundkar)
On a drum is written, in a bright red font, the story that Ramesh Gaichor, 32, and Sagar Gorkhe, 29, want to tell you: Gaja aadachi sangharshagatha (the story of our struggle behind the bars). The two members of Kabir Kala Manch, a Maharashtra-based cultural organisation, were released on bail in January this year, after having spent nearly four years in Arthur Road jail, Mumbai, on charges of being "Maoists".
You can now find the duo in Pune's slums, putting up an impromptu performance — with nothing more than a microphone and a duff (drum). A crowd of about hundred persons quickly gathers around them as they sing about the farmer distress spreading like wildfire in Maharashtra, Madhya Pradesh and other parts of the country. "People in the city say they suffered due to the farmer agitation. But we wanted to tell them the reasons that are forcing poor farmers to rebel against the state," says Gaichor.
The son of a security guard, Gaichor joined KKM while in college as it gave him an opportunity to protest against the caste inequalities through art and culture. He was a lecturer in a Pune college, when he — and several other members of the KKM — were booked by the state Anti-Terror Squad (ATS). Gorkhe, a poet and a singer, once lived in Kasewadi slums in Bhavani Peth, but had to move to Samata Nagar, Thergaon, with his family because of alleged police harassment. The case against him cut short his studies as an undergraduate student of sociology. "We were arrested on false charges. But the harassment in prison could not divert us from our goals. We have started performing again and the response is overwhelming," says Sagar.
In April 2011, the ATS booked a bunch of KKM artists, including Deepak Dhengale, Siddharth Bhosale, Sachin Mali, Sheetal Sathe, Gaichor, Gorkhe and Santosh Shelar under the stringent Unlawful Activities Prevention Act (UAPA) for allegedly spreading the "Maoist ideology of armed struggle against the government".
In January 2013, the Bombay High Court granted bail to seven of the accused in the case, saying that while they could be "sympathisers of Maoist philosophy", "none can be said to be active members of the banned CPI-Maoist party". On January 3, the SC granted bail to Gaichor, Gorkhe and Mali. The case is now pending in the Thane court.
Mali and his wife, Sathe left the group due to "ideological differences" and started a new cultural front, Navyan.
KKM now has about a dozen committed artists, who meet at least thrice a week to practise and rehearse. Be it issues like beef ban or demonetisation, they have consistently opposed the rising tide of Hindutva and policies of the BJP government. While in prison, Gaichor and Gorkhe composed about 120 songs and 70 poems on caste atrocities and gender inequality. They are planning to cut an album of their revolutionary songs.
The group performed in a rally recently organised by Prakash Ambedkar. "We often see police presence at our performances. Cops keep a watch on us, on our family members, our home and even on our sympathisers. We have to report to the police station once a week as per the conditions laid by the court while granting bail," says Gaichor. While they have travelled to Mumbai, Jalgaon, Nashik, Ahmednagar, Aurangabad and performed almost every day during April-May, they are not allowed to travel outside state, or visit districts under Maoist influence.
"What boosts our morale is the support from our parents. They were broken when the police case was filed against us. But now they stand firm with us and encourage our siblings to join us," says Gorkhe
http://indianexpress.com/article/lifestyle/art-and-culture/kabil-kala-manch-pune-freedom-song-4730654/