Tractor loans at 15.9 per cent trapped Aurangabad farmers like Hirabai in debt. But Mercedes Benz loans there were going for 7 per cent at the same time. Yet, sales of both were seen as rural progress 
Hirabai Fakira Rathod was talked into buying a new vehicle in 2010 when many banks were on a 'tractor loan' spree. "The salesman at the tractor shop had told me that it was very easy to get and repay this loan," she told us at her rundown dwelling in Kannad tehsil of Aurangabad district. The local branch of the State Bank of Hyderabad also processed the loan swiftly. Hirabai, whose husband is a retired forest guard, is a Banjara Adivasi and her large family held 3.5 acres in the same tehsil. "The idea was we could use it ourselves and also earn a bit more deploying it on other farms," she says.
She was given a loan of Rs. 575,000 for a tractor worth Rs. 635,000. She had to repay that sum over seven years – at an interest rate of 15.9 per cent. "That was the worst mistake of my life," she says bitterly, showing us the full account of the loan. Hirabai went broke after paying back well over Rs. 7.5 lakhs until March this year. At that point, the bank offered her a 'one-time settlement' (OTS) of Rs. 1.25 lakh. Which she paid by borrowing more money from relatives. "I did not want to leave this burden on my children's heads," she says.
In all, this Banjara who is neither prosperous nor well off had "slaved to pay back nearly Rs. 9 lakhs." On a loan of Rs. 5.75 lakhs. And with farming in this part of Maharashtra's drought-hit Marathwada region in collapse, "there's not much work for the tractor beyond our farm." There are several other Hirabais in Aurangabad district and across the country. There were also many others who, unlike her, couldn't repay much at all. Important, in a state that has seen innumerable debt-driven farmer suicides. The State Bank of Hyderabad (SBH) alone gave out 1,000  such loans  in just the Marathwada region starting from 2005-06.
"The banks were on a tractor loan spree," says Devidas Tuljapurkar, general secretary of the  All India Bank of Maharashtra Employees Federation. "They had to meet their quota under 'priority sector lending' – and these could be shown as agricultural loans. And they were handed out at crippling interest rates to large numbers of people who should never have been saddled with them. Apart from the Hirabais who made a settlement, there were several who have paid back large amounts but have not managed an OTS. And many others who could repay nothing." We obtained the details of at least 45 people in the latter categories with just the single branch of the SBH in Kannad tehsil alone.  They owe the bank Rs. 2.7 crores. And that's only one branch of just one bank in a small town in a single state. There were countless thousands of such loans across the country from many banks.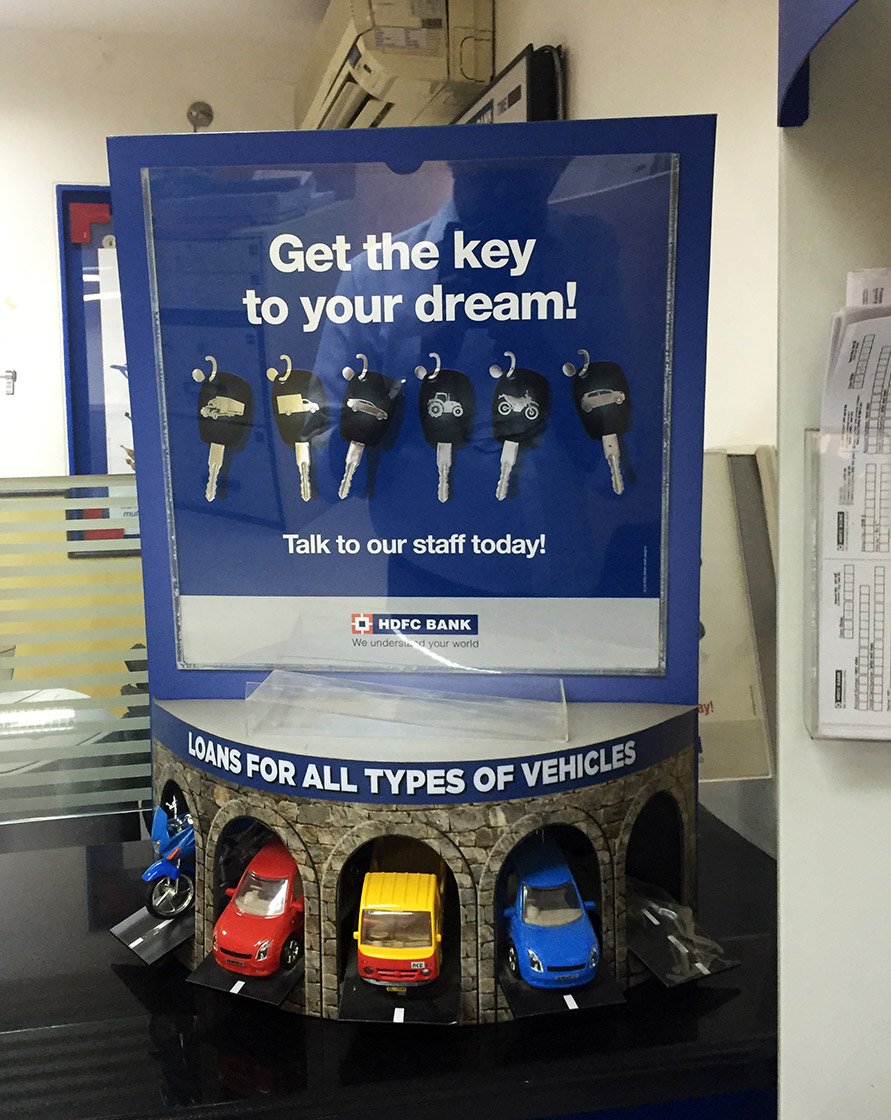 Vehicle loans are big even in cities, as this 'counter' in a Mumbai bank shows. Could the empty slot once have held a micro-sized tractor?
About the time Hirabai got her loan at 15.9 per cent, a greater lending spree was on in Aurangabad town just 65 kilometres away.  The 'Aurangabad group', a band of the city's elite  industrialists, executives, doctors, lawyers and other professionals, bought 150 Mercedes Benz cars on a single day in October 2010. (One of them has since become an MLA from Aurangabad East). It was a move, some of them said at the time, to signal  "Aurangabad had arrived."  That it was now "on the global investment map."  They did have a little bit of help getting on the map. The prices of the Benz models sold that day ranged between Rs. 30-70 lakhs. Media reports said the company had given discounts on these, as it was selling 150 luxury cars in 24 hours. More importantly, by special dispensation of the then chairman of the State Bank of India, no less, the SBI Aurangabad gave them a loan covering almost two-thirds of the Rs. 65 crores deal – at an interest rate of just 7 per cent.
An 'elated' Mercedes Benz India managing director Wilfried Aulbur was quoted at the time in the media as saluting the tremendous economic power in tier-two and tier-three cities in the country. ''Today, it came to the fore in a bold, aggressive and dynamic manner with the sale of 150 Mercedes-Benz cars at one stroke."
Aurangabad's many Hirabais were having a stroke of a different kind. Both groups were taking vehicle loans. Both groups got their loans from public sector banks. But Hirabai was paying an interest rate more than double that which the city's elite were.  Maybe because she wasn't putting Aurangabad on the global investment map.  Many of those getting tractor loans at between 12.5 and 15.9 per cent were Adivasis and Dalits. It would be hard to find those groups amongst the Benz buyers.
Vasant Dalpat Rathod, a Banjara of the Telwadi tanda (colony), repaid Rs. 7.53 lakhs (including a Rs. 1.7 lakh OTS charge) to the SBH, Kannad tehsil. Amarsingh Mukharam Rathod of the same Adivasi group, living in Amba tanda,owes more than Rs. 11.14 lakhs to the bank on a loan half that amount. He has repaid almost nothing – and  probably  never can. Our visit to his tanda saw some gallant lying by his neighbours  that they had never heard of him. Word had gone around that bank guys were on the prowl. We did find his home and it had almost no possessions of any value and certainly no tractor.  It sometimes happens that a more powerful person takes out a loan in the name of a poorer one. This might well have happened here. Apart from the 45 cases in Kannad, we obtained details listing scores more of such loans in other tehsils and branches.
"None of these loans has been declared a non-performing asset," says Tuljapurkar. "In total, the amount would run to many crores of rupees. What the banks mostly do is to retain these on paper as performing  accounts. Hence you see outstanding amounts that are twice the original loan, but where sometimes not a single paisa has been repaid. The repayment period may long be over but this might still be listed as a standard or performing asset that is not in trouble. At some point, this reality will have to be faced up to." Also, sometimes, the  buyers are gypped by go-betweens and dealers. "Bank finance may be taken for a tractor plus a trolley and other accessories. Of these the peasant only wants and gets the tractor. The rest is calmly pocketed by dealers."
The Benz brotherhood has also seen defaults, say bank employees. "So many of those cars have been re-sold two, three or more times," a prominent industrialist of Aurangabad told us. A couple of owners, another source said, had made quick use of the discounts and the low interest rate and sold very quickly – at a profit.
Tractor sales in India trebled between2004-14. Industry data suggest that in 2013, India produced 619,000 tractors – almost a third of world output. Several saw this as a "mirror of rural progress" or an "important barometer" of how rural India was doing. Sure, a rise in income for some sections helped that spurt. However, it was also enabled by hard-selling crazy loans. As the Socio Economic and Caste Census data show, in only  8 per cent of rural households does the highest earning member make more than Rs. 10,000 a month. (Tractor-owning families are much less than even that 8 per cent figure). Still, quite a few economists and columnists cling to the notion that tractor sales figures are a reliable proxy for how all of  rural India is doing. So now, when dealers in Aurangabad report a 50 per cent decline in sales, that becomes the definitive sign of 'rural distress' for the desktop analysts.
True, the tractor is a productive instrument, unlike the Mercedes Benz,  which is a luxury buy. But seeing  the loan-driven tractor sales  of the 2004-14 period as a symbol of rapid rural progress is as silly as the idea that the sale of 150 Mercedes Benz on a single day marked the arrival of Aurangabad on the global map. At Rs. 64,330, Marathwada still has the lowest per capita income of any region in Maharashtra. That's about 40 per cent lower than the rest of the state. And almost 70 per cent less than Mumbai's figure.
Meanwhile, a new bankruptcy crisis could be in the making. This time involving excavators which are increasingly used  in states like Maharashtra where governments  are happy to deploy more machinery and less manual labour.
"A lot of people are going to lose a lot of money and go bankrupt,"  says Haji Akbar  Baig, a contractor and former municipal council chief of Khultabad in Aurangabad district.  "In my little town of 19,000 people," says Baig, "there are at least 30  JCBs (J.C. Bamford excavators). Who knows how many there are across the state? Since these are being used in schemes like the Jalyukt Shivar Abhiyan  (the flagship water conservation scheme of the state government),  many people have got carried away. They have taken huge loans from private banks and non-banking financial companies,  and bought JCBs costing up to Rs. 29 lakhs a piece. I was one of the first to buy one. But I raised my money without a big bank loan, by selling a lot of my earlier equipment and borrowing some amounts from family members.
"To be left with a worthwhile amount after paying your loan instalments and high maintenance costs, you need to get work worth Rs. 1 lakh a month at least. Which might be possible in this season, but will come to an end with the monsoon. Let alone 30, there won't be enough work for three JCBs in this town. What do you do then? People with no background in the field are also investing in Poclain hydraulic excavators that sometimes cost twice what the JCBs do. Again, taking loans that will crush them. That's true across the region, I suspect. Only a few connected businessmen with contacts will still get contracts. Maybe 10 out of 100 will survive. The rest will go bankrupt."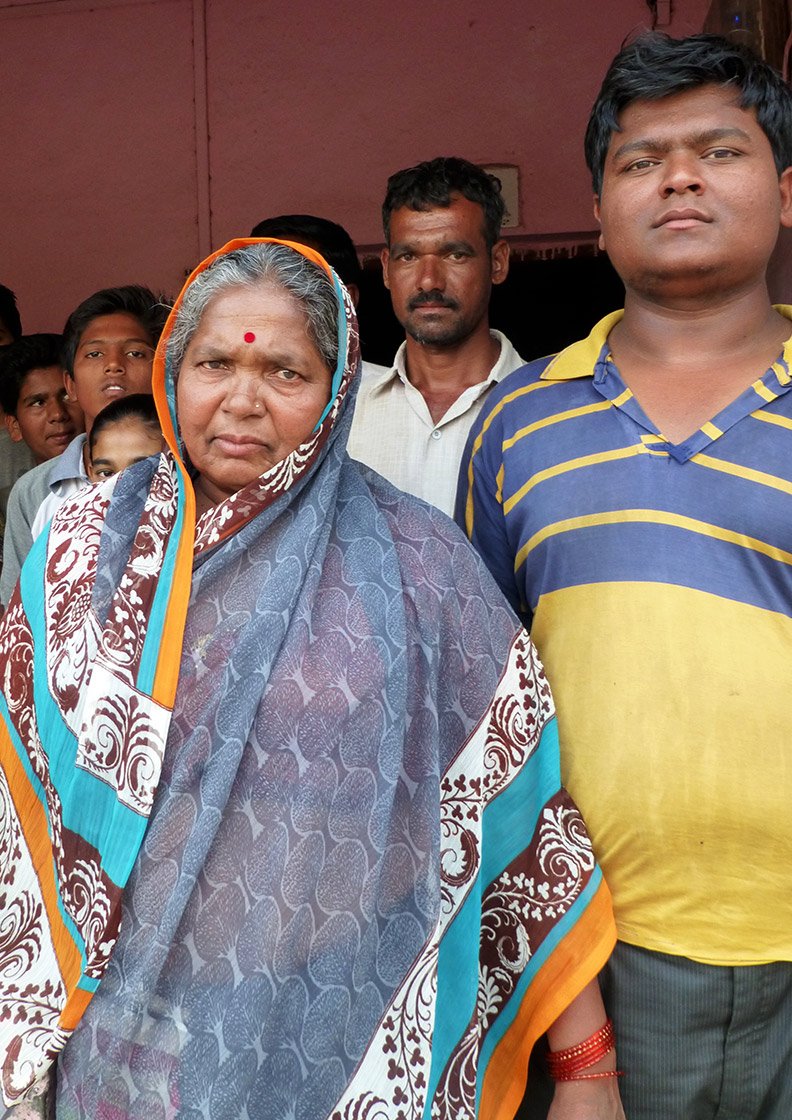 Hirabai is from the Banjara (nomadic tribe) community in Aurangabad district, Maharashtra
Back at her home in Kannad, Hirabai also wonders if we might not be bank officials. "What will happen to me now?" she asks fearfully. This after having paid Rs. 9 lakhs on a 5.75 lakhs loan for a tractor costing Rs. 6.35 lakhs (but perhaps worth less). "Is there something more I have to pay?" No, we tell her. You've paid the price – in full, and more.https://ruralindiaonline.org/articles/the-benz-and-the-banjara/