GRAPHIC IMAGE WARNING: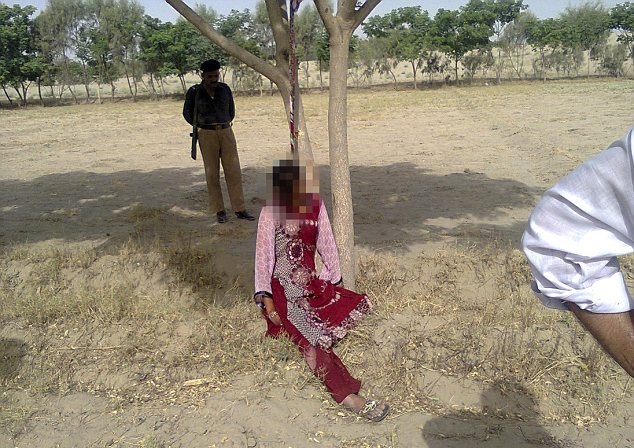 The body of 20-year-old Muzammil Bibi was discovered by her parents.Reuters
A man has confessed to the rape and murder of a woman in Pakistan.
20-year-old Muzammil Bibi's body was found hanging from a tree in the Layyah district of Punjab province.
Police have confirmed that the woman's boyfriend of six months, named as Muhammad Saqib, was taken into custody after he confessed to her rape and murder.
He admitted he attempted to force the victim to have sex with two of his friends at a wholesale vegetable shop where he worked, but she refused.
After she resisted the rape her attackers strangled her. Her body was hanged to make it appear to be a suicide.
Senior police official Ghazi Salahudin said: "The incident occurred in Layyah district (in Punjab province) on Thursday night and was reported to the police on Friday when the local people saw a woman hanging from a tree."
The incident echoes an attack in India last month, in which two teenage girls were found gang-raped and hanged from a mango tree in Uttar Pradesh state. Three men were arrested over the killings and two policemen were held on suspicion of trying to cover up the crime.
Senior officer Sadaqat Ali Chohan said that the latest rape and murder of a woman in Pakistan bears a chilling similarity to the UP gang rapes and may have been a copycat crime.
"This is the first time in my 22 years of service in the police that I have seen such a case, where a girl was raped in this way and found hanging from a tree," he said.
"We have heard of such cases in India but never in Pakistan. The girl's clothes were torn. We took her down and moved her to hospital. Her body had signs of resistance. We have arrested three individuals who have confessed to the crime."
The victim was the eldest of eight siblings. Her parents are both blind and earn their livelihood by farming a small piece of land.
Police said her parents spent all night looking for her and found her body hanging the next morning.
The latest incident in Pakistan follows the death of 17-year-old Pakistani gang rape victim, Amina Bibi, who died after setting herself on fire in protest at a police decision to set a key suspect in the case free.
The incidence of rape and domestic violence is not as high profile in Pakistan as it is in India. India's government has been heavily criticised for their alleged lack of action over the rising number of rapes in the country. The Delhi gang rape of a student on a bus sparked protests in the Indian capital, with demands for more severe penalties for perpetrators.
A rape is reported on average ever 20 minutes in India, but critics claim many more are either unreported or deliberately ignored by police.
Earlier this month, a member of India's ruling BJP party caused outrage after making comments suggesting that an incident can only be accepted as rape if the authorities are notified.
UN Secretary General Ban Ki-moon has called for action over sexual violence against women.
"We say no to the dismissive, destructive attitude of 'Boys will be boys'. Together, we can empower more people to understand that violence against women degrades us all."
Read more here –  http://www.ibtimes.co.uk/pakistan-gang-rape-police-arrest-three-men-after-woman-found-hanged-tree-1453658