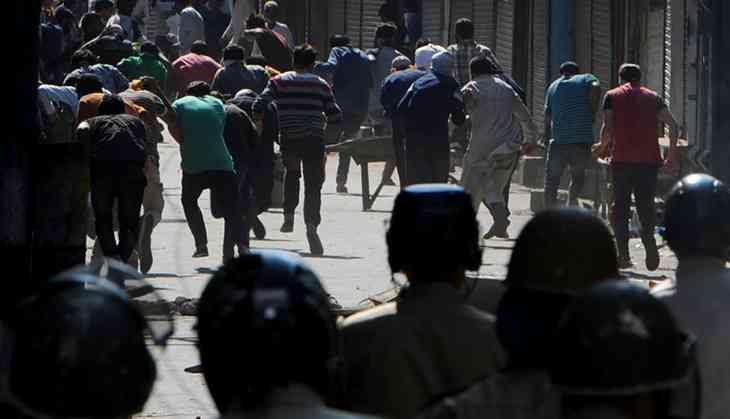 (AFP PHOTO/TAUSEEF MUSTAFA)
On 10 April, Attorney General Mukul Rohatgi while arguing before the Chief Justice of India in the pellet gun case, asserted that there was no alternative to the use of pellets in the Valley as all other non-lethal weapons had proved ineffective.
He apparently presented photographs of Kashmir youth clambering over trucks carrying water-canons.
This was the third hearing of the Special Leave Petition submitted by the J&K Bar Association challenging the final judgment of the High Court of Jammu & Kashmir of 21 September 2016, which dismissed the prayer for a prohibition on the use of pellet guns as a means of crowd control.
Rohatgi was responding to the court's 27 March 2017 directive to submit a detailed reply on what alternate effective steps could be taken to deal with a situation of agitating mobs in Jammu and Kashmir.
On 14 December last year, the Supreme Court had said that pellet guns should not be used "indiscriminately" for controlling street protests in J&K and had asked the attorney general to submit a copy of the report of the expert committee constituted for exploring other alternatives to pellet guns.
Since 8 July 2016, Indian forces have used indiscriminate and excessive force in responding to widespread protests across the Valley. There has been repeated firing on protesters that has lead to the death of at least 120 and injuring more than 9,000 others.
And this list of casualties does not include injuries sustained by security forces during protests. In their efforts to quell the protests, security forces claim to have deployed "less than lethal" weapons. These included:
– Tear gas grenades
– Pepper gas shells
– 12-gauge shotguns firing pellets
– Live ammunition.
Pellet guns belong to the category of Kinetic Impact Projectiles (KIPs). This category includes the type of weapon that cannot be aimed and spreads ammunition widely. In fact, the design of the shotguns used for firing the pellets fall in the lethal weapons category. The so-called pellet is technically known as No. 9 shot. This is what was being used against protesters in Kashmir during 2016.
These pellets cannot be classified as "less than lethal" as the No. 9 shot is made of a lead alloy. About 400 to 600 of these are loaded into each cartridge. When fired, the pellets/No. 9 shots are sprayed. This means that bystanders are inevitably subject to injuries imposed as they have a wide range, are inaccurate and incapable of actually hitting an intended target. The pellets do not have a predictable and definite trajectory.
We may recall that in 2010, more than 100 protesters, some of whom engaged in stone-pelting, were shot dead by security forces using live ammunition. After these deaths, the Ministry of Home Affairs in New Delhi had set up an expert committee to recommend alternative methods of crowd control.
The committee had recommended the use of –
– Plastic bullets
– Wax bullets
– Rubber bullets
– Bean bag rounds,
– Ring Airfoil Projectiles (kinetic and tear gas)
– Electroshock weapons such as tasers
All things which are apparently less lethal than conventional metal bullets and are also propelled at lower speeds by using less propellant.
According to the Times of India report (15 November 2016), some of these ammunitions are available with Indian forces and police in J&K. The central paramilitary forces also have chilli and pepper-based bullets, grenades and recently introduced PAVA (Pelargonic Acid Vanillyl Amide) shells.
The CRPF, however, claims that these have not been very successful on violent protesters and they continue to use pellet guns, which have led to severe eye injuries, often causing blindness and has drawn massive criticism.
As is clear, most of these recommendations were not implemented, and the police instead implemented the use of 12-gauge shotguns on protesters.
This measure not only failed to significantly reduce the numbers of dead, but it also increased the numbers of injured protesters and bystanders.
INTERNATIONAL LAW OF USE OF INDISCRIMINATE FORCE
There are a number of international conventions, rules and guidelines which prohibit the use of any such weapon which is by nature indiscriminate and which can cause superfluous injury or unnecessary suffering.
Under the UN Basic Principles on the Use of Force and Firearms by Law Enforcement Officials (1990) the use of pellet guns can be deemed illegal as they contravene the principles of proportionality under international human rights law and the standards of customary international law reflected in UN Basic Principles on the Use of Force and Firearms by Law Enforcement Officials adopted by the Eighth United Nations Congress on the Prevention of Crime and the Treatment of Offender.
The Principle says, "The development and deployment of non-lethal incapacitating weapons should be carefully evaluated in order to minimise the risk of endangering uninvolved persons, and the use of such weapons should be carefully controlled."
It goes further to say that, "Governments shall ensure that arbitrary or abusive use of force and firearms by law enforcement officials is punished as a criminal offence under their law."
The Customary International Humanitarian Law which applies to war and war-like situations, whether inter-state or intra-state, in its Rule 14 clearly prohibits the state forces from launching any armed operation which "may be expected to cause incidental loss of civilian life, injury to civilians, damage to civilian objects, or a combination thereof, which would be excessive in relation to the concrete and direct military advantage anticipated, is prohibited."
Rule 71 of the law clearly prohibits the use of weapons which are by nature indiscriminate.
It is pertinent to point out that the Indian Ordnance Factory Board – the producer of the ammunition – has conducted no testing on the safety of the 12-gauge shotguns and the ammunition, and it produces the weapons and ammunition with little regulatory oversight and accountability.
The weapons and tactics used by the Indian security forces in Kashmir also fail to meet international standards on proportionality in assessing the use of force against protesters. It seems that the forces have adopted the policy of injuring a maximum number of protestors as a way of discouraging them from further protests.
THE VIOLATIONS
The use of firearms is considered an extreme measure. The law requires that every effort should be made to exclude the use of firearms, especially against children. In general, firearms should not be used except when a suspected offender offers armed resistance or otherwise jeopardises the lives of others and, in that situation, less extreme measures are not sufficient to restrain or apprehend the suspected offender.
Indian law requires that in every instance in which a firearm is discharged, a report should be made promptly to the competent authorities.
The Standard Operating Procedures (SOPs) issued by the Bureau of Police Research and Development (BPRD) on "dealing with public agitations with non-lethal measures" requires the police and security forces to give clear warning before firing on demonstrations, both with pellets and bullets.
However, all reports have indicated that the security forces have consistently failed to adhere to these.
During December 2016, every protester told this writer that security forces gave no warning before – as is required by the SOPs.
The global experience shows that use of force and particularly excessive force does not stop protests. Rather, it increases the intensity and motivates protesters to take up violent methods.
India's first Prime Minister Pandit Jawaharlal Nehru had cautioned the police force regarding handling crowds which are numerically stronger than them. He had said, "Of course you can frighten it by opening fire or ordering a lathi charge. But these are extreme steps. The reaction of a normal crowd would depend on whether it is tactfully or foolishly tackled."http://www.catchnews.com/india-news/pellets-guns-are-not-non-lethal-their-use-on-crowds-is-prohibited-by-international-law-57753.html