Madarsa teachers and students said police paid no heed to complaints about drinking and gambling by some Balmiki Camp youth inside the premises.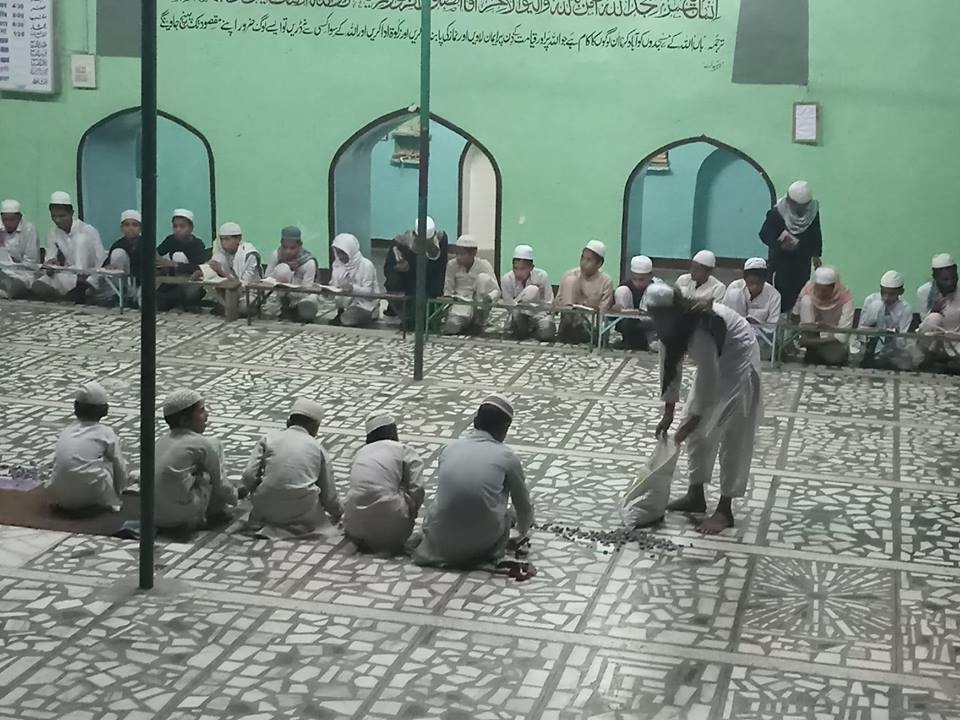 Mohamamd Azeem, a seven-year-old boy studying in a madarsa in Begumpur locality of South Delhi, was beaten to death by some minors on Thursday evening. Azeem, who hails from Rithath, Haryana, used to study hifz (memorised Quran) at Jamia Faridya Jama Masjid in Malviya Nagar. The incident took place around 1 p.m, during the lunch break, when some students were playing inside the premises.
Nearly, seven youth, including four minors from the Balmiki Camp, allegedly attacked and killed Azeem. They reportedly repeatedly attacked him with a stone, punched him and later, threw him on a bike where he collapsed and died on the spot. Azeem was rushed to hospital where he was declared dead. Five other students  sustained injuries. The Balmiki camp is adjacent to the madarsa and shares the same boundary wall
Azeem was the youngest in his family and had left at a very early age to pursue his education in a madarsa. After the incident, Newsclick went to the spot and talked to people from both sides. As per eyewitness accounts, the people who killed Azeem were the ones who used to barge into the madarsa and would use its premises for activities like gambling, drugs and liquor. "They used to even throw liquor bottles in the compound. It wasn't once or twice but a daily affair now," said one of the eyewitness.
As per the madarsa teachers and students, since a very long time, the people of  madarsa had complained to the police about the ill behaviour of some youth from the Balmiki Camp. "The police has not been taking any action, has been trying to dodge the matter and was completely negligent til this grotesque incident took place," said a man from  the madarsa on the basis of anonymity.
Speaking to Newsclick, Mohammad Mustafa, Azeem's elder brother, who also studied in the same school said, "At least seven people beat my brother to death. They have a problem with our dress (kurta-paijama), they would taunt us for wearing skull caps. They always used to disrupt the namaz."
Recalling Thursday's incident, Mustafa said in a choked voice: "They always used to threaten Azeem that one day they would kill him. The controversy erupted when our teachers and madarsa head asked them not play cards and drink inside the premises. They said 'Sab karenge, jo ukhdna hai ukhad' lo (we will do whatever we wish to, do whatever you want to) .People who lives around the are also asked them not to indulge in these activities, but they wouldn't pay heed and mentally harass us."
Azeem's senior and close friend, Mohd Anas told Newsclick,"Whenever we go to the Balmiki Camp to buy our daily stuff, they would tease us, taunt us for our religion and threaten to kill us. After drinking, they would throw the empty liquor bottles inside our hostel. Our campus is open, so it's very risky at night. Even our principal had complained to the Delhi Police but there was no action. I don't know why they do not like us. Do we look different?," he asked.
Newsclick also spoke to the madarsa's head, Mohammad Aizaj Ali. Here is what he said, "This madarsa was established in 1880 but is functioning full-fledged since the past 30 years. Such an incident has never happened. Azeem was very bright student. In this early age, he was doing hifz  He was enrolled in the school in 2016," he said alleging that "some people have been targeting our madarsa since long. When they were beating Azeem, many people were standing and provoking them to kill him. A lady, Saroj, also threatened us with more such cases. This is utterly shocking. We are concerned about the security of our students more than ever. Such an incident has ingrained fear among our students."
Maulana Mohammad Ali Jauhar, who supervises the madarsa and also looks after the mosque which is in the same compound, said, "I am living here since the 40 years. More than 50 students from different states study here. Three-four children were playing inside the campus and cleaning the shrine, when a lady named Saroj, who lives in the Balmiki Camp, came with four youth and started pelting stones at our students. What I learnt is that they pressed Azeem's neck and threw him at a bike. He died on the spot. This lady Saroj also threatened us and said that we can't do anything to them."
Jauhar added that during Dussehra, a few people from the Balmiki Camp accompanied by Saroj had barged inside the premises and had forcefully burnt the effigy of Ravan.
Here is the picture of an old police complaint registered in 2000 where people from the madarsa and the Balmki camp had signed a paper where it was written that they would no longer throw liquor bottles inside the madarsa campus and both the communities would behave cordially.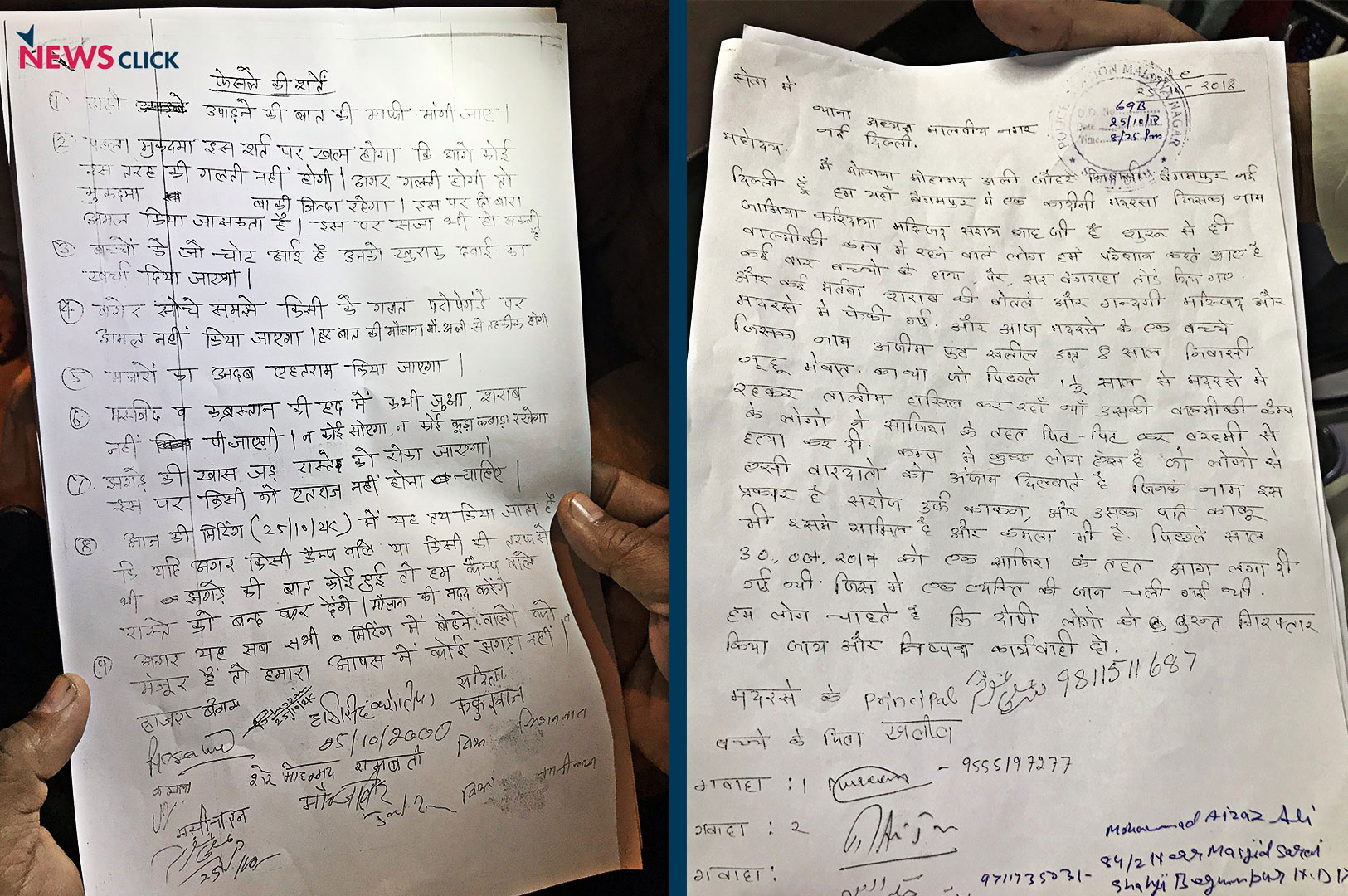 Meanwhile, at late night around 3 a.m, four minor boys allegedly involved in the lynching  were arrested under Indian Penal Code (IPC) section 302 (punishment for murder).  The police is also examining the CCTV footage.
Here is what the other side has to say:
One of the arrested minor's mother, who works as a domestic help, told Newsclick, "I don't know who did it and what had happened, I was at my job and have no clue about what transpired."
A visibly shaken Kamlesh, another arrested minor's mother, said: "I don't know who killed Azeem. What I have learnt from others is that it started with a fight. The rest I can't comment as I wasn't there."
The parents of the accused had gathered inside the Malviya Nagar police station and not a single parent of the minors was aware of what transpired that day.
Azeem's Father Khalil, tears rolling down his face, told Newsclick, "Azeem was very close to our hearts as he was the youngest. I don't know when I will go back to Mewat. How will I console his mother? I have lost my son for nothing. How can someone kill a kid?"
Newsclick also talked Amar, a resident of Balmiki Camp, who was born and brought up in the camp . He said, "I don't know who has killed Azeem but I have witnessed how some people from our camp used to barge inside madarsa compound and use its premises for drinking alcohol and abusing madarsa students. Muslim brothers were really upset due to their behaviour. I also asked them not drink inside. But they would not listen."
https://www.newsclick.in/people-were-standing-and-provoking-when-8-yr-old-azeem-was-beaten-death