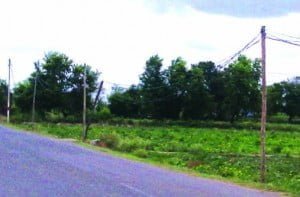 Faizabad. For Somnath Yadav and Savan Tiwari from Bhikapur village in the district, the bamboo poles were erected four years back to support the power cables for electricity supply. 'We have been asking the administration to erect proper electricity poles here, but nobody bothers,' they added.
The issue was also raised in the state assembly last year when cabinet minister Shivpal Yadav promised to take strict measures to ensure safe, adequate and legal power supply in the state's eighty districts. However, villages like Bhikapur are yet to witness a change. With no cement poles around, the bamboo poles come with a constant risk of electrocution and short circuits during rain and storm.
Bhorai Yadav says that every time there is a storm, the bamboo poles fall. 'We are always under fear that the poles might even fall off on a house or someone … we collect funds amongst us to get new bamboo poles here,' Yadav says.
What is more alarming is that even as the sourcing of power supply this way might be considered illegal, the villagers get their electricity bills every month. They even receive a notice if the bill is not paid – which means the houses are registered as metered connections in the state's electrification scheme.
While the Pura Bazaar power house junior engineer R.K Yadav says they are under budgetary constraints – waiting for a scheme to start for electricity poles – the situation begs some skepticism, with the plans for electrification, as even 'electrified' villages districts continue to grapple with infrastructural issues, power theft, long power outages due to excessive consumption during the summer. According to statistics by the Central Electricity Authority in May 2015, the state was struggling with a yawning power gap of around 1700 megawatts between demand and supply – the maximum among 12 major states in the country. In the state's annual budget presented in February this year, Chief Minister Akhilesh Yadav allocated 25,764 crores for maintenance work and other projects in the energy sector with a promise to complete electrification works for 1 lakh villages and majras in the year of 2015-16 under the rural electrification scheme.
Click here to read original story