PARVATHI MENON, London Feb 21
"I do know what exactly it feels like missing your loved ones. I [have] been going through the same pain without both my parents. I believe my parents are innocent — they have suffered 23 years"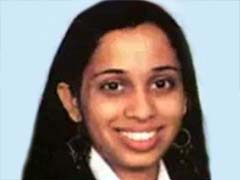 "I would like to thank Sonia Gandhi for reducing my mom's sentence and Priyanka Gandhi for forgiving her. I feel terrible for her father's loss," said Harithra, the 22-year-old daughter of Nalini and Murugan who are serving a sentence for the assassination of former Prime Minister Rajiv Gandhi. She wrote this in a gmail chat with The Hindu on Thursday night from the university accommodation she shares.
"I do know what exactly it feels like missing your loved ones. I [have] been going through the same pain without both my parents. I believe my parents are innocent — they have suffered 23 years. Not just them, but me too, [despite] not having done anything wrong! I kindly request Rahul Gandhi to please forgive my parents and let them be free — for my sake‬."
Ms. Harithra, who did not wish to disclose the city in the United Kingdom where she is studying nor the name of the University where she is currently pursuing a degree, told The Hindu that she was "very upset to read the news this morning of a [court] stay against my parents release".
"It was awful. I was excited that they were finally gonna (sic) be with me. Today, it has just gone away," Ms. Harithra said.
She wanted to give her parents the message that she loved them very much. "Please be strong and take care. I will always be waiting for you," she said.
Ms. Harithra came to the U.K. in 2006. She did her schooling in Scotland and moved to England for her university. She has not seen her parents since then, but writes to them every month and receives letters from them every two weeks.
If she had three wishes what would they be? In response, Ms. Harithra wrote: "1. Have my parents back and live with them. 2. I wish Rajiv Gandhi had not been murdered and [had] lived happily with his family too 3. I wish nobody dies in assassinations! We live in peace and harmony."
Ms. Haritra wants to do a Ph.D. in medical physics, and not in medicine. "I can't stand blood," she said.
"TBH (to be honest), I don't understand politics," Ms. Harithra said. She added: "Thanks each and everybody who supported reducing my parents hanging to live sentence! It meant the world to me having them alive." She also requested support for their release. "I have been suffering without them for the past 22 years," she said.