In the recent polls, PM Modi used social media in ways that flattened out the political terrain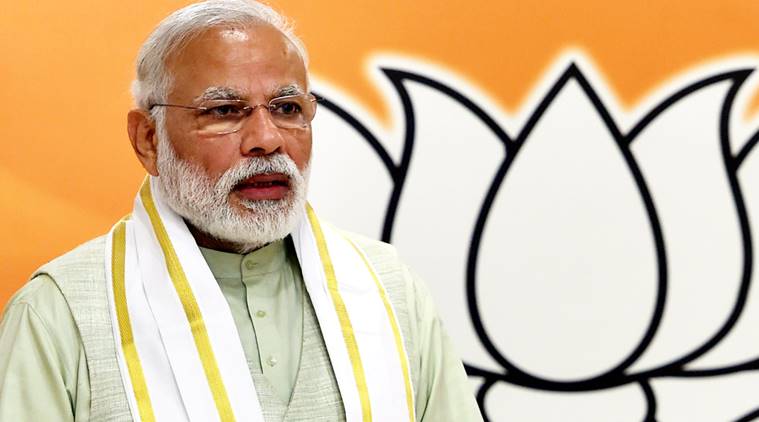 On the polling day of every phase, Modi unfailingly tweeted that everybody must vote. PTI PhotoThat silvery, almost spectral, vision of Prime Minister Narendra Modi promising a "New India", beamed live on television screens and circulating endlessly on social media, defined not just the personalised nature of the BJP campaign, but its highly mediatised nature. It recalled the 2014 general election campaign which changed forever political media use and messaging in India. Many of these strategies emerged from Modi's personal understanding of how media power can be harnessed in a totalising way that intermeshes every media platform and info-tech tool. The level of sophistication he has brought to the use of social media far outstrips that of any political leader in India and, possibly, that of all but a few internationally.
Here, let us consider how Twitter was deployed. The basic template, first used in the 2014 campaign, continues to be in place. The major difference is that Modi's own presence on Twitter has grown exponentially, with followers having gone from 5 million in mid-2014 to 27.5 million today. Even after accounting for fake ids and bots, this is a huge number, the population of a small state. True, these followers are geographically dispersed, but a significant number would constitute a fairly homogeneous political community committed to Modi's politics and, as in the real world, draw strength, content and ideological endorsement from each other. Every tweet that goes out to this universe — favourited, retweeted, hashtagged and taking root on other media platforms — has infinite lives.
What was conspicuous about the 500-odd tweets, in both Hindi and English, put out between January 1 and March 8 was their perfect synchrony with the election campaign's changing contours. Although generated by a professional team, they appeared intuitive and intimate and aimed singularly to tweet up the votes. Consider the way each Modi rally was transported from its geographic location to the virtual space through strategic tweeting. As each phase kicked in, images of overflowing crowds created the impression that "everybody" was on Modi's side. This was designed to create the classic bandwagon effect where even those not on board clambered on for fear of isolation. Occasionally, for additional credibility, someone else's comment on the size of the crowds was retweeted, like Joy Chowdhury's observation in late February: "Did anyone see the sea of humanity @rally in #UP? Surely an undercurrent flowing which pollsters missed."
On the polling day of every phase, Modi unfailingly tweeted that everybody must vote. A March 4 tweet went: "This is the sixth phase of the elections. I appeal to all voters to partake in the festival of democracy with enthusiasm, voting is a must." This was a general advisory in keeping with Election Commission (EC) specifications that there should be no soliciting of votes on voting day, but the coded message to vote BJP was unmistakable. To drive the point home, there was also the retweeting of images of supporters who had voted, a tactic first deployed in 2014. Alok Kumar Dubey tweeted a picture of himself with two pals, holding up inked fingers with the text: "Today we cast our vote… Everyone voted for BJP."
In 2014, selfies were big in the BJP campaign. This time too, there was a focus on youth-friendly subjects like sports and info-tech. When the digital app, BHIM, was launched in January, Modi tweeted, "BHIM App has made transactions faster and easier, thus making it popular among the youth." It received 13,781 likes, with Chintan Thakkar tweeting: "Sir, BHIM app is one of the best gifts you have given to India in the journey of digitisation. Thank you." Those drawn into the conversation were sometimes even younger. Modi retweeted Adyasha Kar's words: "Had heard your #for students before my 10th and again before my 12th boards. Thank you for motivating and being with us." When a schoolboy tweets thus, it would indicate a long-term strategy of priming future generations.
The broadcasting of 'Mann ki Baat' during the election period was controversial. It was only on condition that he stuck to non-election themes was clearance given. Yet, in a frenetic election season, even innocuous statements on "nari shakti" gain electoral wings. Care was taken to avoid overtly communal statements this time and there were no tweets of the shamshan-kabristan variety. The appeal to Hindu sentiments, however, was unambiguous. Just as he had done in 2014, Modi began his campaigning with a visit to Tirupati's Sri Venkateswara Swamy temple on January 3, a day before election dates were announced. The last phase too was busy with images of temple visitations, ending with his prayers at the Somnath temple on March 8. Even as voting was on in eastern UP, he tweeted: "Jai Somnath."
It touched an immediate chord. Siddharth Pai, for one, came back with "Har Har Mahadev… like Sardar Patel reinstated Somanath temple. Wish you rebuild majestic ram Mandir in #Ayodhya." The way in which the Somnath-Ayodhya temple connect could be so emphatically established would indicate that Modi's tweets, while not appearing to polarise, were in fact remarkably effective in doing so. Their virtuality in no way undermined their viscerality.
Everything was thrown into these tweets, from budget promises and visits of foreign dignitaries like the Portuguese PM, to random observations on "hardworking farmers". They coalesced the images of Modi as PM/fighter of corruption /friend/benefactor/indefatigable campaigner into that of "Modi, the Saviour". The Pied Piper call of "sabka saath, sabka vikas" sounded from every mobile phone, flattening out the political terrain.
This carefully constructed multimedia panopticon is more successful than anything conjured up by old-style political propaganda, because of the ownership that is vested in it by the recipients of its messaging. What we have left is a political landscape shorn of an opposition, a politics rampant with majoritarian impulses, and a public discourse devoid of counter voice. http://indianexpress.com/article/opinion/columns/narendra-modi-new-india-bjp-up-polls-twitter-4572294/