Prime Minister Narendra Modi retweeted a sketch of himself drawn by a cartoonist. The artwork was inspired by Modi's rally in Mangaluru, ahead of the state assembly elections in Karnataka.
"Lovely gesture Kshitij. Thank you. You are an extremely talented artist", tweeted Modi.
He thanked the cartoonist, Kshitij Bajpai, who regularly posts his work on Twitter.
However, this time the prime minister seems to be unaware of Bajpai's previous work. If one looks at the cartoonist's work on his Twitter timeline, one could see that he is blatantly misogynistic, unashamedly communal and transparently propagates anti-Muslim agenda.
Bajpai's artworks reek of bigotry, hatred for women and abhorrence for Muslims. His cartoons are repugnant and discourteous, portraying political leaders, particularly of opposition parties in a loathsome, hideous and vile manner.
Take a look at some of his sketches: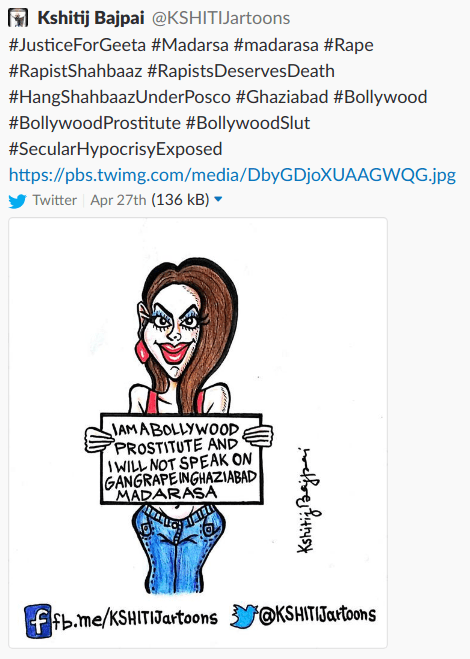 Kathua gangrape case
The Bollywood community was vocal over the monstrous rape and murder of an eight-year-old girl in Kathua, Jammu and Kashmir. In a reference to the actresses who outraged over the incident, they are referred to as prostitutes. The cartoonist tweeted the hashtags #BollywoodProstitute and #BollywoodSlut along with his cartoon on the subject.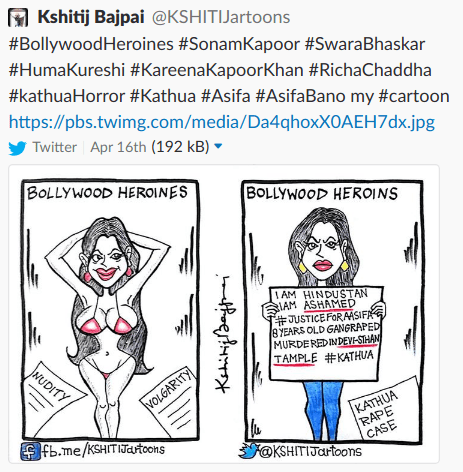 In another cartoon, he unambiguously targets actresses Swara Bhaskar, Sonam Kapoor, Kareena Kapoor Khan, Huma Qureshi and Richa Chadda.
While rapes and sexual harassment are the key subjects of Bajpai's works, his cartoons on these are extremely distasteful and malicious.
#Hinduism #Islam pic.twitter.com/DACtRj2cul

— Kshitij Bajpai (@KSHITIJartoons) October 3, 2017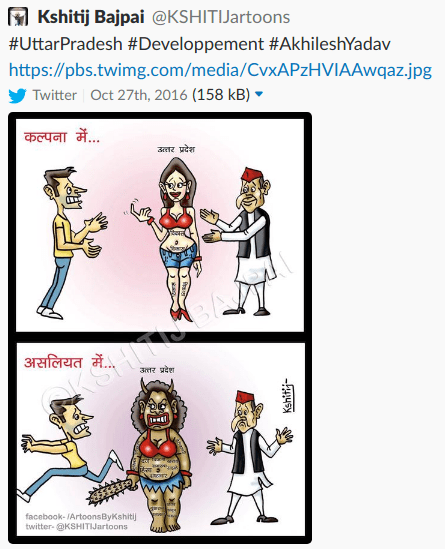 In of the cartoons, a man wearing a skull cap is shown urinating on a wall with Swachh Bharat Abhiyaan written over it.
#Pollution #PollutionFreeEnvironmentWithMSG my #cartoonpic.twitter.com/2JVSnQq5y9

— Kshitij Bajpai (@KSHITIJartoons) May 2, 2018
This cartoon of the Taj Mahal is an epitome of racism and bigotry.
There are a number of other cartoons targeting leaders from the opposition. Delhi chief minister Arvind Kejriwal is his favourite subject.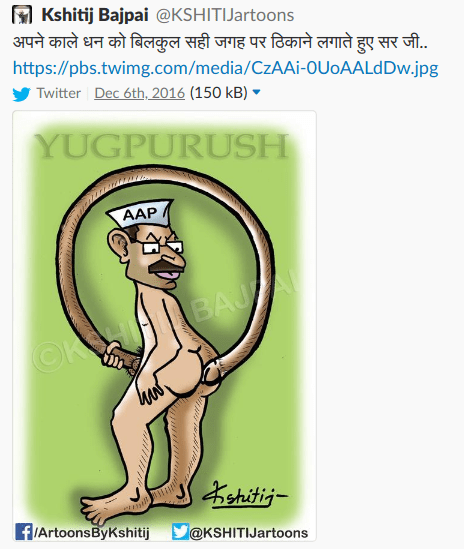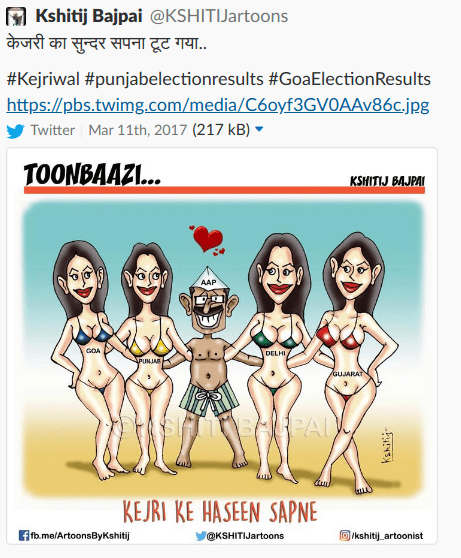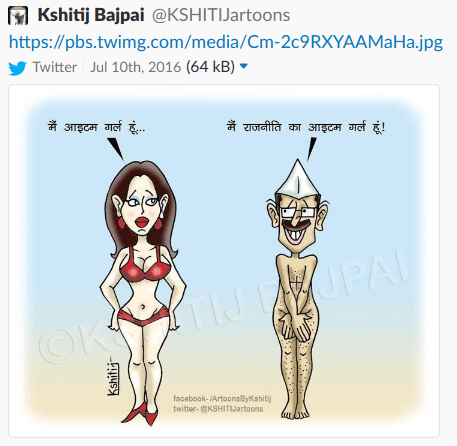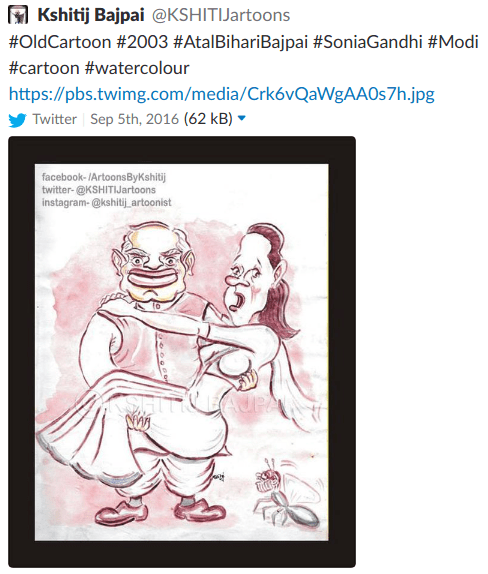 PM Modi's Twitter handle's association with trolls and controversial pages is not new, and he has even been called out for that. It is disconcerting to see Modi lauding the cartoonist despite his nature of work.
His party has defended him saying that the prime minister believes in freedom of speech and does not unfollow anyone.