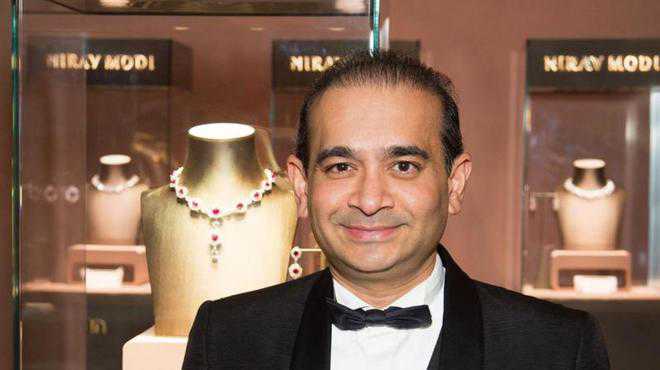 Nirav Modi is a suspect in a massive Rs 13,000 crore loan fraud. File photo
Shiv Kumar
Tribune News Service
Mumbai, 
Files on absconding jeweller Nirav Modi and his uncle Mehul Choksi apart from several others wanted for economic offences have been destroyed in a major fire at the premises of the Income Tax department on Friday, according to sources here.
The fire that broke out at the heritage Scindia House building in South Mumbai's Ballard Estate area around 5 pm on Friday evening raged on till early Saturday. Fire Brigade officials said it was a Level 4 fire, which indicated a high-level of seriousness. Seven persons who trapped in the premises were rescued by the fire department.
Cooling operations were completed only by Saturday afternoon and officials of the Income Tax department and the Debt Recovery Tribunal, whose offices were completely gutted, managed to enter the premises only late in the evening to assess the damage.
According to initial information available from the fire department, the blaze started in the offices of the Income Tax department and quickly spread to other parts of the building.
Sources in the Income Tax department said files pertaining to Modi and Choksi, as well as some documents relating to the Essar group, were also on the premises. They are all undergoing investigation for fraud or facing bankruptcy proceedings.
Sources in the department said assessment of the actual damage would take a few days.
RTI activist Anil Galgali, who has obtained a number of documents under the sunshine law, told reporters that the fire may have been deliberately caused by vested interests.
On the other hand, Income Tax officials felt that the fire would only cause some delays in investigations and files lost in the fire will take time to be reconstructed.
"Copies of documents are usually available at various other locations, but it will take time to 'reconstruct' the files," a sources at the Income Tax department said.

Both Modi and Choksi are key suspects in a massive Rs 13,000 crore loan fraud involving several banks, including, most importantly, India's second largest public sector bank, the Punjab National Bank. The fraud—which made headlines for days when the bank made a filing to the country's market regulator, the Securities and Exchange Board of India, admitting there was an ongoing investigation into the loan fraud—is the largest the country has ever seen.
Both Modi and Choksi are currently on the run.
http://www.tribuneindia.com/news/nation/pnb-fraud-nirav-modi-papers-gutted-in-fire-at-income-tax-office/599478.html