Amit Tyagi  [ Updated 21 Feb 2015, 09:39:49 ]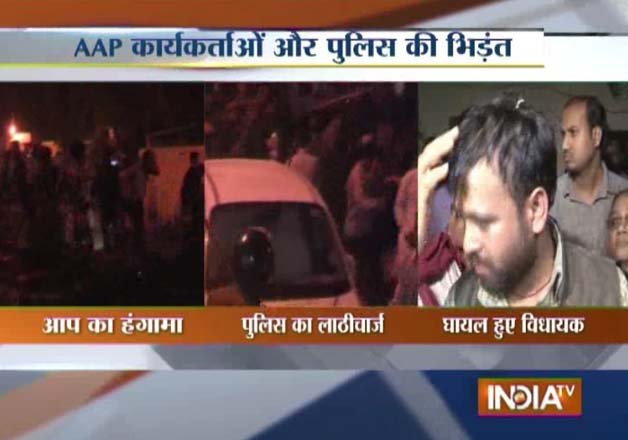 New Delhi: FIR was registered against two Aam Aadmi Party (AAP) MLAs — Sanjeev Jha (Burari) and Akhilesh Pati Tripathi (Model Town) — for inciting a mob to attack police station in Burari yesterday late night.
Police resorted to baton charge on AAP workers after supporters of Jha gathered outside the police station protesting police action to stop their leader's vehicle.
The incident took place at around 11 pm when security guards at the Burari police station stopped Jha's vehicle from entering the premises of police station. As soon as the AAP workers learnt about the incident, they rushed to the place and protested against police.
Initially, police attempted to gain control of the crowd and restore order but they were unsuccessful. Later police resorted to lathicharge to control the mob.
The protesting mob was fuelled by party MLA from Model Town, Akhilesh Pati Tripathi.
Police has so far arrested seven persons in connection with the case.
According to an AAP worker, Jha and others had moved to the police station on complaints of locals that police was not registering a case against a kidnapper whom they had taken into their possession for abducting a boy from Pradhan Enclave colony.
While demanding strict action against the security guard, Jha said, "It was clear cut misbehaviour. We demand an FIR and his suspension. Police also beat up women."
Several vehicles were damaged in the incident. 17 police personnel were among others who suffered injuries.
DCP (north) Madhur Verma, said, "The vehicle of Burali MLA was undefined… security guard stopped it and enquired about it. The MLA got irked on this… There were some anti-social elements present with him. They pelted stone on police personnel."
http://www.indiatvnews.com/news/india/police-lathicharge-aap-workers-in-delhi-47808.html