Shivam Vij, Rediff.com, Sept 9, 2012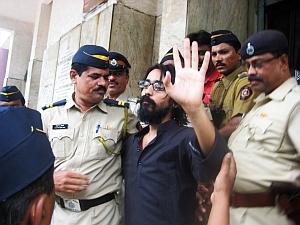 A holiday court in Mumbai [ Images ] on Sunday remanded anti-corruption cartoonist and free speech campaigner Aseem Trivedi to policy custody till September 16 for allegedly making cartoons that insult India's [ Images ] flag, Parliament and the national emblem. The order was given by the Bandra holiday court in Mumbai on Sunday morning. 
Trivedi was arrested when he surrendered on Saturday night at the
Bandra Kurla Complex
police station in Mumbai. He faces charges of sedition (under IPC section 124A), violation of section 66A of the Information Technology (Amendment) Act, 2008, and the Prevention of Insults of National Honour Act, 1971.A team of Mumbai Police had earlier reached Trivedi's home in Kanpur with a non-bailable warrant but returned to Mumbai as Trivedi is now based in Delhi [ 
Images
 ]. Trivedi himself contacted the BKC police station which asked him to reach Mumbai.
Several FIRs and court cases have been filed against Trivedi in Maharashtra [ Images ] for cartoons that he had displayed at the Jan Lokpal agitation in Mumbai in December 2011. The cartoons were also available on his website, www.cartoonsagainstcorruption, whose registration was suspended by web company Big Rock after a notice from Mumbai police, in December 2011.
Speaking on the phone from Mumbai just before his arrest on Saturday night, Trivedi explained that the cartoons intended to display the insult to the nation that is being done by politicians, and do not seek to insult national symbols in any way.
The controversial cartoons are still available at www.cartoonsagainstcorruption.blogspot.com. One cartoon titled, 'Gang rape of Mother India' shows a 'Mother India' dressed in a tri-colour sari, with politicians and bureaucrats about to assault her, with a gleeful beast standing by described as 'Corruption'. One cartoon shows India's national emblem, the Ashoka Lions, with foxes rather than lions. In the inscription on the emblem, the words 'Satyamev Jayate' are replaced with 'Brashtamev Jayate' (meaning corruption alone triumphs) and a danger sign.
A cartoon calling for the "right to recall" elected representatives in mid-term shows Parliament as a sewage collection centre into which flows waste from several toilets — or, polling booths. Another cartoon simply shows Parliament as a 'national toilet'. Another cartoon shows 26/11 gunman Ajmal Kasab [ Images ] as a dog peeing on the Constitution of India. Some cartoons target Congress leader Digvijaya Singh for his statements against the Jan Lokpal movement.
Trivedi has for the moment refused to hire a lawyer and does not intend to apply for bail. "I want to first see how a British-era law like sedition is going to be applied against a cartoonist in free India," he said.
One of the main complainants, Amit Katarnawre, 27, said on the phone from Mumbai that he had filed an FIR at the BKC police station in Mumbai and had just last week met senior police officials to press charges against Trivedi.
Katarnawre said he was offended by the cartoons as they, in his view, intentionally desecrated India's national symbols. He was particularly disturbed by the cartoon that shows Kasab as a dog peeing on the Constitution. "As a Buddhist my religious sentiments were hurt by the cartoon that uses the Ashokan lion pillar, as Emperor Ashoka was a Buddhist," he added.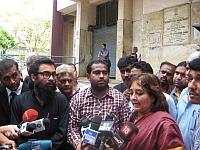 Katarnawre is an employee of Central Railway and a Dalit. He says he is not a member of any political party but is ideologically an Ambedkarite who could not stand the Constitution being desecrated. He said Trivedi should be interrogated to ascertain the role of all members of Team Anna in the display of the cartoons at the MMRDA grounds.
Apart from sedition, Katarnawre has also charged Trivedi with Section 66A of the Information Technology (Amendment) Act, 2008, which punishes persons for "sending messages" online that are "grossly offensive" or have a "menacing character".
A third law used against Trivedi is the Prevention of Insults to National Honour Act,1971, which provides for punishment up to three years in jail and a fine for insulting or defacing the Indian flag and the Indian Constitution. It adds, however, 'Comments expressing disapprobation or criticism of the Constitution or of the Indian National Flag or of any measures of the government with a view to obtain an amendment of the Constitution of India or an alteration of the Indian National Flag by lawful means do not constitute an offence under this section.'
Trivedi, 25, says he is within his rights as an artist to use national symbols to show how they are being insulted by politicians. He was a freelance cartoonist working with local dailies in Kanpur before he got involved with the Anna Hazare movement.
After his website was shut down in December 2011, Trivedi became associated with the Anna Hazare-led India Against Corruption movement and also started an independent initiative to campaign against internet censorship. Called 'Save Your Voice', he travelled across India to raise awareness against the IT Rules 2011.
Trivedi also sat on a seven-day hunger strike in Delhi's Jantar Mantar to protest the IT Rules in May this year, and displayed anti-corruption cartoons at the Anna Hazare protest in Jantar Mantar in August 2012.
The Virginia, US-based Cartoonists Rights Network International have named him the 2012 recipient of their 'Courage in Editorial Cartooning Award'. He is sharing the award with Syrian cartoonist Ali Ferzat who was abducted and badly beaten by the Syrian regime in August last year. However, Trivedi will not be able to travel to receive the award as the United States has denied him a visa, although he is scheduled to travel to Vienna [ Images ] toparticipate in an art event later this month.
Images: (Top) Aseem Trivedi being escorted by the Mumbai police at the holiday court on Sunday; and (above), an activist addressed the media outside the court after Trivedi was remanded to police custody for a week
Related articles