ActionAid says lack of transport, housing, sanitation and street lighting leaves poor women and girls in cities vulnerable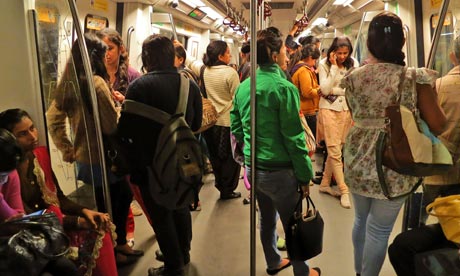 Indian women
travel inside a 'women only' metro train compartment in Delhi. Photograph: Yirmiyan Arthur/AP
Poor quality and underfunded public services are exacerbating the "constant" violence, harassment and intimidation that millions of women face in cities and urban centres across the world, according to a report.
ActionAid International interviewed women in six cities – in Recife (Brazil), Phnom Penh (Cambodia), Addis Ababa (Ethiopia), Mombasa (Kenya), Monrovia (Liberia) and (Kathmandu) Nepal – who spoke of the daily threats they face, including rape, sexual harassment, robbery and beatings, in public spaces and around their homes and places of work.
The report says lack of access to public services such as transport, decent housing, sanitation, water and street lighting was leaving poor women and girls vulnerable and exposed. Systematic failings by police to address the widespread problem of violence against women and girls exacerbated these threats.
More than half the global population – around 3.4 billion people – now live in urban areas. The UN says rapid urbanisation has increased the risks for people living in urban areas, especially women and children. According to its figures, global crime rates rose by 30% between 1980 and 2000. Between 2002 and 2007, 60% of urban residents in developing countries, the majority women and young girls, reported they had been victims of crime.
Women street vendors in Addis Ababa told ActionAid that lack of policing meant they were attacked and robbed on their way home from work by men who knew they were carrying money.
In Phnom Penh, garment workers lived in cramped, rented rooms with few basic facilities near their place of work. Many are forced to walk down dark, muddy roads late at night after overtime shifts. A lack of policing and street lighting has led to the constant risk of attack, robbery or sexual assault.
In Mombasa, women and girls living near and around the dumpsites of Mwakirunge lack access to water, electricity or healthcare. Research concludes that this lack of services has led to extreme violence, such as rape and young children being sexually harassed.
"Violence against women is obviously a global problem and as the majority of people now live in cities, public services can and must be part of the solution for making their lives safer," said Ramona Vijeyarasa, senior programme manager for women's rights at ActionAid International.
A big part of the problem, said Vijeyarasa, is that women have no voice or participation in planning decisions. "City planning is still very much a male-dominated world, and until women can have a say in how cities should be designed and built, their needs and safety are going to be ignored."
In 2011, a study into urbanisation, poverty and violence (pdf) by the International Development Research Centre, said city design had an influence on gendered patterns of crime and urban violence. For example, public transport, designed predominantly for the needs of male workers, paid little attention to women's safety.
It concluded that the "dark side" of urbanisation and spiralling levels of violence threaten to erase the potential of cities to stimulate growth, productivity and economic dividends for some of the world's poorest people.
ActionAid International said governments must allocate funds to ensure the provision of accessible and affordable public services, including drinking water, healthcare, education, housing, sanitation, electricity, roads and transport for poor people, especially women and girls.
Services to prevent and redress violence against women, both in the private sphere and in public, should also be included in the realm of essential public services.
Some international efforts have been made to try to address the problem of rapid urbanisation leading to increasing levels of gender violence. In 2011, Unicef, UN-Habitat and UN Women launched a Safe and Friendly Cities for All (pdf) initiative, a five-year programme aimed at making women and children feel safer in local neighbourhoods
Related articles