Chronicle of a tragedy foretold: UP Dalit dares to fight polls, pays terrible price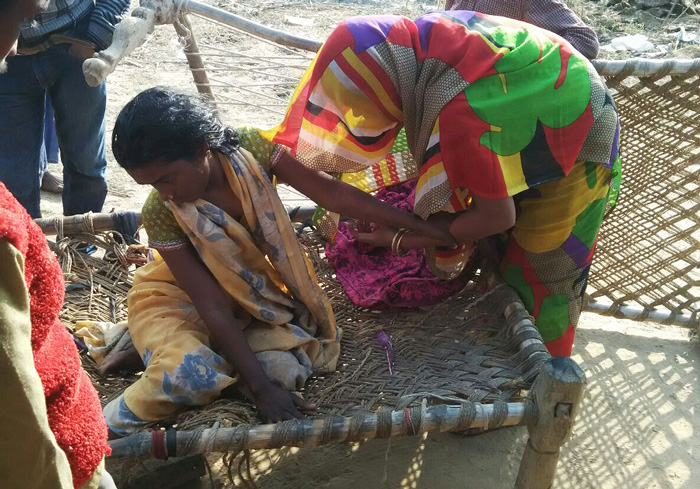 SUHAS MUNSHI/CATCH NEWS
Courageous fight
Rajkumari fought Block Council polls from Shivgarh, Mirzapur
The Dalit widow was persuaded by fellow women villagers to contest
Her rival 'threatened her to withdraw or be shamed & scarred forever'
Heavy defeat
After Rajkumari won, her daughter was allegedly gang raped
She named the rival's brother and friend. She later killed herself
Rajkumari is in shock and beginning to lose her mind, says brother
Rajkumari's could have been an inspiring story for women everywhere. A Dalit widow working the fields and bringing up two children by herself, and earning the village's respect – – to the extent that they persuaded her to contest polls to the Block Development Council.
But what should have been her crowning glory – winning from Shivgarh village in Mirzapur, Uttar Pradesh, against substantially rich and powerful rivals – turned into a nightmare.
Read: Nirbhaya changed nothing. Delhi continues to be the rape Capital
Soon after Rajkumari won the polls, her 16-year-old daughter was allegedly gang raped by her political rivals. And when the police didn't take any action and the accused returned to intimidate her, the girl, a class XI student, committed suicide.
The police say the postmortem has not established rape, but further medical analysis is being done to verify the allegations.
Rajkumari is in a state of shock. She has barely stepped out of her house. Her brother Rajkumar fears she may be beginning to lose her mind just "like her son who is mentally challenged".
"She is going mad. She doesn't eat or drink, expect what we compel her to eat. Since she isn't going to work, we now depend on the villagers to help get an odd meal for our invalid mother and her son," he says.
Made to suffer
The results of the election were announced on 14 December. Rajkumari says throughout the campaign, in which she was supported by most women of her village and eventually one of her rival women candidates, she kept receiving threats from another candidate.
"He kept telling me to withdraw my candidature and if I didn't, he would do something to shame and scar me forever," Rajkumari tells Catch at her home in Shivgarh, 25 km from Mirzapur town.
As most other people in the village, Rajkumari lives in a thatched mud house, which is open at one end. Set in the foot of the Vindhya hills, Shivgarh does not show any signs of urban development – working toilets, metalled roads, brick and mortar houses. Most people, including Rajkumari, are Behelias or Kohris, both sub-castes within the Dalit community.
She's going mad like her son. She doesn't eat or drink or go to work: Rajkumari's brother
According to Rajkumari, the day the results were declared, Pappu and Bindu Behelia, brother and friend, respectively, of her poll opponent, threatened her to be ready for the consequences.
Then, on the night of 22 December, her daughter disappeared while the family was asleep. She was later found unconscious and bloodied, and was brought back by her uncle. When she regained consciousness, the girl said Pappu and Bindu had abducted and raped her.
The next morning, they took the girl, who had been bleeding through the night, to Padari police station after a government clinic refused to admit her until its staff received a go-ahead by the police.
The family spent the entire day at the police station, waiting for the SHO to turn up and register the case. The girl had turned so pale from the ordeal that a policeman asked whether she was suffering from jaundice.
Rajkumari says she told him it wasn't jaundice. "Rape hua hai, sir."
Her brother says the SHO didn't turn up till late in the evening. "And when he came, he threw us out and told us to return the next morning. We then went to a private clinic where they gave her some injections." So all medical attention that the alleged victim of a gang rape received in 24 hours was probably some morphine to ease her pain.
Rajkumari says all this while her daughter kept telling her, "Amma inse darna mat. Ladte rehna. Inko fansi par latkaana (Don't be afraid of these people. Keep fighting. See that they are hanged)."
The next evening, the accused came to Rajkumari's house with some other people. "They said, 'why don't you forgive these boys'. They said things like this happen. That there was no need to escalate this matter to the police and court," says Rajkumari's father Ramdhan.
The girl, extremely weak by now, was furious. "She told them, 'how dare you come to my house after raping me and threaten my family', but they shouted her down," Rajkumari recalls.
The girl ran out of the house. She had grabbed rope on her way out but the family didn't connect the dots then. Her mother thought she was going to a friend's place or to relieve herself.
Not long after, the family found the girl hanging from a tree near her friend's house. There was no time to resuscitate her.
Shared sorrow
Rajkumari isn't the only victim of this tragedy.
Almost every woman in the village shares her trauma. Ask any of them about Rajkumari's daughter and this how most of them respond: "I can tell you that the girl wasn't of bad character ".
The women are furious over suggestions that the girl was responsible for her own fate.
We had mustered the courage to stand up on our own. Now we have gone 50 steps back: Murali, villager
Soon after the incident, rumours about the girl's "licentious nature" were spread in the area. It was even said that was actually the "mistress" of the alleged rapists.
The rumours were fuelled by the postmortem report denying rape, and the police claiming that the doctors had found few injury marks on her body.
"I have known the girl since her birth. She spent most of her time laughing and dancing around the village. Didi [her mother] broke stones and worked as farm labourer and helped us during tough times," says Murali, a villager who had campaigned for Rajkumari during the election.
Is the girl's death a setback to her and other women who had worked to get one of them elected to the BDC?
"Hausla to kam hota hi hai. Itna saahas karke hum aage badhe thay. Ab pachaas kadam peeche ho gaye," Murali replies. "It is, of course, dispiriting. We had mustered the courage to stand up and walk on our own. Now, we have gone 50 steps back."
Asked about the postmortem report denying rape, Rita, who is close to Rajkumari's family, says, "So do you think any girl would be so shameless she would go out in the fields and strip? That she would injure herself and then hang herself for no reason?"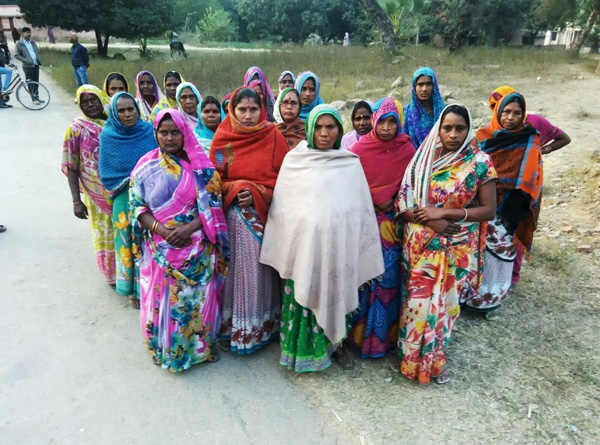 Bandana, who like Rajkumari also works in the farms for a living, says, "Ladki ki koi galti nahi thi. Lekin dekho uske saath kya hua. Ab ye hamare saath bhi ho sakta hai. Darr lagta hai. Tum kyun hamari aawaaz dabaane mein lage hue ho?"
"The girl was not at fault at all. But see what happened to her. And it could happen to us as well. We are scared. Why are you hell bent on suppressing our voice?"
Bandana, Murali, Rita as well as Bachani, Lalita, Manju, Prama and many other women, and men, feel wronged not only by the alleged rapists but by the state as well.
State of confusion
The police has yet to decide whether the girl was raped or not. Initially, the police was hesitant to arrest the two accused whom the girl had named. But after the story of the alleged gang rape and suicide appeared in newspapers, they were booked for gang rape and abetment to suicide as well as under sections of POCSO Act, which deals with crimes against children.
The state police have also suspended the SHO who, Rajkumari claims, had refused to take any action.
Other than this, all that the state has done is order inquiries. A magisterial inquiry was ordered by the District Magistrate of Mirzapur, but its objectives were vague and the deadline has been pushed further constantly. The police has ordered an enquiry against the SHO, which has so far come to nothing.
Meanwhile, the swab samples of the girl have been sent to a forensic lab in Lucknow. Arvind Sen, SP, Mirzapur, says, "It isn't clear whether the girl has been raped or not. The final report of her forensic tests have to come from the Chief Medical Officer. At the moment, this is all we can say."
And this is what the DM, RK Singh, has to say about what his enquiry is actually meant to probe: "The scope of this probe is very vast. We are looking at all aspects of the case. It is a holistic probe. We will find out how the crime took place, why she hung herself."
But shouldn't the probe have been concluded within a week? "I extended the probe because it demanded more attention and time. It will be finished within the next three days. That's when you should get in touch with me."
It isn't clear whether she was raped. I'm waiting for forensic test results: Mirzapur SP Arvind Sen
Her daughter was the only hope Rajkumari, who lost her husband to alcoholism a couple of years into the marriage, had for a comfortable retirement. The girl had also promised to seek better treatment for her mentally-challenged brother.
"She would tell me, 'mother don't get me married any time soon'. I want to study and earn for my family. She was full of hope for us," Rajkumari says.
Is it any wonder, as her brother says, that Rajkumari may be losing her mind. The unlikely winner of an election, the source of inspiration for countless women and the mother of a promising young girl is going mad in a dusty corner of Uttar Pradesh.
But just as her success wasn't hers alone, her breakdown would be hard blow to the idea of a fairer, more just society.http://www.catchnews.com/india-news/chronicle-of-a-tragedy-foretold-up-dalit-dares-to-fight-polls-pays-terrible-price-1452513554.html