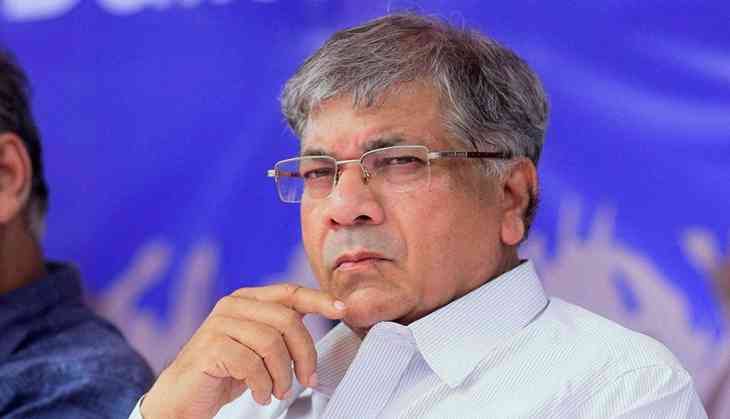 Bharipa Bahujan Mahasangh leader Prakash Ambedkar announced the withdrawal of its Maharashtra bandh call on Wednesday evening. The withdrawal was unconditional. Ambedkar though demanded that the Devendra Fadnavis government arrests the masterminds of the attack on those who attended the bi-centenary celebrations of the victory of the Mahar Regiment over the Peshwas at Bhima Koregaon.
"There are two outfits which are behind the violence: Shivraj Pratishthan of Shambhaji Bhide and Hindu Ekta Aghadi of Milind Ekbote. They attacked the people who were on their way to Bhima Koregaon to pay their respects," Ambedkar said at a press conference.
"There was anger that the attack wasn't discussed in the media and the Maharashtra government also tried to cover it up. This is why we initiated the movement. This wasn't just a Dalit movement. It was a movement of 50% people of Maharashtra who are backward. To prevent the anger from turning violent, we organised a Maharashtra Bandh. The Bandh was successful and was conducted peacefully," he said.
He added that they are withdrawing the Bandh with the assurance that Bhide and Ekbote will be arrested. This will put the Bharatiya Janata Party (BJP) in a bind as the two are
pro-Hindutva leaders and are critical to the party's political game plan in Maharashtra.
"The charges that were made against Yakub Memon should be imposed on them SC said he did not plant the bombs but was aware of the conspiracy. Their cases are the same," he said.
According to Ambedkar the row will have political consequences. "The situation was favourable for BJP in Maharashtra. But if they don't arrest these two, it will go against them. If the government doesn't take any action, various outfits will not keep quiet,
"I have maintained peace in whatever was in my control. But to maintain peace in the state is the Chief Minister's responsibility," he said.
The row following the attack on people going to Bhima Koregaon has to potential to create a churn in Dalit politics in Maharashtra. Prakash Ambedkar, the grandson of Babasaheb Ambedkar, has emerged as the tallest Dalit leader in the state in the entire episode.
This is bad news for the BJP as he has been a steadfast critic of the party. On the other hand, BJP-aligned Dalit leaders like Republican party of India (RPI) faction chief Ramdas Athawale, have been pushed on the back foot.
http://www.catchnews.com/politics-news/treat-bhide-ekbote-like-yakub-memon-prakash-ambedkar-while-calling-off-maharashtra-bandh-94175.html