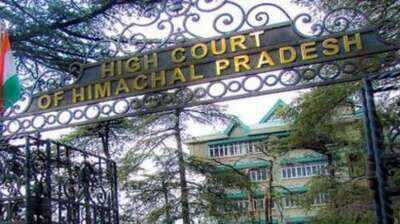 SHIMLA: Observing that pregnant women need bail, not jail, the Himachal Pradesh high court allowed on Saturday the petition of a pregnant woman accused in a Narcotic Drugs & Psychotropic Substances (NDPS) Act case.

Justice Anoop Chitkara also said that temporary bail or suspension of sentence, extending to a year after delivery, must be allowed even when the offences are very grave and accusations very severe.

The HC made it plain that even those who stand convicted and their appeals closed deserve similar relief in whatever camouflage it may come.

"What difference will it make to the state and society by postponing incarceration? The heavens will not fall if incarceration is postponed. There should be no restraints throughout pregnancy, no restraints during labour and delivery, and no restraints at least for a year after giving birth. Every expecting female deserves dignity during motherhood," Justice Chitkara said.
The court said that taking birth in jail might cause such trauma to the child that social hatred might follow, potentially creating an everlasting impact on the mind whenever questioned about birth. It is high time to take a contrarian call to the maxim "partus sequitur ventrem (that which is born follows the womb)", the court said, adding that good and nutritious food in prisons may give good physical health but cannot substitute good mental health.
A pregnant woman, apprehending arrest on allegations of conspiring with her husband in the substance trade, from whose house the police had recovered 259 grams of diacetylmorphine (heroin) and 713 grams of tablets containing tramadol (quantities falling in the commercial category), had approached the high court for anticipatory bail.
Earlier, the petitioner had filed a bail petition before the Kangra district special judge, but it was dismissed on January 19 this year.
The court said that the mandate of Section 37 of the NDPS Act implies that the accused should satisfy two conditions to come out clean. The evidence collected by the investigator is legally insufficient to deny bail to the other accused in the absence of any other incriminating evidence or allegations and is further mellowed by the criminal history of her husband. Thus, the petitioner has satisfied the first condition. It said that to meet the second condition, stringent conditions would be needed. Thus, on this ground alone, instead of limited period bail, she has satisfied the rigours of Section 37 of the NDPS Act. "Thus, the petitioner makes a case for release on bail during the trial in the facts and circumstances peculiar to this case," it said.

"Given the above reasoning, the court is granting bail to the petitioner, subject to strict terms and conditions, which shall be over and above and irrespective of the contents of the form of bail bonds in Chapter XXXIII of CrPC, 1973," the court said.