Pakistan's dismal public health system is rife with mismanagement and a paucity of resources.
Amidst this shambolic system, one hospital in Karachi has been providing specialised healthcare to millions.
Free of charge.
As the Sindh Institute of Urology and Transplantation celebrated 40 years of successful service, Dr Sanjay Nagral visited the facility and met the man who helms it, armed with the simple philosophy that 'No person should die only because they are unable to afford medical expenses.'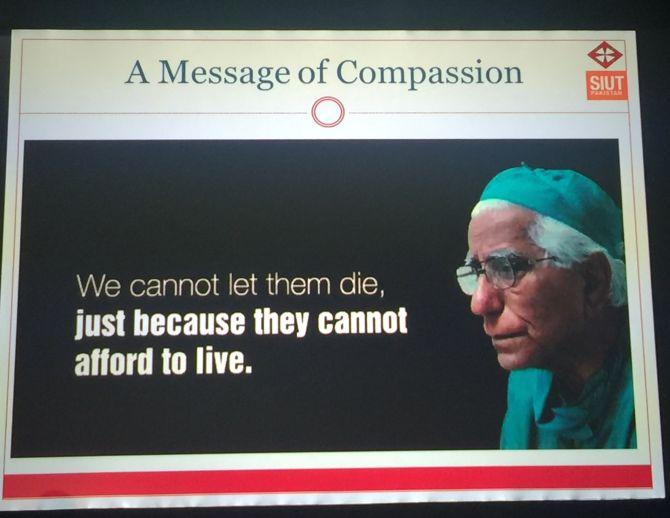 IMAGE: Magsaysay Award winner Dr Adib Rizvi has been hard at work for over 40 years trying to better the lives of millions.
In 1996, I was on a fellowship to train in Liver Transplantation at the King's College Hospital in London.
Surgeons from a wide range of countries would visit this hospital for training. A few months after I had started, Dr Adib Rizvi arrived from Karachi to spend a month.
A diminutive man, Dr Rizvi was quite senior in age and seemed almost like nearing retirement. He was introduced as an urologist who was also doing kidney transplants at his hospital in Karachi and had come to study the feasibility of doing liver transplants.
There was something about him that struck me as different from the other visiting surgeons.
Many of them would hang around and periodically peep into the operating rooms. Dr Rizvi accompanied us on all the 'donor runs' as they are termed where teams of surgeons from transplant centres travel to other hospitals to retrieve organs from brain dead individuals whose families have consented to donation.
These were usually all night trips to small district hospitals in the English countryside by road or in a air ambulance from Heathrow to Scotland or Ireland. Dr Rizvi and me spent a lot of time chatting during these travels.
After the overnight journey and surgery, we would come back early morning with a liver packed in ice to start the transplant which in turn would go on till the next evening.
Dr Rizvi would be there round the clock watching the procedure. He was low profile and yet studying the activities closely and making notes.
We quickly became friends. Winter evenings in London can be very lonely and on days when there was some respite from work we would sit around the fireplace and chat endlessly.
He would tell me about his childhood in India and migration to Pakistan after Partition. He would also reminisce about his involvement in student politics and in turn I would tell him about my participation in strikes by junior doctors.
We would lament the sad state of health care in South Asia and the absence of a system like the National Health Service.
We would wonder whether liver transplantation would ever be available for the average citizen in our subcontinent. Of course we would discuss IPTA, Kaifi Azmi, Faiz, Raj Kapoor and Ghulam Ali. And occasionally we would cook for each other.
Although he didn't talk much about his work in Pakistan, I gathered that he was cultivating a unique experiment in Karachi in the form of an institute called the Sindh Institute of Urology and Transplantation. And that in Pakistan he was known as a very different doctor who wanted to give free treatment to the poor.
Dr Rizvi returned to Karachi promising to keep in touch and meet at some stage. I returned to Mumbai in 1997 and after that we exchanged a few sporadic e-mails.
I was getting news about the activities of SIUT from colleagues travelling to Pakistan as well as from the media. In 1998 I heard that Dr Rizvi was awarded the Magsaysay Award. Later, I also heard that SIUT had expanded its sphere to perform liver transplantation.
I often thought of visiting Karachi to see his work, but given the difficulties of obtaining a visa I would back down.
Early this year I got an invitation from him to speak at an international conference that was being organised to celebrate 40 years of establishment of the SIUT. The theme of the meeting was 'Free with Dignity.' Much against the advice of many a friend and well-wisher, I jumped at the opportunity.
Dr Rizvi managed to get a no objection certificate from their ministry at the last moment. When I presented my papers to the visa officer at the Pakistani high commission in Delhi he was visibly moved, offered me a cup of tea and said, 'I am from Karachi and Adibsaab is like a messiah for us.'
The visa was handed over to me in an hour along with a CD collection of Sufi music.
On December 7, as I walked out of Karachi airport, I was received by the head of the department of gastroenterology at SIUT.
Within minutes there was call from Professor Rizvi, apologising that he could not come personally to the airport and welcoming me to Pakistan.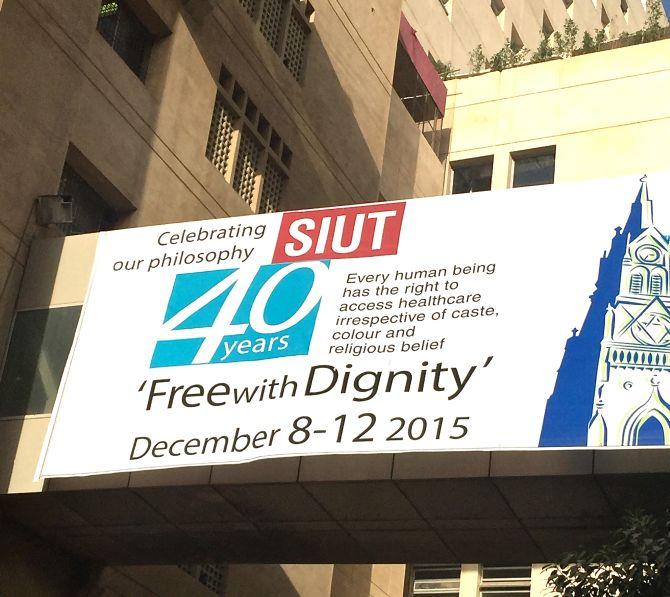 IMAGE: SIUT provides state-of-the-art care to millions who would unable to afford such facilities at a private institution.
The next morning, I reached the two huge new multi- storeyed towers that SIUT was now housed. I asked for Professor Rizvi's office. My escort smiled amd replied, "He doesn't have an office, he believes in just being around."
I soon spotted him surrounded by volunteers and delegates. He embraced me warmly and said, "Welcome to SIUT and Pakistan and don't worry we have vegetarian food for you."
Now in his eighties, he seemed not to have aged at all since I had seen him 20 years ago. His memory was razor sharp for sure.
The Sindh Institute of Urology and Transplantation started as an eight bedded facility in the burns ward of the civil hospital in 1976 and is now a 750-bed autonomous institution situated near the civil hospital in the heart of Karachi.
It treats around 200,000 outpatients and 40,000 inpatients every year and has 140 dialysis machines, which provide 200,000 sessions of dialysis every year.
It provides comprehensive services in more than 15 specialties, mainly kidney disease, but has also expanded to include GI and liver diseases.
It has a staff of around 1,400, which includes 800 doctors and runs ten postgraduate courses. It has now performed nearly 5,000 kidney transplants — certainly a record for South Asia. SIUT runs nine satellite centres all across Pakistan all of them offering dialysis facilities.
But it is not these stupendous numbers that makes SIUT distinctive. It is the astonishing fact that all treatment is completely free.
This includes OPD services, hospitalisation, investigations, drugs and post discharge care and if required lifelong medication.
Kidney transplantation and now liver transplantation is performed completely free. Even if someone can afford and offers to pay SIUT politely refuses. Instead they are told to deposit whatever amount they deem fit in the multiple donation boxes in the hospital.
There are no different classes of rooms in the hospital. Everyone is admitted to the same type of general ward.
I must confess that in the week that I spent there I tried to dispel that seed of doubt in my mind about whether this was actually true on the ground.
Everyone I spoke to including the doctors, the postgraduates, the medical students, my driver, the hotel bellboy confirmed that at SIUT you don't pay a penny. That, of course, leads to the obvious question: Who funds the place and how is it sustainable?
SIUT is funded partly by the government (around 50 percent of the share) and partly by philanthropy, which is a combination of individual donations from citizens in the form of the Zakat tradition as well as large donations from industrialists.
The Parsi and the Hindu Sindhi communities of Karachi have contributed substantially to SIUT.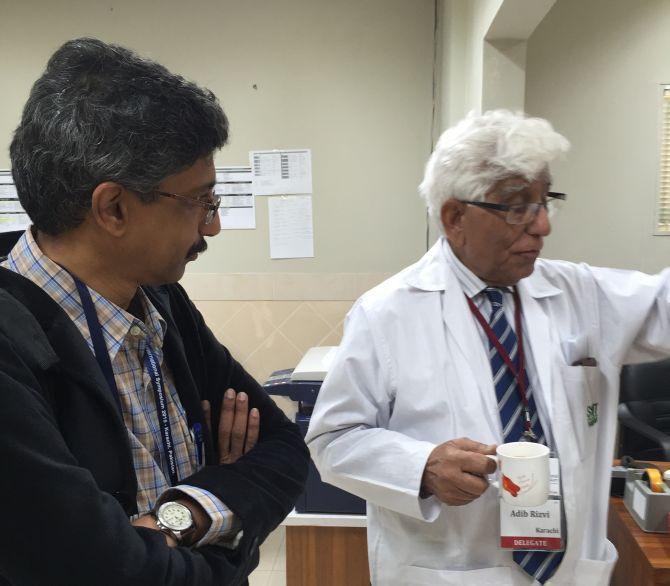 IMAGE: Dr Rizvi, who is still hard at work, speaks to Dr Nagral.
It also consciously practices cost containment by using generic drugs, practicing rational investigation and having a full time staff with fixed pay.
SIUT is perhaps the only medical facility in South Asia which has a centre for bioethics and culture which also offers a master's programme.
It has championed the cause of deceased organ donation in Pakistan and performed the first few deceased donor kidney transplants in Pakistan.
Dr Rizvi was responsible for getting the Pakistani parliament to pass the organ transplant bill in 2010 after a protracted battle with colleagues in the Pakistani medical profession, many of whom were involved in the organ trade as well as religious leaders who had misgivings about the act of deceased donation.
Most of what I have recounted is well known to the world, but perhaps not so much in our subcontinent. That an institution like this continues to exist and grow in the midst of the otherwise gloomy scenario of health care in Pakistan has been a vexing question much discussed in the public sphere in that country.
Dr Rizvi in his opening address at the conference gave all the credit to the faith the poor Pakistani has put in his system.
He also spoke about what he famously calls the triad of shared partnership between the government, the community and doctors where all three players have a stake in making the system work.
It is not as if this is an original idea in health care and the SIUT story obviously has something more to it.
To give all the credit to Dr Rizvi's gutsy and obsessive personality would also be simplistic. But a part of the fuel for this engine does seem to come from his infectious hard work, optimism and leading from the front. Also the fact that SIUT offers all the advanced care and technology now so intrinsic to modern medicine sustains the interest of the expert medical staff for it is also professionally satisfying.
There are several inspiring models of philanthropy in health care in South Asia and India. Many of them operate in rural settings, often in the NGO sector.
What is perhaps unique to SIUT is that it is embedded in the public health care system, offers high-end specialist care including transplantation with good results. It rejects the idea of charity in its classical form where the rich are made to pay in deluxe rooms and the poor are subsidised in general wards.
It demolishes the notion that this kind of care can only be given in the private sector.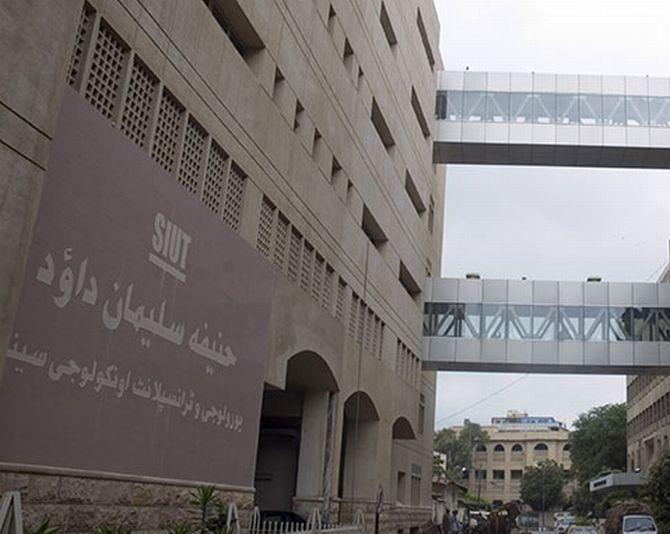 IMAGE: The Sindh Institute of Urology and Transplantation.
It is indeed tempting to say that SIUT can be a model for affordable health care in the developing world, but that would be disingenuous as history has shown that only a strong political commitment can actually bring in universal health care.
But the institution is perhaps a constant reminder that if we care to look for an alternative, which has disappeared from our imagination along the way, it is in the realm of possibility.
On the penultimate day of the conference, leaders from various countries of the subcontinent including Sushma Swaraj were in Islamabad for what is termed the Heart of Asia conference, an annual gathering of Asian countries, aimed at enhancing cooperation for countering security threats and promoting connectivity in the region.
The same evening, as the sun was setting against the expanse of the Arabian Sea on Karachi's horizon, Abida Parveen enthralled us with Sufi melodies against the magnificent backdrop of the Mohatta Palace.
After she had sung Dama Dam Mast Kalandar and the crowd had danced to its beat, Dr Adib Rizvi took to the mike to thank everyone.
And in his characteristic style, shorn of the politeness of ceremony, he spoke about how he had built SIUT only because the Pakistani people had been disenfranchised when it came to health care.
How one wished the leaders of the subcontinent gathered in Islamabad would hear him and recognise this wound and threat to the heart of Asia.
http://www.rediff.com/news/special/prescription-from-pakistan-how-one-hospital-is-a-model-for-asia/20151224.htm