Seeing the future of journalism – Index on Censorship's special issue
The latest issue of Index on Censorship, "Seeing the future of journalism – will the public know more?", is a must read for journalists.
It poses important questions about where we might be going. Accepting that the digital revolution is transforming news-gathering while disrupting the mainstream media it concentrates instead on the likely effects.
Will the public end up knowing more or less? Will citizen journalists mount in-depth investigations? Will crowd fact-checking take over from traditional journalistic research? How will power be held to account?
In her opening editorial, Index's editor, Rachael Jolley, writes:
"When the subject of the future of journalism is discussed it often turns to whizzy gadgets but the debate about whether the public ends up being better informed and better equipped happens less often."
Among the most interesting of the 30-plus articles are insights into funding innovations, looking at new projects in India, Holland and Germany; investigative journalism initiatives across Africa; and the Russian radio station viewed as "one of the last bastions of a free media not toeing Putin's line."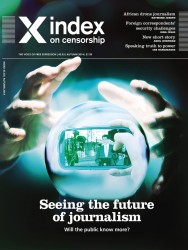 The problems of trying practise journalism are not ignored, such as a heartfelt piece by Dina Meza on the struggle to report in Honduras; the challenges of reporting in Burma by Wendy Law-Yone; and Iona Craig's riveting dispatch from Yemen on threats to journalism.
I also commend Samira Ahmed's article on the significance of the BBC TV programme she hosts, Newswatch, and the problems of political reporting in Britain by politics.co.uk political editor Ian Dunt.
Index's special journalism issue will be launched at a Frontline Club panel discussion on Wednesday 22 October. The speakers will include Richard Sambrook: director of the journalism centre at Cardiff university; Raymond Joseph, data journalist and former regional editor of the South African Sunday Times; Rachel Briggs, director of Hostage UK; and Amie Ferris-Rotman of Stanford university who worked for Reuters in Afghanistan.
The event will be chaired by Times columnist and Index chairman, David Aaronovitch, and will be introduced by Index's editor Rachael Jolley.
It starts at 6.30pm. Tickets are free but they must be reserved: go here to reserve your place.
To download Index's journalism issue go here. To