PIB Press Release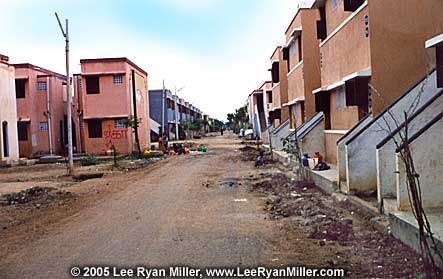 As per Census 2001, total houseless households in the country stood at 0.45 million.  
Census of India
2011 data on houseless households has not been released as on date, therefore, estimation of houseless households as of now and its comparison with the number in 2001 cannot be made at this juncture. However 'Technical Group on
Urban
Housing Shortage' has indicated that 0.53 million
Households
are in homeless condition in urban areas as of 2012.  This was stated by Shri
Ajay Maken
, Union Minister of Housing & Urban Poverty Alleviation (HUPA), in the
Rajya Sabha
today, in a written reply to a question by Shri C. P. Narayanan.
                        The Minister further stated that Land' and 'Colonisation' are State subjects, therefore it is the primary responsibility of State Governments to provide houses/shelters to all citizens.
Government of India
did not have any scheme for construction of shelters for homeless persons during the Eleventh Five Year Plan. However, in order to complement and supplement the initiatives of State Governments in providing housing for the urban poor, Ministry of Housing & Urban Poverty Alleviation has been implementing following schemes/programmes:
·         Under
Jawaharlal Nehru National Urban Renewal Mission
(JNNURM) with its two components Basic Services to Urban Poor (BSUP) and Integrated Housing & Slum Development Programme (IHSDP), 1.57 million Dwelling Units have been sanctioned as on date.
·         The scheme of Rajiv Awas Yojana (RAY) is at a preparatory phase where Slum Free City Planning is being undertaken.
·         Under
Affordable Housing
in Partnership Scheme (AHP), 11 projects of 2 States viz., Karnataka & Rajasthan have been sanctioned.
·         The Interest Subsidy Scheme for Housing the Urban Poor (ISHUP) is meant to facilitate channelization of credit for the urban poor. As on date, 13,485 beneficiaries have been covered under ISHUP.
                        Under National Urban Livelihood Mission (NULM), 'Shelters for Urban Homeless' has been proposed to be taken up during
Twelfth Five Year Plan
. However, since necessary approvals have not been obtained, no time frame for its finalization can be committed at this juncture.
                     The Minister further stated that given the magnitude of the housing shortage and budgetary constraints of both the Central and State Governments, it is clear that Public Sector efforts will not alone suffice in fulfilling the housing demand. The exact time span to ensure a house to every family in the country cannot be estimated, the Minister added.
—