PRESS RELEASE
Kachcha Chittha – Story 1
MODI PROVIDES 'NEW SERVICE'
SKULL CAPS & MORE
Believe it or not the high drama of Sadhbhavna Upvas was camouflaged as a 'New Service' in official documents
The question is was it Modi's 'New Service' to buy skull caps with Govt money to create stereotyped Muslims appear in his meetings or is it much deeper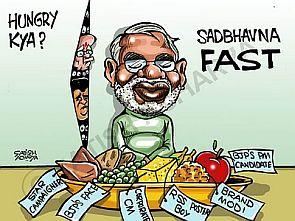 Exposing the Myth
LAUNCHING
'Kachcha Chittha' (Misdeeds) (a series of stories exposing Modi) & a new website www.secularstore.net
We, Anhad & other secular organisations, strongly believe that our democracy and secularism is directly under threat. The spectre of the country's descent into fascism stares at us. The long reign of the UPA has not halted or arrested the march of the communal fascist forces; indeed there seems today to be a greater acceptance of ideas that we would call fascist. The strident demands for death penalty, the impatience with rule of law; the acceptability among the young urban people of a man as a potential Prime Minister, under whose watch minorities were systematically targeted, this desire for a strong authoritarian leader, all again point to the circulation and reception of fascist ideas.
There have been several riots at least since last year across the country. On the one hand, one sees local-level riots engineering machinery gearing up, and on the other the cleansing and anointing of Modi as the development man.
The rise in the power of the middle class via a corporate media, which aggressively pushes the agenda of 'corruption-free efficiency' – whose poster boy is Narendra Modi – at the cost of issues of social justice, secularism and democracy movements, is further pushing the Indian polity towards the Right.
Modi – is being projected nationally as a leader who is clean, charismatic and a visionary. An image of a new leader is being created by hired PR agencies and event management companies. The new leader is going to change the face of India and solve all problems. The facts show otherwise.
We are releasing today: Kachcha Chittha- Story 1 Sadbhavna Upvas
Between September 2011 and February 2012 Modi organised 34 Sadbhavna Fast programmes in Gujarat extensively covered by Media and the project 'Image Makeover' was launched fraudulently using public money.
We are presenting the facts available with us below which clearly establish:
Modi's arbitrary nature of functioning and total disregard for written provisions.
That the first three Sadbhavna Upvas programmes were held illegally, without any approvals or following government rules and regulations.
Neither the Chief Minister nor his Govt had any planning done for the Sadbhavna Upvas, they had no clue even after one month the programme had started of what it was going to cost.
Evidence on record shows that huge amount of funds were diverted from public departments for personal gain and personal projection by Modi keeping the next year's state elections in mind.
Modi tried to justify diversion of huge amount of funds from Central schemes by sighting a general circular which suggested promotion of communal harmony programmes in states.
The assembly, Governor, citizens were deliberately misled about the actual expenditure on the Sadbhavna Upvas. Blatant lies are special characteristics of projected Prime Minister.
This is clear misuse of Public funds spent without legal procedures and authorization.
As per Constitutional Article 266-267-283(2) and provision for contingency fund and Gujarat Financial Rules 1971, these expenses are misappropriation of public money.
The accounts have not been settled till date of the Sadbhavna Upvas programme.
Modi announced huge projects for development of the host districts during his Sadbhavna Fast programmes. Many of the projects he announced were already part of the Municipal Corporation's budget. Other projects like automation of solid waste management, recarpeting of roads, aforestation, fire brigade expansion, housing schemes for urban poor, the fund mainly comes from central government's Jawaharlal Nehru National Urban Renewal Mission (JNNURM). The announcements like the beautification of Aji and Nyari dams on public-private partnership model were also ongoing projects. In Porbandar, Modi announced a Rs 281-crore package for three main projects of a new drinking water supply network, underground sewage pipeline and a housing scheme for the poor. All three projects have been going on for a while and are part of JNNURM.
So in effect Modi diverted huge amount of public funds to organize his Sadbhavna fasts and deprived people of their rights to these funds and on the other hand made a show by announcing projects which were either ongoing or were running on Central Government funds.
A compulsive liar, now, he is trying to fool the people of India.
FACTS
The Sadbhavna Upvas programme was launched on September 17, 2011-Modi's birthday in Ahmadabad.
The last programme was organised on 12.2.2012 in Banaskantha.
A meeting was held in the General Administrative Dept on 12.10.2011( almost one month after Sadbhavna Upvas started- one month late post facto concocted approvals are a blatant violation) in which Chief Secretary and other officers of various depts. were present. The estimated expenditure of the Sadbhavna fast was calculated as : Road and Housing- 30 lakhs, Dist collectors -8 lakhs, State transport- 20 lakhs, exhibition related depts.-12 lakhs. On 5.11.2011 wide letter No. CNF/1111/433/k 3,00,00,000 rupees were sanctioned from the Contingency Fund for the Sadbhavna Upvas. ( one and a half months after Sadbhavna Upvas started- More violation of norms, public fund is treated as personal property)
The sanctioned money above should have been regularized in the budget session in March 2012 when the 2012-13 budget was presented. There was no mention in the budget of this expenditure or Sadbhavna Upvas.
Supplementary Statement was made in the assembly on 24/2/2012. In this it was referred to as 'New Service'. (Note: Supplementary Demands are done for unforeseen expenses for which budgetary provisions could not be made. All MLAs have to be given all details of a 'New Service' 3 days prior to placing it in assembly and assembly has to be convinced and it has to approve the supplementary demand for a 'New Service'. No such provision was followed). (Gujarat Assembly is a place where violation is a norm than exception, everybody is scared to objections)
Budget for 2013-14 found no mention of it again. But Supplementary statement for 2012-13 presented on 20.2.2013 gave suddenly an additional estimated expenditure of 15,48,15,000/-
On 24.2.2012 an MLA asked a question in the assembly regarding funds given to each district from the protocol dept. the reply given on behalf of the Chief Minister was: 5 lakh each to Jamnagar, Navsari, Patan, Tapi, Narmada, Kutch, Bhavnagar, Vadodara, and 4 lakhs to Porbandar.
On 14.3.2012 General Administrative Dept passed a resolution No- Context-102011- 504GH to give funds to collectors of districts: Jamnagar- 20lakhs, Navsari- 12 lakhs, Tapi- 15 lakhs, Narmada- 20 lakh, Vadodara- 20 lakh, Porbandar- 20 lakh, Dang- 20 lakh. ( thisis more than one year after the Sadbhavna Upvas was over)
Letter from Governor's secretary Letter No. GS.14.1/138/2018/2012 dated 22.3.2012 stated the spent amount from various Departments as : ( NARMADA WATER WORKS- 46,800, INFORMATION AND BROADCASTING DEPT- 64,34,000, ROAD & HOUSING DEPT- 86,81,000, SPORTS, YOUTH AND CULTURAL DEPT- 4,97,209, INDUSTRY AND MINES DEPT- 56,832, GENERAL ADMINISTRATION DEPT- 2,434) ( this comes to a total of : 1,57,18,275) The letter is written more than one year after the Sadbhavna Upvas is over. (The citizens, the Assembly, the Governor and the nation is misled by a corrupt CM, a congenital liar)
According to the data available with us (detailed table attached, original supporting documents available on anhad website- details below)
The information available with us is for expendure on Buses which brought people to Modi's Sadbhavna Upvas for 24 out of 34 programmes, tent, Hall etc for 3 out of 34 programmes and for light, phone, skull caps, cctv, printing, advertising, corporation, only for one each out of 34 programmes.
We do not have any documents regarding other expenditure regarding food and a lot of other things- gifts, Chief Minister's travel by helicopters etc.
If total expenditure is calculated it will be some mind boggling figure. Funds snatched away from poor, malnourished and under privileged people of Gujarat unconstitutionally for the whims and fancies of one individual.
As activists we have tried to expose his misdeeds. It requires a thorough investigation to unearth the full Sadbhavna Upvas expenditure including its illegality.
Anhad has today also launched a new website – secularstore.net and to compliment the Sadbhavna story we are releasing three short documentaries on the conditions of minorities in Gujarat along with this story.
The story is being simultaneously released in the following cities : Bhubaneshwar, Hyderabad, Calicut, Lucknow, Hissar, Nuh, Ahmadabad, Delhi, Patna, Bhopal, Banaras, Pune, Jammu, Raipur, Chennai, Indore, Mumbai, Bellary, Kolkata
READ MORE HERE-   http://www.secularstore.net/Big-Story.html
Related articles